Finishing up day six I wanted to highlight some of the Nutrisystem Lunch Meals I've eaten so far.  If this is your first visit you can read my initial post regarding my commitment to the Nutrisystem Review : Nation 10-Day Challenge.  This has been a excellent kick start to getting back on track and in shape. In conjunction with beginning Nutrisystem I also have become running again and as of today have completed 3 days of the C25K Program.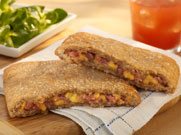 By far my favorite lunch meal so far has been the Toasted Ham and Cheese.  If I had to explain this meal I would liken it to a Hot Pocket. The crust is buttery and crispy, and the smoky flavor of ham is perfectly paired with creamy, melted American cheese in this delicious, sophisticated variation of a hot sandwich favorite. I put mine in the microwave first to help thaw out the center and then pop it in the toaster!
I have absolutely LOVED the frozen pizzas. There are a few different flavors my favorite is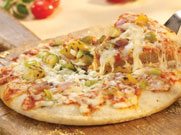 actually a dinner item but they are all pretty good. What I find fantastic is how well they cut up in the microwave. I know most frozen pizzas now a days come with the little round crisper to put under it while it cooks but I've yet to have a pizza turn out as well as the Nutrisystem ones do. They are just the right crispiness. YUM!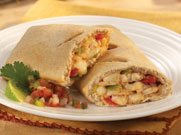 I've also had the pleasure of trying the chicken fajita melt. This was my first meal when I began on Friday. I decided to go with something I knew I would probably like because you really can't go wrong with any type of fajita. At least in my book.  Chicken Fajitas has always been one of my favorite meals.
Last up for review today is the Meatball Parmesan Melt.  Not my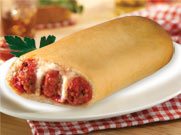 favorite of the four but this again has to do with my extreme HATRED, yes I know that is a harsh word but seriously it fits, of tomatoes.  The inside of the melt just had a little bit too much sauce for me. So though this wasn't the best meal for me remember it is my own opinion and due to the fact that Nutrisystem or not I don't care for tomato sauce in any form.
After six days on the plan I have to give you my honest and opinion. Of course I ALWAYS give you my honest opinion that is what it is all about.  My honest opinion of this plan is I LOVE IT! Seriously I went into this a little skeptical because I'm not a fan at all of frozen meals.  I am amazed at how good these meals taste and how I really do not feel like I'm "dieting" (I hate that word) at all.
---
Disclaimer: Nutrisystem has provided me this program free of charge to participate in the Nutrisystem Nation 10-Day Challenge. Opinions are my own and NOT influenced by monetary compensation. You may read more of my disclosure here
---