I'm very happy to have been selected by Nutrisystem and Bloggy Moms to participate in the Nutrisystem Review:  10-Day Challenge. I arrived home last night to find my care package awaiting me.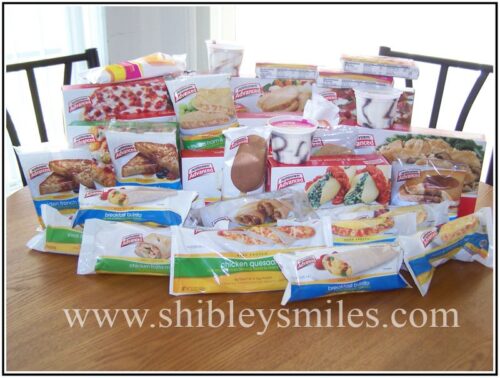 This Nutrisystem care package contained 10 breakfast meals, 10 lunch meals, 10 dinner meals, and 10 snacks.  I have been awaiting its arrival because I need a serious kick in the butt to get back on track.  It has been a good many months since I have devoted more then a couple weeks to losing weight.
Throughout this 10-Day Trial I will be reviewing each type of meal giving you my thoughts on the contents and most importantly the taste.  We all know any nutrition plan is only as good as your ability to follow it.  For me that means variety and taste.  In addition to reviewing the food I will be giving you my thoughts on the over all plan, the online website tools, and the BMI iPhone application from Nutrisystem.
As soon as my food arrived and I rearranged my freezer I hopped online and registered my account with Nutrisystem so I could get started.  After updating my profile the first thing I did was log my planned meal for today.  I find that it is easier and more beneficial to me to log my eating for the day BEFORE the day begins opposed to after it is over.  This gives me something to stick too.
In addition to the frozen meals you are to add dairy/protein, fruits, and veggies to meals per your meal plan.  This gives you a balance between the Nutrisystem meals and fresh or store bought food. My calorie count for today will be approx 1215 which is maybe just a little higher then I prefer but my plan is to stick to THEIR plan in order to test its validity and success.
I hope you will follow me through this trial and see my progress and thoughts.  I promise you they will be honest and meaningful.  If you are considering this program I encourage you to see how it works for me!
So with that I'm going to log with you my initial weight.  Picture me closing my eyes as I step on the scale.  As one eye slowing opens to assess the damage and I cringe. I had all intentions of maintaining a 160 weight the past couple of months but as you see I didn't quite reach that goal.  So on to the torture.
Starting weight: 168.8 lbs. Wish me luck!
---
Disclaimer: Nutrisystem has provided me this program free of charge to participate in the Nutrisystem Nation 10-Day Challenge. Opinions are my own and NOT influenced by monetary compensation. You may read more of my disclosure here
---