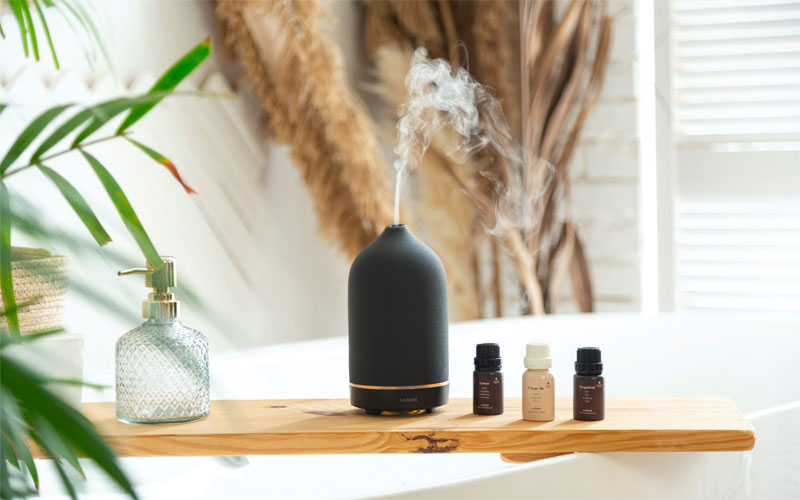 Essential oils are very concentrated plant extracts that you get using cold pressing or distillation. They have the plant's natural essence and scent, and are popular for various purposes, including beauty products, home remedies, and aromatherapy.
Learning how to use essential oils in an air freshener is a fantastic alternative to buying and using commercial air fresheners if you're looking to avoid chemicals and synthetic fragrances. On the other hand, essential oils can give you a natural way to freshen up your space while enjoying the therapeutic benefits they bring.
How to Choose the Right Essential Oils
To pick out your oil, determine your desired benefits and smell. For example, chamomile and lavender can be great for a relaxing and calming scent. On the other hand, if you're after something energizing and refreshing, consider lemon or peppermint.
Once you decide on these two things, you can start narrowing down the essential oils you want to use in your air freshener. If you want a specific scent note, this narrows your list immediately. Also, if you're looking for oils with one or two specific therapeutic benefits, this will bring your choices down to something more manageable.
Keep eliminating oils until you get your top two or three that you can change out, depending on your mood or need. Whatever you pick, make sure it's high-quality oils from a reputable source.
Popular Essential Oils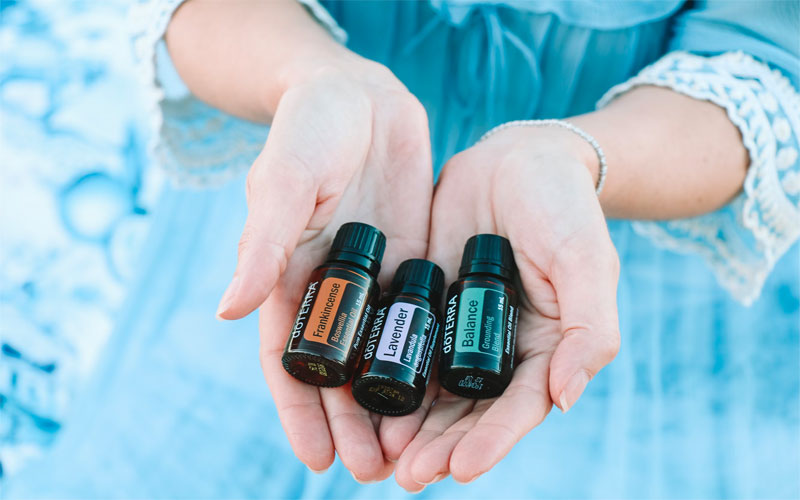 Each essential oil comes with different benefits and unique properties. So, if you're not sure where to start, a few popular choices include:
Lavender – The sweet, floral notes of this oil are calming, helping to promote better sleep and stress relief.
Lemon – Lemon is an energizing and refreshing oil that people use for its purifying and cleansing properties.
Peppermint – People use peppermint for its strong soothing and cooling properties and its medicinal benefits.
Eucalyptus – This energizing and refreshing oil has immune and respiratory-boosting properties.
Tea Tree – Tea tree has antiseptic properties that make it great for purifying and cleansing with a sharp, medicinal scent.
Preparing Your Essential Oil Air Freshener
You can use several methods to make your air freshener with your essential oils. The following are simple and user-friendly and should only take a few minutes to create.
Diffuser
A diffuser for essential oils is a great way to spread your favorite scents around your home. All you have to do is add a few drops of the oil to your diffuser's water reservoir and switch it on. It'll release a fine mist of water and essential oils into the air.
Spray Bottle
Combine an equal amount of water and rubbing alcohol in a spray bottle. Add 5 to 10 drops of your chosen essential oil and shake it to mix it. Spritz onto fabrics and into the air, avoiding direct contact with any surfaces the alcohol or oils could damage.
DIY Gel Air Freshener
Dissolve two tablespoons of unflavored gelatin into a cup of hot water to create this long-lasting air freshener. Add a tablespoon of salt to act like a preservative and 15 to 20 drops of your chosen essential oil. Pour it into a shallow jar and let it cool.
If you want to display this air freshener, you can add dried flowers to make it prettier. Another option is adding a few drops of food coloring before the gelatin sets up.
Using and Storing Your Air Freshener
How often you use your air freshener will depend on your preferences and which one you use. For example, you can use the spray bottle or diffuser several times a day, while the gel air fresheners only need replacement every few weeks.
To store your air freshener, keep them out of direct sunlight in a dark, cool place to keep the oils at their full potency. Also, ensure all caps and lids are tight to prevent leaking and evaporation.
Breathe Easy With Essential Oil Air Fresheners
Now you know how to use essential oils in an air freshener, and this gives you a chemical-free, natural alternative to traditional products. Not only do these scents freshen your space, but they may even have therapeutic benefits.
Embrace the power of essential oils to refresh and rejuvenate your environment, transforming your space into a sanctuary for your senses.