My daughter was telling me about a commercial she saw for Hot Huez. Knowing nothing about it I did what I normally would do and I did some research. I had never heard of hair chalk but I was intrigued. I did not find very good reviews for Hot Huez so I decided to look further. I found that there are two was you can color your hair temporarily with chalk.
We decided to try two different products and report our findings here at Shibley Smiles (we being my daughter and I).
Splat Hair Chalk
I picked up a box of Splat Hair Chalk – Dusty Rose at my local Ulta store. The price for the box was $5.99.
Splat Hair Chalk Instructions
To use the chalk  you simply open the compact and place the chalk side on your hair. Use your thumb to keep your hair pressed into the chalk and slide. For darker hair like my own you may have to go over several times to achieve a bright color.
Artist's Loft Soft Pastels
The second method I found to chalking hair is to use soft pastels found at your local craft or art store. It is important to note that soft pastels are different then oil pastels you may have used in school. I purchased a pack of Artist's Loft Soft Pastels at my local Michael's for $4.99.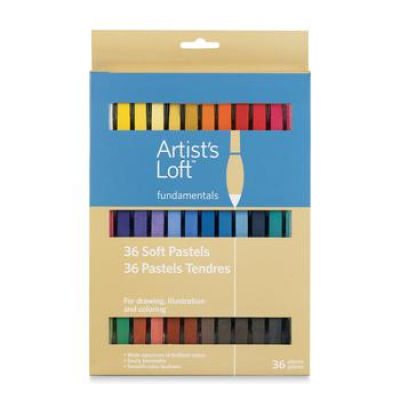 Soft Pastels Instructions
Note: These are instructions for dark hair, it is my understanding from research that if you have blonde hair you will want to refrain from using water.
Take a strand of hair and spray with water. It doesn't have to be dripping wet however the color will stick and become vibrant with a nice wet strand. Then take the chalk and press down on your hair moving downward. I found that it is best to simply press and pull down. If you rub (like you would if you were coloring a picture) the hair seems to knot up a little.  Let your hair air dry, then use a flat iron to set the color (I had no problem with my flat iron, some of the chalk did get onto the iron but I was able to blow on it to remove the chalk)
Splat Hair Chalk vs Soft Pastels
Ease of Use: (Tie) Neither is superior over the other however I highly recommend purchasing latex gloves to apply. It is not a necessity as the chalk washes off but it does make it a little less messy.
Messy Factor: (Tie) I think with any chalk you are going to have mess so again neither one wins on this one. I thought overall the mess was very minimal.
Vibrancy in Color: (Soft Pastels) I think the soft pastels have an advantage over the Splat Hair Chalk. It seems to go on darker and faster.
Cost: (Soft Pastels) Hands down soft pastels are going to cost less then hair chalk. The box I purchased has 36 colors in it and one chalk can last several times. The Splat Hair Chalk may last 1-3 times depending on your hair and how much you color. After one application this is what I have left. I am also concerned how to use the edges, your thumb naturally gravitates towards the middle of the compact.
Staying Power: (Splat Hair Chalk) The Splat Hair Chalk definitely stayed in the hair longer with less coming out on anything. When I had the purple soft pastels in my hair and hugged my husband with my head on his chest his shirt had purple chalk. Also if you put your hands in your hair at all through the day the soft pastels will definitely come off on your hands.
My daughter had both in her hair and she went to bed (before washing) when she got up in the morning the Splat Hair Chalk was still in her hair where as the soft pastels had faded and were almost gone.
Final Thoughts and Impressions of Both Methods
For weekend fun and just running around and not doing much I recommend the soft pastels. I think the color is vibrant and goes in easy and quicker with little need to keep going over the strand of hair. I think it is great for some streaks and then an up do or even the tips. Just remember to keep your hands out of your hair.
If you are going somewhere special or an evening out and want to make sure it last longer whether you are dancing or eating I would suggest the Splat Hair Chalk.  I think having both products will give you a well rounded fun time chalking your hair!