As a chef, you know how important it is to present your dishes correctly to customers. Doing so will make the experience of eating the food more enjoyable. In addition, a well-presented dish makes people want to eat more than one that isn't.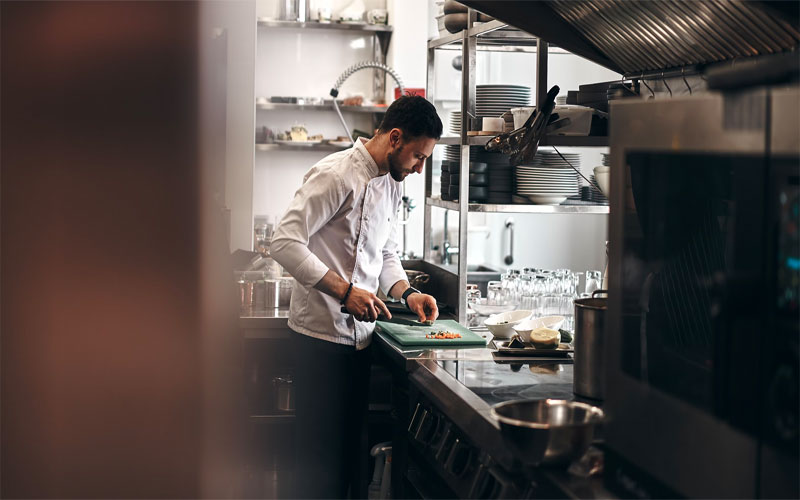 When customers know you took the time to prepare the dish beautifully, they'll appreciate your cooking skills even more. In addition, research shows customers enjoy the taste of a chef's food more when they take time in the presentation.
However, you may need to learn what goes into presenting your food correctly as a new chef. In this case, here are several food presentation tips you need to know. 
Add Height to the Plate
Instead of adding food to cover the entire space of a plate, consider adding height to your food. A dish with height will be more appealing and will appear appropriately arranged.
It's important not to separate food when filling a plate but to begin at the bottom and gradually work your way up. For a solid structure, consider using boat oar skewers to help you create heights with your dishes.
Make Horizontal Cuts in the Meat
To make your meat look more presentable, consider cutting it in a horizontal direction. This will help show off the quality of the meat. For example, a steak should be cut at a 45-degree angle. 
Also, for a more tender cut of meat, consider slicing it against the grain. The medium-rare steak you prepare for your customers will wow them when they see it cut this way.
Make Use of Colors That Contrast
In your dishes, you want to avoid using artificial colors and use food items in your kitchen to contract each other. For example, you can use powdered sugar, matcha, and other natural colors to make an eye-catching dish. 
Also, consider ingredients that naturally have bold colors, such as carrots, beans, and purple cabbage. Doing so will make it easier to make the plate more appealing to your customers.
Play Around With Different Textures
Along with colors, consider using different textures in your dishes. For example, you can mix a cream-based texture with a crunchy one. Or you can combine a watery soup with firm vegetables. 
You can also play with different forms and sauces to add color or texture to your dishes. Doing so will make the presentation more unique, tasty, and memorable. 
Food Presentation Should Reflect Your Restaurant's Theme
Your style of plating should match the overall theme of your restaurant. Restaurants that feel as though your grandma is the chef should avoid presenting their food as high-end restaurants. Customers at these restaurants want a presentation that's inviting and warm. 
In addition, high-end restaurants should present their food as small ethnic restaurants. The type of customers who come to upper- scale restaurants will want a skilled artistic presentation. 
Dishes for these customers will require you to be more creative in your skills. For example, you'll have to take more time to create a visual balance of color, height, and garnishes. 
So, pay attention to the type of restaurant you own or work for. It will change the way you present the food to the customers.
Minimize the Portion Size
The National Restaurant Association found that serving food in smaller portions is better. This helps reduce food waste, lower costs, and help customers salvor the food better. 
In addition, it also helps chefs present food better. Bigger portions of meals create a mess on a plate; by serving them smaller, you can make your food more appealing. 
Of course, you want to serve enough food to fill your customers. However, it is best to stick with sick elements to prevent overcrowding on the plate. 
Keep Everything Simple
Use every spice, garnish, and sauce in your kitchen when presenting food. However, this is an easy way to overcrowd a dish and make it unpleasant for your customers.
Instead, it's better to stay as simple as possible regarding food presentation. If you believe a dish doesn't require a specific item, then don't add. Instead, let the quality of your cooking skills speak for itself! 
Let Your Personality Shine Through
Regarding food presentation, it's the best way for chefs to show off their personalities. In the same way, an artist would approach a new piece of art; chefs should approach food plating and presentation similarly.
Maybe you're known as the chef to uses a special sauce in every dish. Or perhaps you enjoy using bold colors in your dishes. 
Let your art reflect your reputation as a chef. If you need the inspiration to do this, study other chefs to see how they let themselves shine through their food. 
Then, take the time to learn their techniques and practice your own in the kitchen. Doing so will help you find your own style and create more beautiful dishes.
Customers Care About Your Food Presentation
Consumers expect great-tasting, visually pleasing food when eating out. Remember color, layout, symmetry, texture, and ease of consumption all matter when plating your dishes. If you pay more attention to your food presentation, your customers will likely leave you positive reviews, which will help you attract other customers.