Shopping for a diamond can be challenging. Not only are you making a major purchase, but you are also under pressure to choose from the many options available. In short, it's a big task. That's why having a solid understanding of the different diamond cuts is essential. Make sure you choose a unique ring because you want to express your individuality. You're not just looking for a ring that looks good, but one that represents who you are as an individual.
You'll be able to make an informed decision with a little more background, even when you are comparing two cuts that have some similarities such as emerald and radiant cut diamonds. Speaking of emerald and radiant cut diamonds, we've got you covered. Here's everything you need to know about them!
Emerald-Cut Diamonds
Those looking for a diamond cut that exudes sophistication and elegance are a perfect match with emerald-cut diamonds. Celebrities like Angelina Jolie and Jennifer Lopez have rocked emerald-cut engagement rings that have gone on to grace the glossy magazine pages. But, is it the right cut for you?
Emerald cut diamonds feature step-cuts, which look similar to stairs and give the illusion of depth to stones. The rectangular shape features two longer sides and beveled corners. Generally, emerald stones have at least two facets, but they can have many more. The face of an emerald-cut diamond draws the eye to the center of the stone, which resembles an endless pool of water.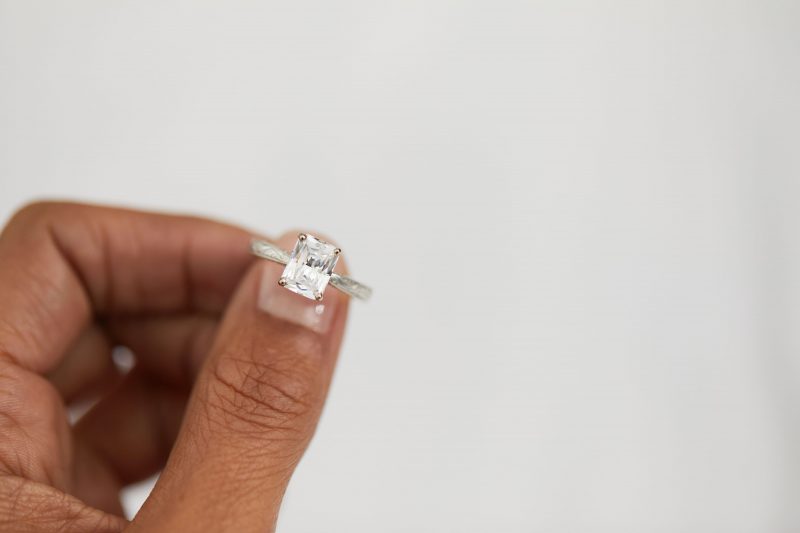 Pros of Emerald-Cut Diamonds
Emerald-cut diamonds are synonymous with elegance. Their sharp lines and depth make for a great choice.
Emerald cut diamonds can maximize the size of lower carat diamonds.
This diamond cut does a good job of reflecting both white and colored light.
Cons of Emerald-Cut Diamonds
Emerald-cut diamonds are not good at hiding imperfections and can seem to highlight inclusions.
As emerald-cuts lack significant scintillation, they can also emphasize color imperfections.
Radiant-Cut Diamonds
Radiant-cut diamonds are known for their extraordinary brilliance and shine, which isn't surprising considering they are cut to emphasize these characteristics. This cut was developed in 1977 by Henry Grossbard. The goal was to combine the best aspects of round-brilliants with those of the emerald cut.
The result is a diamond with the famous step-cuts of an emerald-cut diamond paired with the brilliant cuts of a round diamond. With one of these diamonds, you'll get a show-stopping diamond that maximizes the light it takes in through enhanced brilliance and sparkle. Since Grossbard's invention of the radiant-cut, it has remained a popular option for those looking for a ring that is as expressive as the person wearing it.
Pros of Radiant Cut Diamonds
Radiant-cut diamonds are exceedingly brilliant, as they take inspiration from round-brilliants.
This cut is a great fit for stones with color imperfections. The cut can improve the appearance of colored stones.
Radiant-cut diamonds are versatile and can be paired with almost any setting, metal, or otherwise.
Cons of Radiant Cut Diamonds
Radiant-cut stones don't feature a lot of depth.
This cut can be tricky to get right. It's common to find cuts that may be too wide, narrow, or off in some way.
Emerald and Radiant Diamond Comparison
Both emerald-cut and radiant-cut diamonds have distinct advantages and disadvantages. Regardless, they are both excellent cuts that can bring out the most in the appearance of any diamond. That said, it's prudent to compare both emerald and radiant diamond cuts if you are considering both options. Here are some things to know:
Radiant-cut diamonds are more forgiving of imperfections compared to their emerald-cut counterparts.
Emerald-cut diamonds can make a lower carat diamond appear larger than it would with another cut.
Both cuts are considered 'fancy cuts' so they will not include a cut grade in their reports.
Both emerald and radiant cuts feature the same general diamond shape/outline.
Final Thoughts
Choosing between emerald and radiant-cut diamonds is difficult. However, if you keep your own preferences in mind and consult with a professional, you're sure to make the best decision! Good luck!