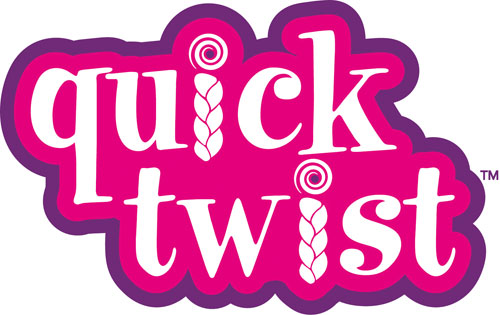 I remember my daughter's first haircut. She was just about two years old. It wasn't because it was her first haircut that I remember it, it was because of her father's reaction. He didn't understand and strongly felt that she did not need her haircut. I calmly explained to him that we were not "cutting" it as much as we were trimming it. He went with us to make sure. She is now nine years old and I can still probably count on my fingers how many times she has been to the hair dressers. Honey has long hair and she loves it, and so does her daddy.
Her usual style is to keep it down. She prefers it that way because it doesn't bother her. However there are times when she wants me to do things to her hair like curl it, braid it, or put it in a ponytail.
Now that she is getting older she likes to be able to do her own hair. I usually pull it too tight, brush it too hard, or do something that seems to cause her pain. We found a new product made specifically for girls like Honey to enjoy making fun styles on their own. The Conair Quick Twist is a new twist on style that instantly creates beautiful, double-stranded twist braids – a hot trend in hair looks!
Conair Quick Twist
This fun gadget comes with all the fixin's, including ribbons and more for totally one-of-a-kind styles you create yourself.
The Conair Quick Twist also comes with assorted accessories to compliment your look including:

40 Scunci® anti-slip mini elastics
10 hair clips
2 silky ribbons
With back to school this is a great incentive for you child. Do their homework, get good grades? Get a Conair Quick Twist. Or maybe they have an upcoming party with all their girlfriends. The Conair #QuickTwist is an excellent way to keep them busy. The Conair Quick Twist™ is available at major specialty, drug, and mass retailers nationwide – making it perfect for back-to-school and birthday gifts!
To learn more about the Conair Quick Twist, visit www.conairquicktwist.com
For more beauty tips, tricks and giveaways,LIKE Conair on Facebook and follow them on Twitter, Instagram, and Pinterest!
This is a product-provided, sponsored conversation that contains affiliate links. I received the Conair Quick Twist™ Double-Stranded Braider for my own personal use. All opinions, text and experiences are my own.