I am an avid soup lover! I enjoy many different flavors such as chicken noodle, bean, potato, French Onion, and more! My daughter inherited the same love of soup. I will admit I don't make home made soup. Many years ago I did acquire a great potato soup recipe. I think I was about 20 at the time and I wish I could tell you what happened to it. Back in those days, living by myself, a pot would last me weeks if I froze some of it. So Honey and I for the most part eat soup out of a can. Well except on Christmas Day when my mom makes some mean French Onion soup.
However, I am now boycotting canned soup because I have found an amazing replacement. I was going to say substitution but that would imply that one was as good as the other and that is not the case. I recently had the chance to try a brand new soup (among other things), yep Bear Creek Country Kitchens are in the house!
Bear Creek Country Kitchens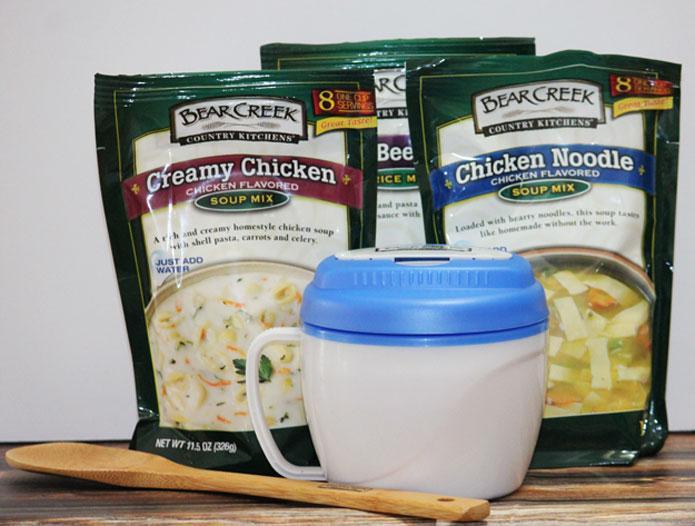 Honey and I were sent three items to try Cream Chicken Soup Mix, Chicken Noodle Soup Mix, and Beef Rice Mix. We knew immediately what we wanted to try first, the chicken noodle soup of course. See Honey and I love to try different chicken noodle soup. Our favorite brand, or I should say previous favorite brand, came in a box. Here is the thing, for me a good chicken noodle soup has to have a good chicken flavored broth. Bear Creek Country Kitchens Chicken Noodle Soup definitely makes the grade in my book.
Simply add 8 cups of water to a pot and bring to a boil. Then add the package of chicken noodle soup and simmer for 10 minutes, if you can wait that long. It won't take but a few minutes for your home to smell like you are cooking home made chicken noodle soup. This is not your watered down, more broth then hearty fixin's kinda soup. This is soup like your mom use to make, ok maybe your grandmother, depending on your age.
Bear Creek Country Kitchens Chicken Noodle Soup
So I thought to myself what could I do to this soup to make an amazing creation of my own. That was when I realized there wasn't anything I needed to do. I honestly do not think this soup needs salt, pepper, or anything to make it better than it already is. Honestly, if you were here when I gave it a try you would have heard me continue to exclaim how much I loved this chicken noodle soup, and I'm not usually one for vegetables. However the vegetables in this soup are not over powering. My daughter especially loved the peas!
Bear Creek Country Kitchen Tidbits
Bear Creek makes a variety of hearty and easy-to-make family meals. Our satisfying pastas, soups and rice mixes are ready in 15-30 minutes and are made by just adding water! The Bear Creek brand started in 1991 on the Western Edge of the Rocky Mountains in Utah. The small, family owned company used homemade recipes and the finest ingredients to create hearty soups and side dishes. Today, Bear Creek continues the tradition of delivering deliciously satisfying meals just like mom used to make.
The chicken noodle soup was so good I can't wait to try the rest. My daughter is ready to dive into the Beef Mix, she loves rice. I personally can't wait to see if the creamy chicken is as good as the chicken noodle. I have a feeling it is, I've heard from a few friends regarding their favorite flavor. Bear Creek Country Kitchens is more than just soups. As you have seen not only do they have rice, you can also find pasta dishes like macaroni and cheese. Another favorite of mine that I admit is prepared out of a box at our home. If I can spend the same effort as I usually do, opening a can or box, and my meals taste like I have home cooked it then it is a winner as far as I'm concerned! (Wait until I tell Honey they have cheddar broccoli!)
The great thing is Bear Creek Country Kitchens can be found in your local grocer's soup isle. So walk by those cans and boxes and look for the amazing flavor found in a package!
What is your favorite flavor of soup? Did your mother or grandmother make a rockin' homemade version?