Losing a loved one is a deeply challenging and overwhelming experience. And this loss turns into grief—a natural and necessary process that can also be isolating and difficult to navigate.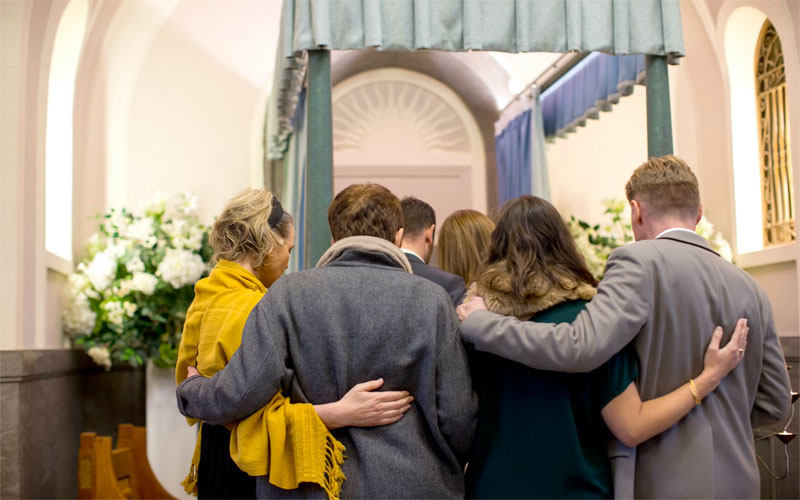 Similarly, supporting someone can be challenging, especially if you're unsure how to do it. However, offering support and comfort to your loved one during this difficult time can significantly impact the healing process. 
Everyone experiences grief differently, so there is no one-size-fits-all approach to supporting someone through it. This article provides some general ways to support a loved one through grief. These points offer a framework for supporting your loved one in ways that work best for them. You can help them navigate through grief and move toward healing by providing comfort and support.
Be Present
One of the most meaningful things you can do for someone who is grieving is to be present. This means being there for them physically, emotionally, and mentally, listening to them without judgment, holding space for their pain, and being available to help in any way possible. Being present can also involve attending the deceased person's funeral and burial.  
Offer A Funeral Wreath
Sending funeral wreaths for condolences is a traditional gesture meant for grieving families. Funeral wreaths can be a beautiful and meaningful way to honor the deceased's memory and show your support for their loved ones. They can be personalized with specific flowers or colors with special meaning or a message of condolence or support. 
When choosing a funeral wreath, consider the size and style of the arrangement, as well as the preferences and traditions of the family. You may also work with a florist or funeral home to ensure the wreath is delivered and displayed appropriately. By sending a funeral wreath, you can offer a lasting tribute to the deceased and provide comfort and support to their loved ones during this difficult time.
Practice Active Listening
Active listening means giving your loved one your full attention, focusing on what they're saying, and responding to demonstrate your understanding and care. Doing so can help them feel heard and validated, which can be incredibly healing.  
Minimize any distractions by giving your full attention to your loved one and understanding their perspective. This means putting away your phone, turning off the TV, and avoiding any other interruptions. 
Offer Practical Support
A grieving person may struggle with even the most basic tasks. Offering practical support can ease their burden and show them that you care. Practical support can take many forms, depending on the person and the situation. It might mean cooking meals for them, doing their laundry, or helping with childcare. It can also mean running errands or taking care of their pets. Alternatively, you may offer to help them with funeral arrangements or other logistical tasks. 
When offering practical support, be specific about what you can do. Instead of saying, 'Tell me if you need anything,' offer specific tasks you can help with. For example, 'I'm free this afternoon. Can I come over and help with the laundry?'
Share Memories
When a person dies, their loved ones are left with memories that can be both painful and comforting. Sharing memories with your loved one can help them feel connected to the deceased person and provide comfort and healing. 
Sharing memories can mean looking through old photos or videos together or sharing stories and anecdotes about the person who has died. If possible, you may also create a memory book or scrapbook or plant a tree or memorial garden in their honor.
Respect Their Boundaries
While being present and offering support is essential, respecting your loved one's boundaries is also important. Grief is a unique and personal experience that affects everyone differently. 
Your loved one may need space and time to grieve on their own, or they may want to talk about their feelings and emotions. They may want to be surrounded by friends and family or prefer to be alone. Take cues from them and follow their lead. Don't push them to talk or share more than they are comfortable with; don't take it personally if they need time alone.
Be Patient
Healing from grief is a process that takes time and patience. It's important to understand that everyone processes grief differently and that there is no set timeline for healing. Your loved one may experience various emotions, including sadness, anger, guilt, and confusion, that may deflect on the people around them. 
Understand that these emotions are normal and may take time to work through. Once they've grieved all their sorrows and are ready to begin healing, you can offer your support by encouraging them to take family counseling or care for themselves again.  
Final Thoughts
Supporting a loved one through grief is not easy, but it's imperative. By offering practical support, sharing memories, and being present in their lives, you can help your loved one feel heard, validated, and comforted during this difficult time. 
It's also important to respect their boundaries, practice active listening, and be patient as they navigate the journey of grief. Everyone grieves differently, and there is no "right" way to support someone through this process. However, with your support, your loved one can begin to heal and move forward.