Take a look around your home. Does it look a little rundown? As if it hasn't gotten much attention in a while, aside from some cleaning? Then you could need to improve it, which might seem like a chore. It could also take a lot of work. With a few home improvement hacks, though, you shouldn't have to worry about that.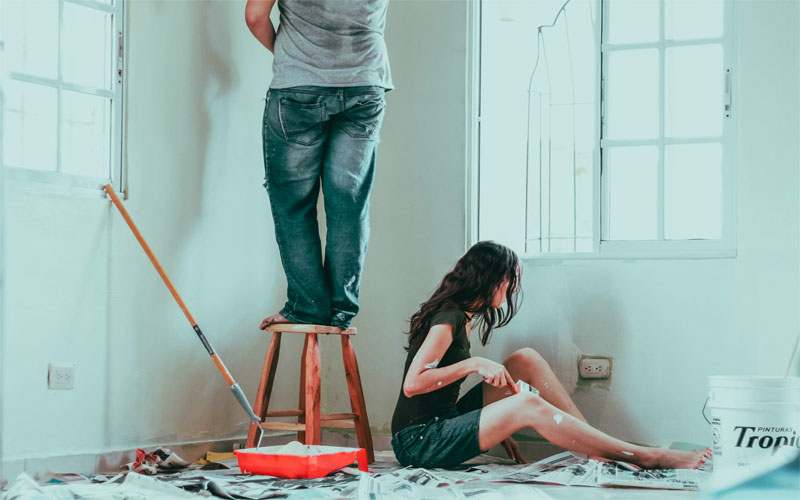 If you want your house to look nice, it's worth doing.
Why Improve Your Home
Before diving into the best home improvement hacks you can use, it's worth looking at why you should put the effort into it. Why should you improve your house? The most obvious reason for this is it makes your home more appealing and comfortable to live in. You'll have a nicer home, and you'll want to spend more time in it.
Once everything's done, you'll actually enjoy spending time in your house. Instead of dreading getting back from work, you'll look forward to it. You'll not only see that in the aesthetics, but also in functionality and comfort. You'll feel better in your house, which could end up benefiting your mental health.
Some home improvement hacks even make your home healthier to live in. They'll address any potential issues while sorting out a few repairs, so you won't be exposed to anything you shouldn't be. Add in the safety element, and it becomes even more appealing.
With other repairs, you could even make your house more efficient. Your electricals and appliances might end up using less electricity, so your utility bills will be lower in the future. With the right amount of time, your home improvement hacks could end up paying for themselves.
Then there's the fact that improving your home should make it more valuable because of each of the reasons mentioned above. Your house will be more appealing, so potential buyers should be more interested in it, letting you come up with a higher asking price. The increase could be enough to pay for your improvements and make some profit on top of it.
That's only the case if you go for the right options, though. Using certain home improvement hacks and focusing on the right areas is sure to help with this.
Most Popular Home Improvement Ideas
One of the first things you should do when considering improving your home is figure out which ones you should go with. Some options are more popular than others, as they'll add more to your home than your alternatives. It could be worth going for these, with the most popular options being:
Kitchen Remodel
Adding a master suite
Basement Remodel
Adding a deck
These can all be relatively expensive, even if you're doing them yourself. With a few home improvement hacks, though, you can make it more affordable while still having a decent impact on how your home looks and feels.
Home Improvement Hacks You Need To Use: 5 Top Picks
1. Declutter
You don't have to put a lot of time and effort into improving your home. One of the quickest and easiest ways of making your house nicer is decluttering. If a few rooms are packed full of furniture, décor, and other belongings, it's worth figuring out what you should keep and what should go.
Once you're done, your home will feel less cramped and it'll be much more comfortable to live in. You'll even have the space you need to add a few other small bits and pieces when you're making it look nicer. That doesn't mean you have to throw out everything you're not using, however.
Instead, you could just store it somewhere else, with a storage unit being a great place for this. If you have any seasonal belongings, it's worth keeping them in this unit. With SecureSpace self storage, this will be easier than you would've thought. You can declutter without needing to actually get rid of anything.
2. Update Appliances
As mentioned above, some home improvement hacks help lower your utility bills. The most obvious of these is updating your appliances with modern options. The newer an appliance is, the more energy efficient it tends to be. While that means actually spending money on them, it pays off in time.
Older models can even be more likely to break down, which causes a lot of hassle. Avoid the headaches by getting newer options. The drop in your utility bills will pay for the investment more than you'd think.
3. Invest In Baskets
You'll have to invest in a few things if you want to make your home look nicer, but these don't have to be expensive purchases. Baskets are quite affordable, and they could be put to better use than you would've thought. They can be used for storage, and they'll even look amazing while being functional.
Hanging baskets are a great choice if you want functionality alongside aesthetic appeal. Pick up a few of them, and you won't have a problem finding somewhere to put them. Focusing on how decorative they are is essential.
4. Deep Clean
As highlighted above, decluttering can be a great way to make your home look nicer. Once you're done with it, though, you could find some areas aren't as clean as you'd want them to be. Even if you haven't decluttered, some places could still be relatively dirty. Nobody wants to put up with that.
By spending a day deep cleaning your home, you'll have more of an impact than you'd think. While this takes a decent bit of time, it isn't exactly complicated. If you have wood or stone floors, it'll be quite straightforward. Even carpets don't need a lot of effort if you have the right products.
There's no reason not to give your home a deep clean.
5. Add Glass Doors To Cabinets
If you want to add a bit of elegance and class to a room, it's worth looking at your cabinets to do so. The doors on these could be made of wood or similar material, and they mightn't be as stylish as you want them to be. By switching them for something else, you could make them look much nicer.
Glass cabinet doors can be an appealing choice. They'll not only look elegant and classy, but the doors themselves could end up taking up less space. While this will be relatively minimal with each cabinet, it adds up if you have multiple cabinets in one room. Even if they don't give you too much extra space, the sheer aesthetic improvement is worth it.
Home Improvement Tips
Using the home improvement hacks mentioned above is enough to make your home more visually appealing, comfortable, and valuable. That doesn't mean they're the only things you'll have to focus on. Instead, it's worth adding in a few other home improvement tips if you want to take things to the next level.
They'll not only add to the benefits of improving your home, but make the process less stressful. You wouldn't have a problem getting through the process by using them.
Go Into It With A Plan – Before you start with any of your home improvement ideas, have a plan in place to deal with them. If you're renovating or improving more than one area, it'll be especially important to have this. Be comprehensive with it so you know exactly what you're doing. It'll take a lot of confusion and stress out of the process.
Do Time-Sensitive Improvements First – Some home improvements could be time-sensitive, with repairs being the most obvious of these. If there are any time-sensitive improvements to tackle, make these the first ones you tackle. Any quick and easy ones should be done first before moving on to the more complicated ones. After that, it's a matter of looking after the other improvements you've planned.
Scrimp & Splurge Responsibly – You mightn't have the budget to splurge a lot on your home improvements, but that doesn't mean being cheap with everything. Instead, it's a matter of knowing where to scrimp and where to splurge. If you go for the cheapest possible option with everything, you could just make more work for yourself in the future. Know what's actually worth spending your money on, and spend your money on it.
While you'll always need to put some time and effort into improving your house, it shouldn't be as stressful as you'd think. Focus on the right areas, and use the right home improvement tips to help with it. It'll be breezy to get through, and you'll be done before you know it.
Home Improvement Hacks You Need To Use: Wrapping Up
If you want your house to look nicer, but don't want to put a lot of time and effort into it, a few home improvement hacks are worth it. You'll make your home look nicer, be more functional, and even make it worth more money. You've no reason not to spend some time on it. With the right hacks and tips, it'll be easier than you would've thought.