If you own a Venta Airwasher then it is time to take it up a notch and fill your home with the amazing scents of winter, summer, spring, and fall with Venta Airwasher Aromatherapy!
Venta Airwasher Aromatherapy
I love candles, fragrance sprays, plugins, and warm apple pie cooking in the oven. What I mean is I love to fill my house with wonderful smells. Of course what scent I choose will often depend on the time of the year. For example right now as we move into fall soon with Halloween around the corner I love the smell of pumpkin spice, apple pie, and cinnamon. I can now use my Venta Airwasher as more than an air purifier. With Venta Airwasher Aromatherapy made specifically for my Venta Airwasher it can do double duty!
Last week my husband walked in from his weekly golf outing and after being home for a few minutes he made the comment, "It smells like cinnamon in here?" He was out in the living room at the time and the Venta Airwasher was running in my bedroom. What he was smelling was the Venta Airwasher Aromatherapy "Winter Dream". It is one of my favorite fragrances of the 6 scents available from Venta Airwasher.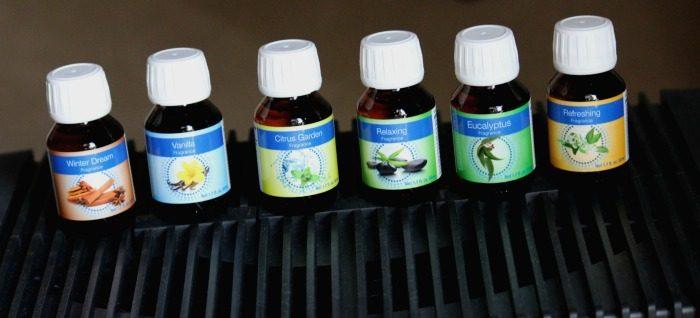 Venta Airwasher Aromatherapy
Winter Dream:  is a warming blend of cinnamon and citrus, an easy fix for the winter blues.
Vanilla: is inviting and warm, creating a home full of health and balance.
Citrus Garden: is invigorating and bright, a refreshing blend of citrus oils.
Relaxing: will help you unwind after a long day with its cinnamon, grapefruit, and carnation blend.
Eucalyptus: is a soothing blend of eucalyptus, peppermint, and tea. A necessity for anyone with congestion.
Refreshing: is a zesty and fresh blend of orange scents, the perfect way to start the day.
I had my daughter smell each of the aromatherapy and was not surprised when she chose Vanilla has her favorite scent. Vanilla is always a favorite amount my kids when I purchase candles or plugins. The scent of the Venta Airwasher Aromatherapy oils last about 2-3 hours. I use it often during the weekends when we are home enjoying the rest and relaxation. You simply add a capful of oil into the Venta Airwasher and it will do the work. Hopefully they will be adding more scents to the line. I would love to see Lavender which is perfect for bedtime and roses, gardenia, or jasmine something floral (I love the scent of flowers!)
You can purchase Venta Airwasher Aromatherapy at Amazon!