Things have been quiet here on the Shibley Smiles front. I must admit that I am finding myself trying to enjoy life more than write about it. Not to worry we aren't going anywhere, Shibley Smiles is here to stay. However I am trying to find the balance between blogging "the job" and blogging "life". Meaning I am trying to add more personal when I can and take on less work so that not only do I have time to blog personal but I also have time to enjoy life in general.
That said I wanted to share our weekend adventure as I was so proud of my daughter. I absolutely love the principal at my daughter's school she is creative and fun. This weekend they organized a "School Beautification" program and asked for volunteers. All parents and students were welcome to come and help clean up the school. My daughter really wanted to go so we set off Saturday morning to join in.
Weeding the Garden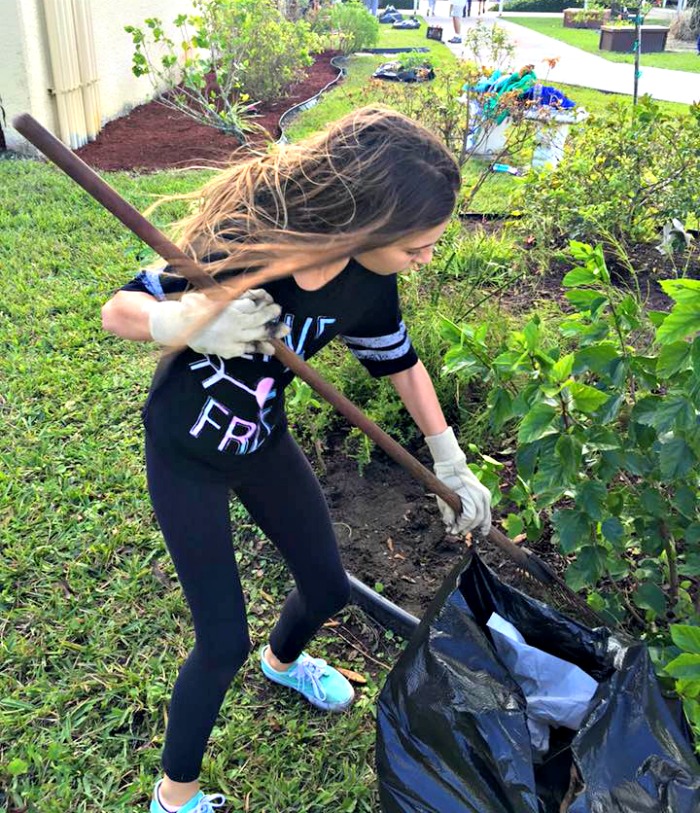 Last year my daughter's class took on a big project and they cleaned up the school and created several garden's throughout the school. The kids learned about different plants and flowers as well as how to weed and care for the garden's. They also created a special garden for a teacher who had passed away due to her battle with cancer. My daughter's teacher even got all the kids together over the summer to help weed and clean up the garden's. They were all in need of weeding so this is where Honey wanted to start.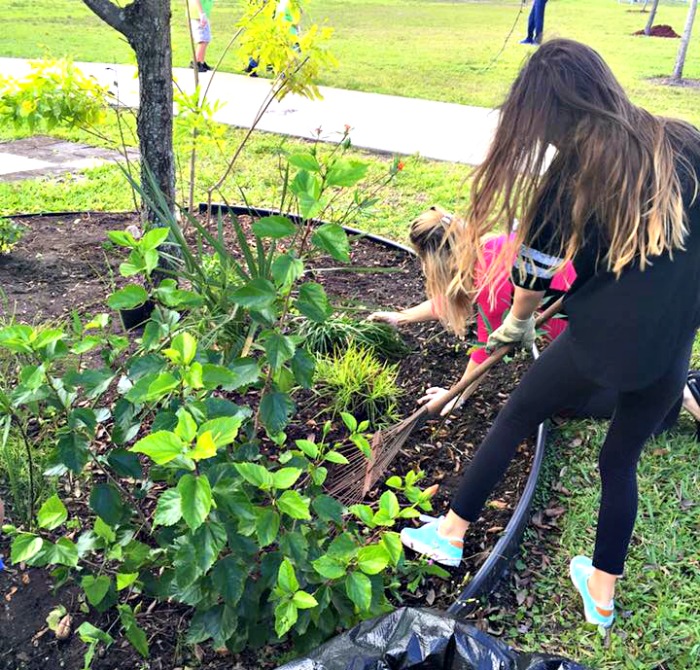 The photo above is after we had done most of the weeding. All that was left was a little bit of raking to get the leaves together and then mulch was added. Check out this great mulch buyers guide. This is the garden, my daughter said, she worked on it last year so she was happy to be helping. The garden turned out beautiful once it was all done.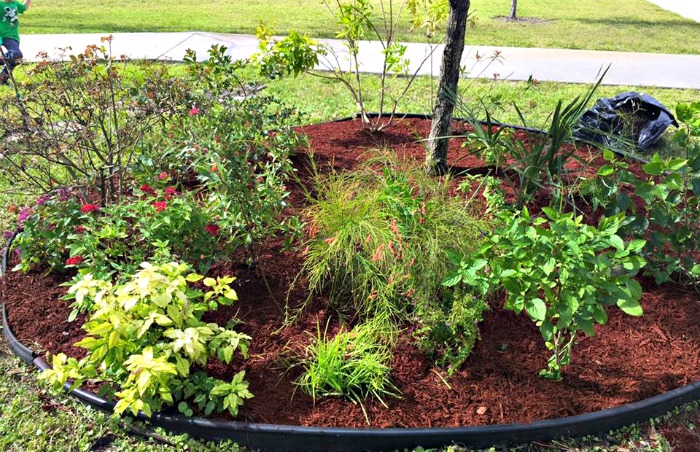 Once the mulch was in place and the garden finished Honey wanted to be on mulch duty. There was a HUGE pile of mulch in the yard and children filled wheelbarrows with the mulch while the parents delivered it. I was proud that Honey was so excited to work and she was the only girl that grabbed a pitchfork and dug in.
Mulch Duty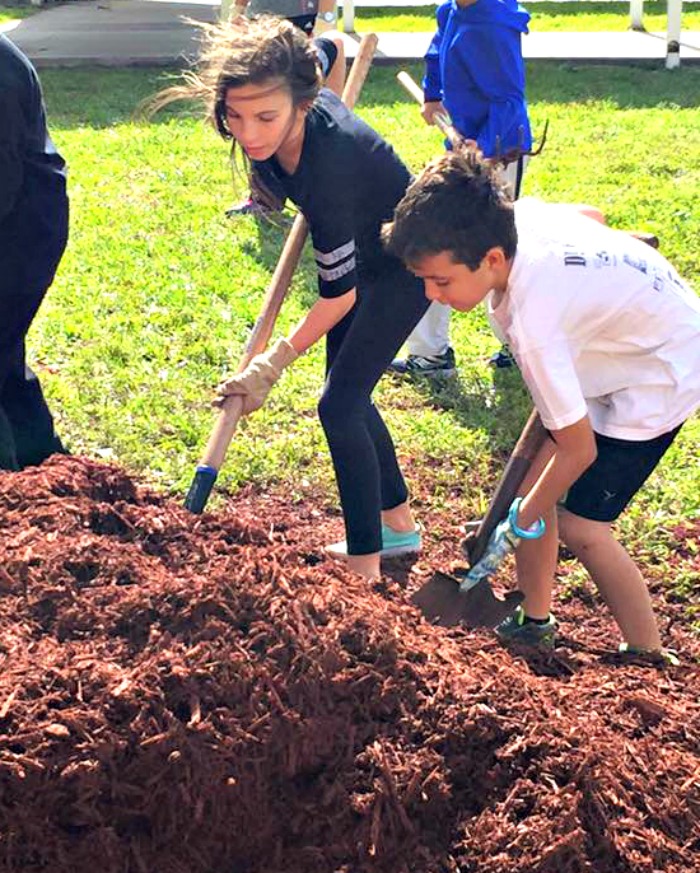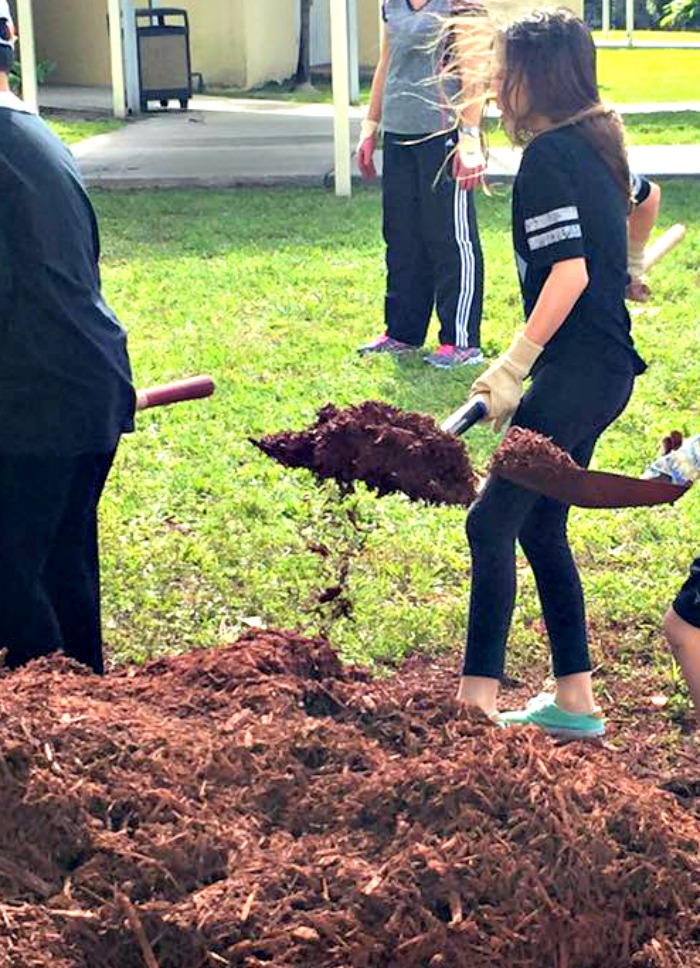 The school beautification consisted of weeding and gardening as well as painting, trash pick up, window cleaning, and more. By the time we left a few hours later the school was looking so nice. Honey can't wait to see what her school looks like when she returns today. I encourage you to let your kids volunteer in your local area it is so rewarding and they can see the fruits of their labor afterward.
P.S. Yes we live in South Florida and the kids are wearing short sleeves and sometimes shorts even in the middle of January.
Happy Monday and we hope your week is amazing!