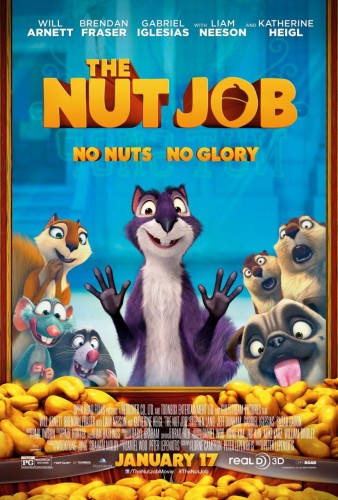 So when I heard there was a movie called "The Nut Job" out there I couldn't help but laugh and think that sounds like my family. Yes we are all a little nutty what family isn't? Or at least that is what I tell myself. It is always great to find a family friendly film that is not only enjoyable by children but also by adults. Have you ever sat through an hour and a half movie that was made specifically for children? It can be brutal.
Movies have come a long way and I just finished watching the movie trailer for "The Nut Job" which will be coming to theaters January 17th. You can check out the trailer yourself below
The Nut Job Trailer
It looks to be full of adventure, mischief, and fun, which pretty much sums up my own family. I can so picture a movie night with my husband, the kids, and myself enjoying a good dinner and trotting off to the movies for some laughs! There is nothing better when it comes to a family movie then a wholesome, side cracking, funny movie!
HE NUT JOB is an action-packed comedy in fictional Oakton that follows the travails of Surly (voiced by Will Arnett), a mischievous squirrel, and his rat friend Buddy, who plan a nut store heist of outrageous proportions and unwittingly find themselves embroiled in a much more complicated and hilarious adventure.
To get into the spirit of this sure to be "nutty" film Honey and I decided to create a fun healthy (mostly) trail mix. Since the whole point of the movies is to find the nuts and feed the park we decided that we would create a nutty trail mix and feed the Shibleys'!
Nutty Family Trail Mix Recipe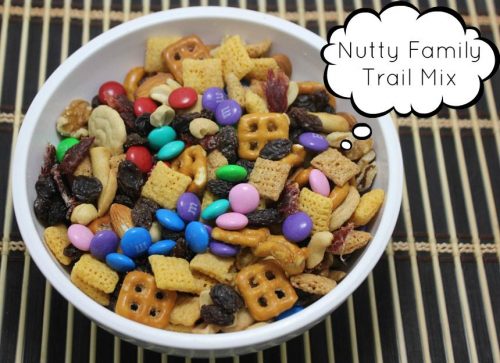 Nutty Family Trail Mix Recipe Inspired by The Nut Job
Author:
Prep time:
Total time:
Sweet and salty is the name of this family favorite snack.
Ingredients
Cashews
Walnuts
Almonds
Turkey Jerky
Raisins
M&M's
Honey Nut Chex Mix
Instructions
Simply mix together and serve!
We decided to include everyone's favorite nuts and other items in our trail mix recipe to create a mixture of healthy nuts, a little protein, and of course a little sweet. This is definitely better for you than candy, chocolate, and other movie favorites. However I'm sure that won't stop us from enjoying the popcorn, there is nothing like movie theater popcorn. Then when we are done we can come home to a healthy snack in honor of the movie.
If  you would love to follow the fun and get a little "nutty" yourself we encourage you to follow The Nut Job on Facebook and Twitter. We also want you to enjoy a movie night and create your own trail mix recipe to share with your family.