Saving time is something everyone wants to do. Cleaning the house is something most people don't want to do. No matter how small the task, the longer we let something go un-cleaned the more we make a molehill into a mountain. And, worse, we think any company we may host is putting our "dirty" home under a microscope. We would do anything to have a magic wand to wave at the dusty buildups, the streaks left on our windows and refrigerator doors (even after excessive cleaning) and that spot on the tub's tile that just won't disappear. Unfortunately such a wand doesn't seem to exist, even though there at least nine molehill-to-mountain problem areas in your house that appear to need a magic solution. So what's the next-best thing? This article is! Read on to discover tips from experts about little ways you didn't think of that can have a huge impact on the results of your cleaning efforts, your time and your peace-of-mind!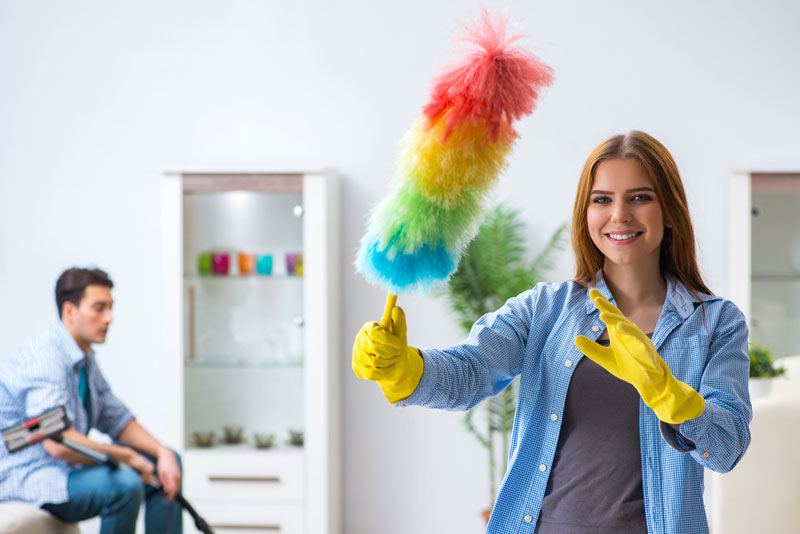 Area 1 : The Kitchen Counters and Cabinets Cascades
Area 1 is one of the most commonly used places in your home and therefore at most risk for bacteria and germ buildup. Counter tops, cabinet doors and handles all get blasted by crumbs, splashes, mildew, mold and spills. Not only are those things unhealthy for your family, they can also damage any surface they touch and cost you valuable time and money. Fortunately you most likely already have a solution in your kitchen that can be used to combat all those hazards.
Vinegar is a fantastic germ-killer. Dish soap is made to break up dirt and lift it off of whatever surface it was stuck to. Essential oils add favorable scents and shine to your kitchen. Be careful to not use too much soap. Put just a drop or so into a spray bottle filled with vinegar to avoid having to spend extra time rinsing. Use ten drops of your favorite essential oil (give or take a few drops) in the solution to add fragrance. And, for tougher work, pre-soak the affected areas with rubbing alcohol to make your job easier. Just be sure your surface can handle the alcohol before applying.
Note: Stone counter tops and surfaces require special cleaner. Do not apply vinegar to your stone-made products.
Area 2: The Kitchen Sink Sierras
Comet makes highly effective cleaning products but not everyone can handle or wants the chemical components in their homes. Baking soda and lemon juice are equally effective albeit natural solutions for cleaning and disinfecting your kitchen sink. This au natural concoction can also be used down your sink's drain to help clear out germs and buildup. Just make sure to also pour hot (even boiling) water down the drain to help prevent clogging.
For best results disperse the baking soda into the slightly wet sink prior to using the lemon juice. Use an actual lemon with pulp to rub over the baking soda like you would use a cloth/sponge. This helps break up dirt and more effectively clean your sink. Handles and faucets are the 2nd-worst offenders next to the drains, but you can tackle cleaning them by applying hydrogen peroxide and baking soda then scrubbing with a (clean) toothbrush. Wipe the areas down with a damp cloth until clean and allow to dry
Area 3: The Kitchen Refrigerator Ranges
Who would have thought your refrigerator could be treated like a salad? Vinegar and olive oil are great, natural items you can use to keep the fridge and freezer doors germ-free and shiny. The vinegar is applied first via spray bottle and wiped down thoroughly. Then the olive oil is applied and rubbed in extremely well to prevent streaking. The finish should last for up-to 2, fingerprint-free weeks.
That being said, the olive oil solution is not for everyone. It can build up and potentially turn rancid if not applied correctly or your home is in a particularly humid area. Coconut oil is therefore an ample substitute. For those of you opposed to applying food to your "food box," you can always use good old soap-and-water to get the job done.
Area 4: The Litter Box Blue(s) Mountains
Litter boxes are fertile breeding grounds for bacteria, odors and germs. Even a daily cleaning out of the contents can not prevent eventual build up of toxic proportions. First of all, never keep your litter box near your kitchen, bathroom or laundry room. Have a designated area for it that doesn't attract too much moisture and keep it out of daily life as much as possible.
Then, at least twice a year, completely empty the box and soak it in extremely hot, soapy water. Empty the water outside somewhere appropriate and rinse. Then, liberally use a non-toxic, commercial spray or hydrogen peroxide on a paper towel to further disinfect the box. You can also pour a little baking soda in the litter after each change to help keep odors at bay. And, just like you can in normal trash cans, use a liner to help prevent excess buildups.
Area 5: Your Misty Mattress Mountains
Mattresses – like blankets, sheets and pillow cases – absorb odors, dust and sweat. The main difference between a mattress and those other items is that a mattress can't be washed in hot, soapy water. And since it doesn't get the chance to "breathe" the way sheets do since it is always covered/contained, it actually can get much dirtier than you might think. Use a cover/line to keep your mattress cleaner, fresher and give it a longer life. You can always ad a soft, washable mattress pad on top of the liner for added comfort.
Vacuum around your mattress and box spring once a week to get rid of dusty buildups. Rotate the mattress twice a year and each time you do, apply baking soda and let it sit for a few hours before vacuuming it off the mattress. This helps remove odors and additional buildups. You can check vacuum cleaner reviews to learn more about vacuum since you it's going to be your partner in this task. For a more aggressive approach use a handheld steam cleaner on a monthly basis to get rid of potential bed bugs and bacteria accumulation. 
Area 6: The Window Blind Barisans
The standard and still-effective way to clean blinds is by vacuuming left-to-right and up-and-down until the dust is gone. There's nothing wrong with this and it works just fine. But for those of you looking for more sterility and shine, try mixing water, vinegar, rubbing alcohol and Dawn dish soap, well-shaken and sprayed conservatively onto the blinds. Wipe them down with a soft, microfiber cloth for shinier and more noticeably clean blinds.
Witch hazel is a great substitute for the rubbing alcohol as it dries faster and has a more pleasant smell. You can not use this solution on wood of faux-wood blinds because it will stain or damage the coating. So for these types of blinds you must revert back to the initial vacuum method or wipe down with a barely-damp microfiber cloth. No matter what, to prevent muddy-looking dust buildup you will want to use a dry cloth or vacuum before applying any moist solutions to your blinds. 
Area 7: The Bathroom Accessory Andes (Counters, Fixtures, Showers and Tub)
Baking soda is a great addition to any all-purpose cleaner when going after your bathroom dirt. Wet rags, buckets of warm water and additional rags for drying are all old-school methods that still work today. Still, wet rags can still spread some germs around as opposed to cleaning them up. Microfiber cloths are good for trapping dirt and are ample substitutes for the old rag.
Obviously you will need to use a different cloth for the sink than you do for the toilet. And, to be honest, you should use a different rag for each item in Area 7 to prevent transferring germs from one item to another. Make sure to let whatever cleaning solution you use sit on the surface for at least 10 minutes before you wipe it off. This will help ensure it does its job the fullest of its ability. You can also go all-out and use several types of cleaners since the bathroom is a "special place" where germs like to hide.
Area 8: The Toilet Bowl Taurus Mountains
Good Enough
You can clean a toilet, but you can't clean a…denture? Actually you can do both with the same denture-cleaning product. Put a few in the bowl and let them "sink it" for a few hours. Follow up by scrubbing and cleaning as usual. An option for stronger, more stubborn issues is to scrub the bowl with borax, baking sad and salt on a pumice stone. You can get these stones on a handle and, believe it or not, they won't damage the bowl.
Pet owners may need to secure the bathroom just in case their cat or dog get any ideas while any chemical solutions are in the bowl. 
Area 9: The Western Ghats of Windows and Mirrors
Streaks are the collective bain of cleaning mirrors and windows. Hydrogen peroxide on a microfiber cloth can do wonders for that. Rubbing alcohol and water is also effective. Just make sure you spray your cloth and not your mirrors and windows directly. Dripping water can build up and collect around the edges and breed mildew, mold and bacteria. In the event a window or mirror is extra grime-y (perhaps it was outside, or in a garage, etc.) you can mix castile soap with rubbing alcohol and a rubber squeegee to remove the dirt.
BONUS TIP: The Great Divide of Red Wine Removal
It's been said to not cry over spilled wine. Wait…milk? Both, actually, and both are bad when spilled, especially onto carpets or furniture. Dry those tears because simple table salt and boiling water are effective stain prevention items. Blot the spill first to get excess liquid soaked up as much as possible.
DO NOT RUB! It will only make the stain worse, I promise. Sprinkle the salt on the BLOTTED area and let it settle in for at least five minutes. Next, pour your boiling water onto the stained area. Launder if applicable. If not, blot then air dry or use a hair dryer/fan to accelerate the drying.