All headphones are not created equal. It only took me going through pair after pair to figure this out. Yes I'm cheap, or at least I buy cheap for many things, and I use to for headphones. No wonder I thought they were all created equal. For my sons birthday he wanted a certain pair of headphones that were $39.99. I thought it was a waste of money until I tried them myself.
Since this purchase I no longer purchase the $9.99 pair and instead opt for a better quality headphone. When my husband purchase an iPod to take with him on his workouts I purchased the same headphones I did for my son since they worked so great. However he soon found there was a problem with these headphones. That problem was they would not stay in his ears. No matter what size ear buds he used they just would not stay in his ears.
I personally own the headphones that go over the hear for this very reason. Helps them stay in when I'm running. However he was not a fan of those either. So now I didn't know what to do? I didn't want to spend money on several sets of ear phones looking for a pair that would be just right. Then we had (or he had) the opportunity to review some headphones from Klipsch. When we were in NYC at BlogHer12′ this was one of the goodies we got to take home thanks to Best Buy
When my husband saw me pull them out of my goodie bag he said "Thanks!" I need knew headphones, so to him they went. I asked him after a week how were the headphones and he said, "Great they don't fall out of my ears." I was so glad we found a set of headphones that worked properly. Also because they are snug in your ear they keep out a lot of outside noise so you can hear just the music.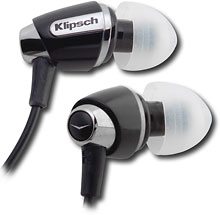 Product Features Klipsch – Image S4 Earbud Headphones
Earbud design
With an angled nozzle directs sound into the ear for deep bass and extended frequency response. 4 soft, flexible oval ear tips (small, medium, small/medium and large) for a comfortable fit in your ear canals.
Moving coil driver
Delivers brilliant sound. Tuned bass-reflex woofer system delivers enhanced bass.
Noise-isolating design
Reduces background noise for clear audio.
Durable, built-in strain relief
Keeps you comfortable while you listen to your favorite tunes.
Works with Apple® iPod® and iPhone
For wide-ranging compatibility.
According to the reviews on the Best Buy site these earbud headphones have a customer rating of 4.2 out of 5. Both my husband and I think this is a fitting rating.
---
Disclaimer: The reviewer has received compensation for this post in the form of the reviewed product or a gift card. All opinions are my own. You may read more of my disclosure here.
---