If you think a blender is just a blender and they are all created equal you may not have tried a Blendtec blender yet. I had somewhat thought the same thing, however, after looking back at my past blenders I have to say they weren't all that great. We are talking about $20 blenders that did one thing….blend. They didn't always do it all that well either. Many times my ingredients would get caught down in the bottom under the blades, or the ingredients would just not blend and I would end up with a chunky smoothie.
I was recently sent a Blendtec Designer Series blender to review and the first thing I said was, "Ok so what is this blender all about?". First I have to say I love the selection of colors. I know it is a small thing but sometimes it is the little things that make the difference. This way you can match your blender with other kitchen appliances you have (like I said it is the small things)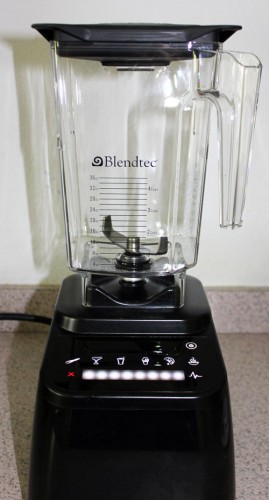 My Blendtec Designer Series Blender came with a fun "Fresh Blends" recipe book, however in order to test it out I decided to take a more classic approach. I purchased a frozen smoothie kit which is something I would make myself quickly in the morning before work many times. This I thought would be a great choice because it is already something I use my current blender for.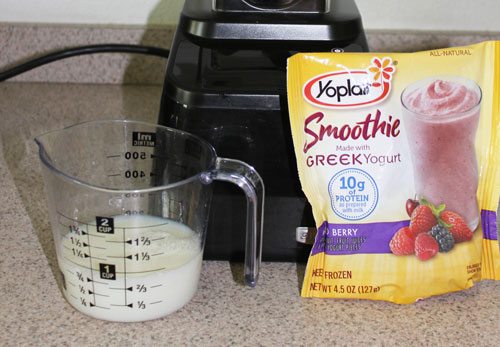 I plugged in the Blendtec and immediately an on/off button lit up so I pushed it and all the settings lit up. What is unique about this form of operating your blender is with all the buttons being digital instead of traditional push buttons it makes cleaning up a lot easier. Just simply wipe off the flat area and viola! No trying to clean around buttons or food getting lodged under them.
Blendtec Settings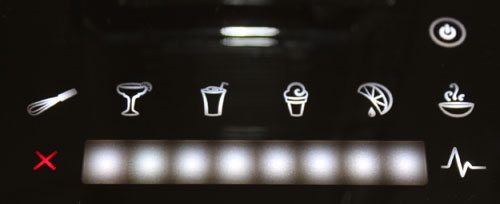 I saw all the cute little icons such as a whisk, glass, drink, ice cream, etc. These settings are similar to the type of settings you might find on a microwave (popcorn, defrost, etc) each setting is customized to make exactly what is pictures.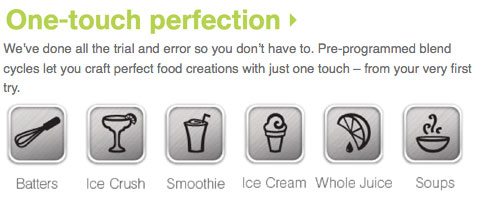 For my test drive I was making a smoothie. The icon for that is the drink with the straw. I put the ingredients into the Blendtec and selected smoothie. The blender powered up and started blending. My directions on my smoothie ingredients said it should blend for approximately 30-45 seconds. As soon as I started the program it showed the seconds as it was counting down and it just happen to be within that range.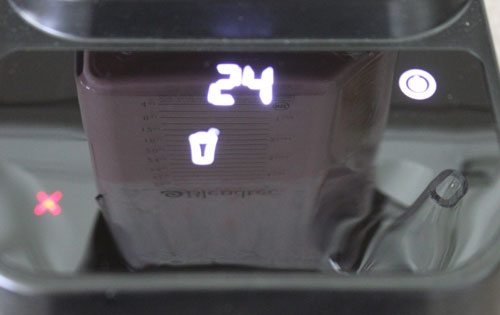 Throughout the program I noticed that the Blendtec wasn't just simply blending at one speed. I believe it started out at a level that was perfect for chopping and blending the ingredients. Then as it was getting closer to the end it began to speed up to really get my smoothie smooth. I love the idea of just selecting one button and the blender being smart enough to increase, decrease, and change settings. In addition to the cool settings you do have total control over your blender. The long strip under the settings you can drag right and left to increase or decrease the speed, giving you all the control you need.
Strawberry Smoothie
When all was done I ended up with a perfectly smooth strawberry smoothie!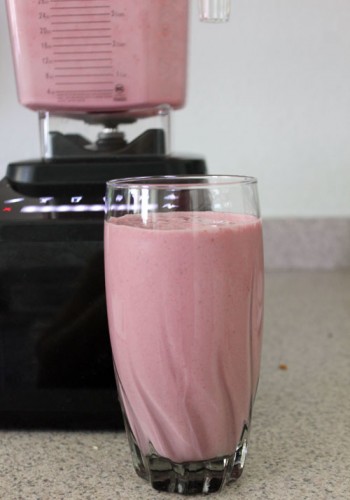 The Blendtec Designer Series Blender is more then just a blender. One of the great things about it is it is a space saver. This is because it can take the place of so many other kitchen appliances. Check out the graphic below and you will see that it can be used as a coffee grinder, ice cream maker, food processor and more!
Blendtec More Than a Blender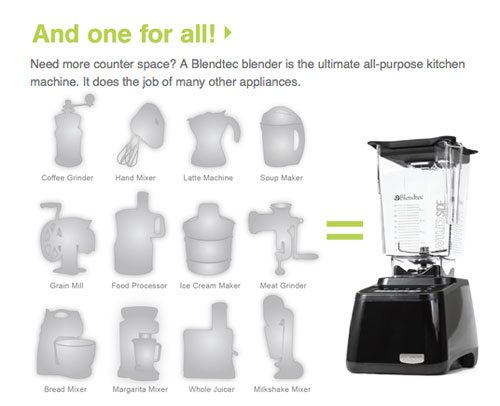 I mentioned that the blender came with a recipe book
Each Blendtec blender comes with the Fresh Blends recipe book. Each of its 200+ recipes delivers delicious results using blend cycles of 90 seconds or less!
The recipe book comes with some great blending tips as well as how to clean and care for your blender. You will find recipes for smoothies, breakfast, dips, sauces, desserts and more! All of which can be made with your Blendtec blender!
What do you use your blender for most?