One of the nice things about staying at a resort is that everything you need is right there from your morning newspaper to your evening snack. It truly is living and not just vacationing. When we arrived late Friday night we were all a little hungry as we packed up the minute I got home from work and made our way down to the resort. After checking in and getting situated we decided that we didn't want to go to a restaurant or leave the resort so we ordered in-room service. There was a wide selection to choose from for all meals breakfast, lunch, and dinner. The nice thing is it was delivered right to our door and the dishes were picked up when we were done.
We had a few options when we woke the next morning from in-room dining, Marketplace Cafe (which is a grab-and-go cafe), or BLT Prime.
BLT Prime, Trump National Doral's signature restaurant, features two private dining rooms and a panoramic view of the resort's world-renowned Blue Monster golf course. Ideal for golfers, business lunches, family dinners, resort guests and diners in between, BLT Prime in Doral is the second location of the steakhouse favorites.
We dined on a breakfast buffet that included an omelet and egg bar. I always love buffets because everyone can usually find something they like. My husband enjoyed the omelet bar. My favorite dish was the seasoned potatoes! As mentioned above there is a beautiful view while dining on your breakfast of the Blue Monster, their signature golf course.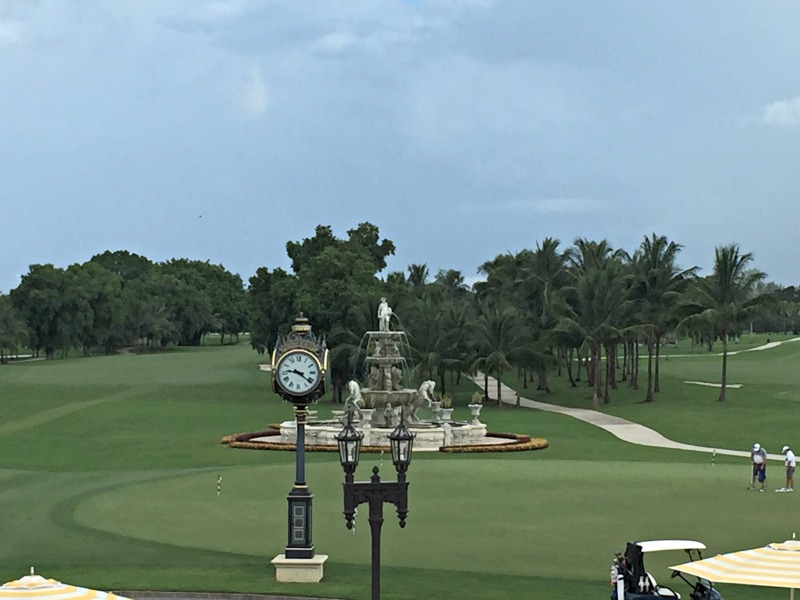 While the boys were out playing golf my daughter and I got to enjoy a mother-daughter lunch poolside. We had the option of ordering our meal and eating right at our chairs but we decided it would be easier to grab a table and enjoy the view. The menu selection from the Palm Grill was a little short but we both found something and ordered the grilled chicken sandwich. Honey ordered her favorite appetizer…calamari.
Dinner was had at Champions Bar and Grill. My husband was excited about dinner being a steak guy.
Champions Bar & Grill brings modern sophistication to a casual concept by combining first-class service and an upscale social setting. The menu presents handcrafted American cuisine and cocktails blended by expert mixologists. Choose from an array of appetizers such as the Jumbo "Red Tiger" Shrimp, "Chicken Lollipops," and Artisan Meats and Cheese Board. Specialty entrees include the "Big Boy" burger with sirloin pulled pork con mojo, aged gruyere and mushrooms, and the "St. Louis Ribs" with spiced rub, house barbeque, pork and cheddar grits and a vinegar slaw.
After being seated we met both the manager and the chef. The chef brought us out a special treat he had made just for us. I can't remember what was in it but it was wrapped in bacon, goat cheese, and an amazing sauce. It totally needs to be added to the menu as an appetizer! We also were able to partake in the non-alcoholic mojito and a delicious raspberry drink. Our favorite was definitely the mojito.
My husband and I enjoyed the steak that was cooked just right and tasted great. My daughter had her usual go-too, a salad, and my son who had eaten earlier and wasn't too hungry had the truffle fries. Though we were stuffed from dinner we couldn't help but take a look and order from the dessert menu. It was a tough choice but we all had something different. I went for the cheesecake which was GREAT it was nice and rich with a spoonful of strawberries on top, I couldn't finish the whole thing. My daughter ordered the Crème brûlée. I was surprised and asked why. Turns out she read about it in a book. My husband ordered some chocolate concoction. I have no idea what it was called but it sure looked unique.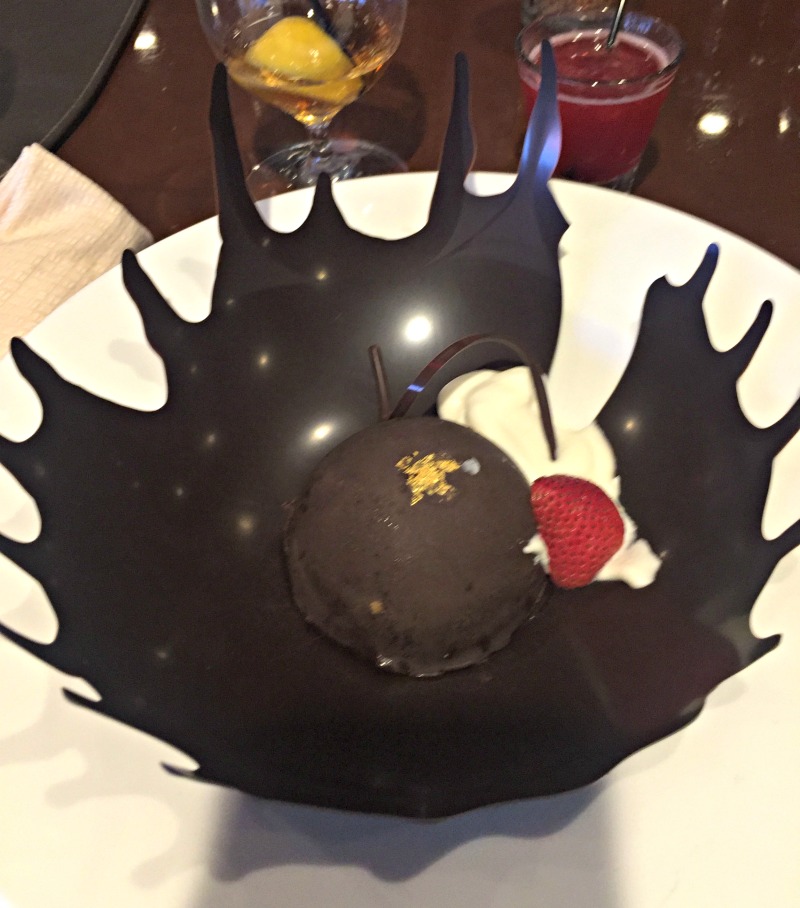 As you can see we did not lack any options when it came to eating during our stay at Trump National Doral. Look for one more post, a wrap-up about our stay. If you missed any previous posts please check out Best Villas and Rooms at Trump National Doral and Something for Everyone at Trump National Doral.