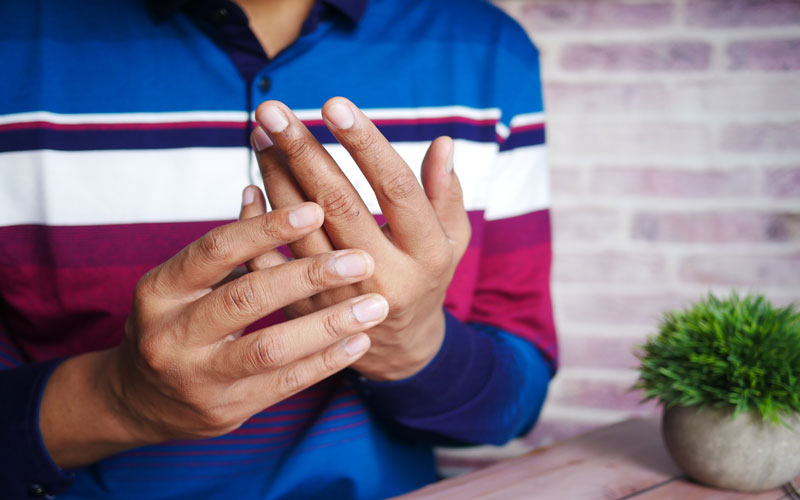 Taking care of ourselves is essential for living a healthy life. The older we get, the more susceptible we are to illnesses, aches, and pains. Some of the more common conditions and illnesses in older people are eye health, hearing loss, and arthritis, to name a few.
The older generation does not solely experience joint pains. Younger generations might also experience joint pains. There are a few common joint pains that some of us might experience in our lifetime. Here are a few of them, as well as what causes us to develop these pains and what signs to look out for.
Psoriatic Arthritis
Psoriasis is a skin condition causing a person to develop red and crusty patches of skin appear on their body. Those with psoriasis will likely experience different severity levels of the skin condition. For the majority that experience psoriasis, the patches that appear can be itchy and painful. Some might even experience the patches cracking and bleeding, making it even more uncomfortable. Spotting psoriasis is simple. Thanks to guides created by the likes of the patient, you can learn more about psoriasis, what triggers it, the symptoms, and the treatment to help relieve symptoms.
Those with psoriasis will likely also struggle with psoriatic arthritis. This can cause a person to experience pain, stiffness, and swelling around their joints. Psoriatic arthritis can sometimes develop in some people before psoriasis is present on their skin. Both are autoimmune conditions. The cause behind why some people develop them is because of a fault in the immune system.
Wrist Pains
Our wrists are considered a delicate area. The small part of our body is formed of ligaments, tendons, and eight bones. Since it is a small and delicate area, a person could likely experience some form of wrist pain in their lifetime. Wrist pain can be any discomfort you might feel in your wrist.
Many factors can cause us to experience discomfort in our wrists. One of the most common is carpal tunnel syndrome. It occurs when one of the three major nerves in the forearm, the median nerve, becomes compressed or pinched. The nerve is on the palm side of the hand. When it becomes compressed or pinched, you might feel discomfort in your index finger, thumb, middle finger, and part of your ring finger. People can experience carpal tunnel syndrome can occur from having a family history of carpal tunnel or if you have a certain medical condition like arthritis or diabetes. Another common reason for developing carpal tunnel is because of performing repetitive tasks with your hands. It could be drawing, sewing or typing.
Other reasons for experiencing wrist pains include sustaining a wrist injury. You may have fallen and used your hands to catch yourself when you fall. If you find swelling or bruising around the joints near your wrist, it could indicate that you have a fracture, a ligament, or a tendon tear. Arthritis and gout are two other common reasons you might experience pain in your wrist.
Back Pains
Like wrist pain, back pains can impact older and younger generations. There are various reasons why a person might experience back pains. Some might experience back pain due to lifting something too heavy for them, or they picked something up improperly. Others will find that they have back pain because of their posture, whether in the way they stand or sit. In addition, falling and sustaining an injury can cause a person to experience back pain.
Experiencing back pain can cause a person to be in significant discomfort. It limits their ability to be mobile and perform tasks without twinges in their back, causing them pain. For some, the discomfort back pain causes can prevent them from going to work. Other back pain symptoms can be pain that reaches past the knees and down the legs. It can also be experiencing consistent pain in the back, regardless of your position.
The best way to diagnose the causes of your back pain, and any other pains, is by seeking the advice of a medical professional.
In Summary
As we get older, taking care of ourselves is crucial. Whilst there is advice available on living well when in your older years, being able to identify the signs of pains and aches, like some of the mentioned common joint pains, is helpful to know.
Of course, booking an appointment to visit a medical professional is important if anything changes in your health. They can perform numerous tests to determine the cause of the aches and pains that you have been experiencing. The sooner you seek medical advice, the sooner you can begin treatments. Ensuring you seek the support and treatment you need will help you live a more comfortable lifestyle.