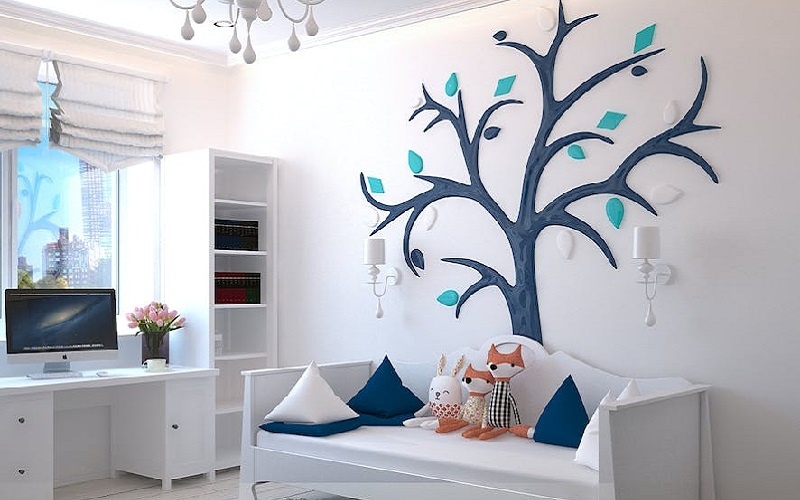 Creating aesthetically pleasing décor doesn't always have to be expensive. In fact, when it comes to family art, sometimes the best pieces are crafted with love and made from scratch! Whether you're just after something simple or more elaborate – there are countless fun ways of expressing your creativity while still sticking to a budget.
Here we'll look at 4 great ways to create delightful family artwork for your wall without having to spend a fortune. Read on to learn these inspiring ideas that you can give a try, plus some awesome tips that'll help you have stunning pieces adorning your walls soon.
Create an Eye-Catching Feature Piece with a Stenciled Canvas 
Stencils can be used to create beautiful pieces of wall art and make a lasting impression. By patting down filler tree paint and carefully tracing the outlines of stencils, you can easily recreate stunning designs like landscapes or family photos on a large canvas. Plus, using vibrant colors can add vibrancy and energy to your spaces.
Alternatively, if you're feeling adventurous, why not mix it up and try out intricate patterns for some added visual appeal? The possibilities are endless! If subtlety is more your thing, why not opt for softer pastel shades to give off an ethereal feel? What's more – creating layered texture effects using techniques such as dry brushing and taping can further amplify the look of your artwork.
Transform a Family Photo into Cartoon For Wall Display 
What better way to get creative than transforming a beloved family photo into an eye-catching cartoon with bright, bold colors? There are various tools available to help you transform photos into cartoons, plus the process is quick and easy. With such a tool, all you may need is to select the right template, pick your photos, edit, resize, and print your photos. If you're keen enough, your kids will love their personalized artwork too!
Plus, you could also include extra elements like funny text captions or some cute bodies alongside the faces for added personality. The choices are truly endless here – from different shades of hair color to fun doodles on clothing – so let that creative spark ignite! And if we combine this with framing, it will create an impactful piece to display proudly on your wall.
Create an Enhancing Wall Hanging from Beautiful Fabrics 
Spice up your walls with a charming handmade quilt-style wall hanging for added texture and color! Whether it's thick woolen fabric, light cotton, or something in between – this crafty idea allows you to make the most of your stunning material collection at home or even try out some new pieces.
Don't forget to play around with vibrant colors too. In line with this, consider that bright hues have the power to create illusions of larger spaces, while dark ones can cozy things up considerably in smaller rooms. It's just one more way to level up your art décor game!
Put Together a Scrapbook of Family Memories in Picture Frames
Ahhh, then comes the good ol' scrapbook! It's no wonder why this classic has been so popular over time – it allows us to express memories and showcase our favorite family moments all in one place! It's also one of the most fun things to do with the kids during the holidays. But what if you could turn one into a framed piece of family art for your walls? Yes, and you can also arrange various sizes of photo frames and mat boards for an extra touch of sophistication!
Moreover, you can use your own selection of embellishments such as adhesives, ribbon cuts, gems, or stickers to store quotes – giving you plenty more ways to be creative. Just remember to add some printed background papers too for visual depth… think polka dots or stripes, whatever floats your boat! This timeless idea is guaranteed to bring warmth and sentimentality into any home space.
So there you have it, 4 fun and cost-effective ways to get your family art up onto the walls. With just a bit of imagination, you'll be sure to create some eye-catching pieces that are full of personality! With the above ideas, even a novice decorator can add some magic to their wall space with family art.