It has been YEARS since I have painted my fingernails myself, almost that long when it comes to going to the salon as well. I often splurge and get a pedicure and living in South Florida and wearing open toed shoes daily painted toes are a must. However when it comes to my nails I always felt painting them was more work and up keep then it was worth. If I used regular nail polish, even if I had them done at the salon, I found that within a few days they were chipped. So not worth the money to get them done. Then I discovered gel polish. I have always loved the gel polish but again going to the salon and paying to maintain them was just not high on my priority of ways to spend my money.
I'm excited to say that I've found the solution to all my problems, no more chipped nails, or expensive salon treatments. MelodySusie has brought me back to the days of beautifully painted nails in a matter of minutes from the comfort of my home.
Melody Susie Gel Manicure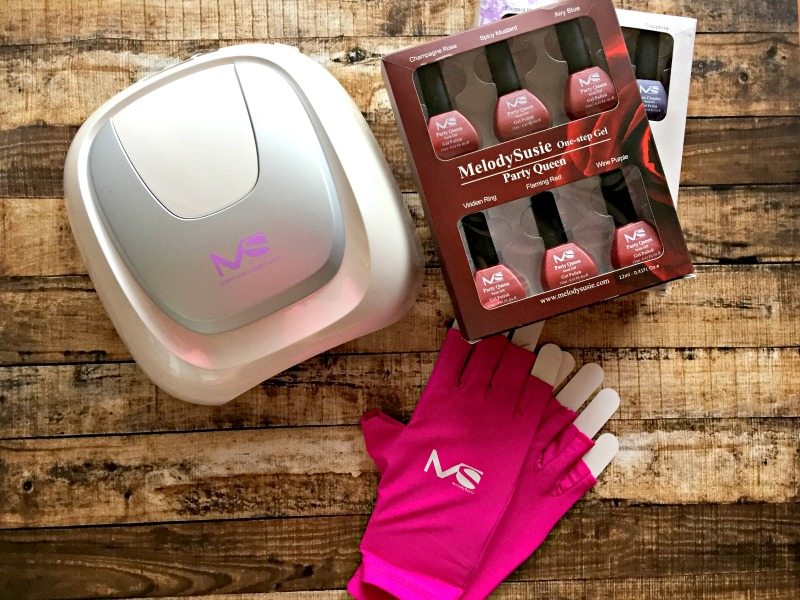 I received the MelodySusie Pro48W Nail Dryer, MelodySusie Party Queen Gel Polish Set, MelodySusie Lux Classic Gel Polish Set and MelodySusie UV Shield Glove to review. I was very excited about the opportunity and was happy to receive my products to review before the holiday hustle and bustle. How nice it would be to have beautifully painted nails before my company arrived.
If you have never had a gel manicure before the process is very simple and the effects are amazing. I set my UV Lamp to 60 seconds and put on the UV Shield Gloves. The UV Shield Gloves are to help protect your hands against the UV light in the lamp.  I painted my nails and cured them under the dryer for 60 seconds. I did this a second and third time to get a nice dark thick coat. After this I was done! No waiting around for a hour and hoping you don't touch something, bump your nails, or do anything to mess up your paint job.
The amazing thing with gel polish is after you have cured the polish it is dries immediately! You don't have to wait for anything to dry before you can go on with your normal routine. This was always a draw back of doing my nails at home with regular nail polish. With gel polish you paint, cure, and are ready to go. Even better the gel polish last for 2-3 weeks, which is a far cry from the 2 days before they would start chipping.
MelodySusie Party Queen Gel Polish Set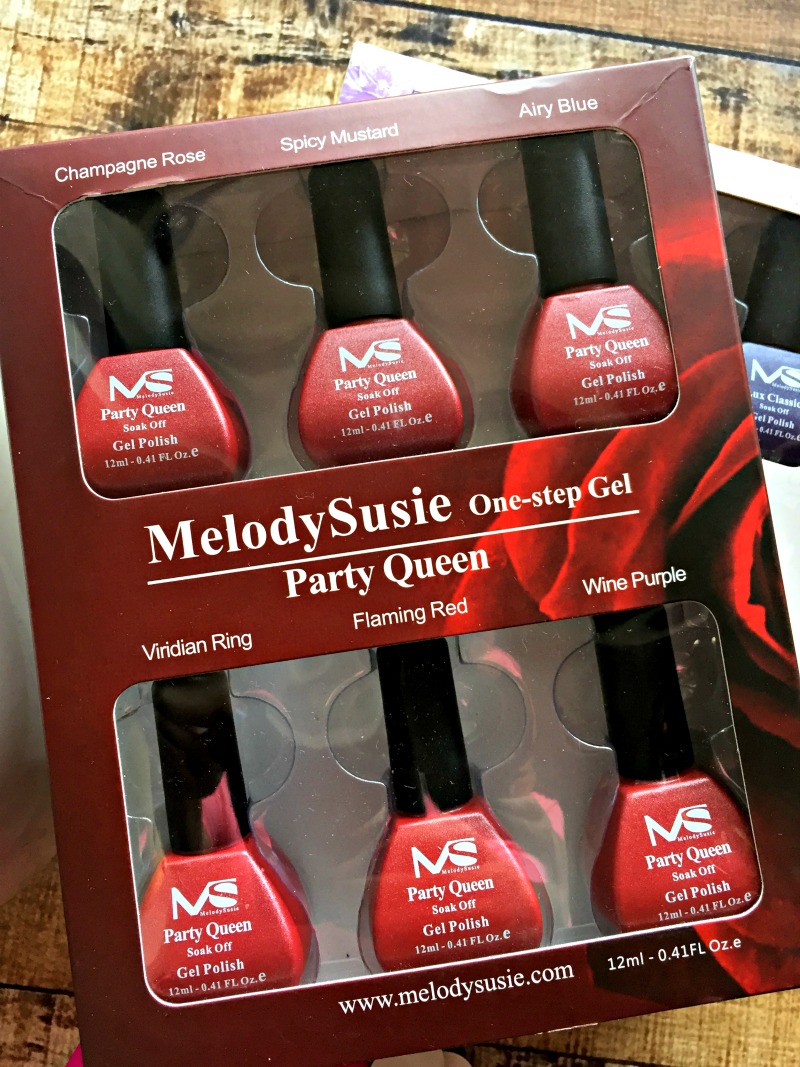 The Party Queen set contains some beautiful colors. My favorite and my first selection when applying the gel polish was Wine Purple. Not only did I apply to my finger nails, I also applied to my toe nails. The MelodySusie UV Lamp is made for both your hands and feet for the perfect manicure and pedicure right at home.
MelodySusie Lux Classic Polish Set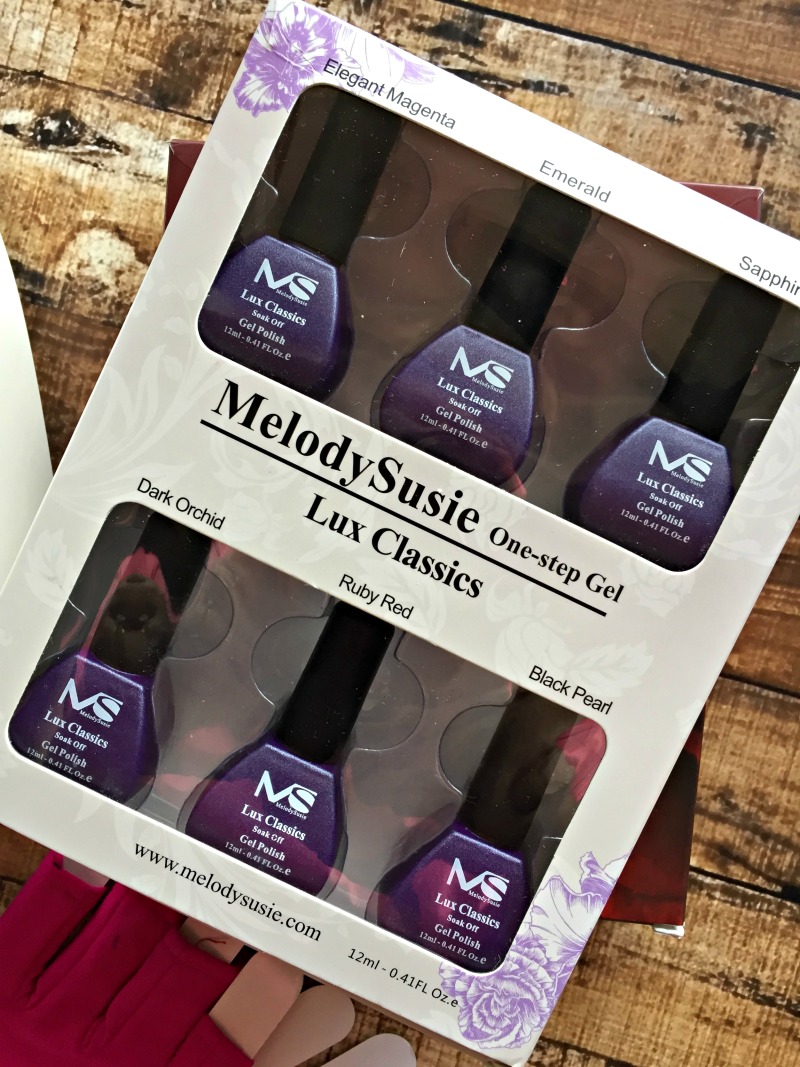 The Lux Classic Set is also full of beautiful colors. I can't even pick a favorite I'm kinda partial to the Elegant Magenta and Dark Orchid. I guess I tend to lean towards the purplish colors.  I have now had the MelodySusie UV Lamp and gel polish sets for over a month and they have become a part of my beauty routine. I have changed them a couple of times just because I wanted to try different colors. Similar to the salon these gel polishes are soak off. This means you need 100% acetone and you must soak the nail in order to remove the polish. I find that after a few removals it is best to let the nails breath before using again.
To soak off gel nail polish first use a nail file to scruff the surface of your gel nails. Then soak a cotton ball with 100% acetone and place on nail. Wrap your nails in aluminum foil for about 20 minutes. Once done the gel nail polish should come right off.
I can also attest to the fact that the MelodySusie gel polish work great! Loving my new product I purchased some gel polish that was not by MelodySusie and I found that it chipped after a few days which is definitely not what a gel polish should do. I highly recommend the MelodySusie brand for both your UV Lamp and Gel Polish needs. I'm excited to give you a chance to win your own MelodySusie Home Manicure Gift Box.
MelodySusie Home Manicure Gift Box Giveaway
Included in gift box:
Original 24W nail drying lamp

Party Queen gel polish

UV gloves

Ball ornament