When my husband and I were looking to purchase a home a couple years ago one thing that we were not willing to compromise on was a pool. I grew up always having access to a pool either in our community or backyard. I couldn't wait to have our own home and pool so our kids could enjoy it like I did as a child. Sunday's are our family pool time. After our Sunday morning grocery trip my husband comes home and spends the next couple hours spraying down the patio, skimming and brushing the pool, and getting it ready for a day of sun and fun. We then spend the next 6 hours or so splashing, laughing, and watching TV all from the comfort of our outdoor paradise.
I'm always looking for fun pool toys and floats to keep us entertained. I was recently sent a couple items that I think are a must have for your next pool party. We love our Large Inflatable Derby Duck!
Large Inflatable Derby Duck
I was so thankful that Derby Deck was sent to us with a battery operated pump. Can you imagine blowing this thing up without one? In fact after I took this photo I realized that it still needed more air. Just to give you an idea of how large the inflatable is Honey was gracious enough to allow me to take a photo while she was enjoy our family Sunday pool day.
Built-in cup holders and handles
Durable heavy duty vinyl
Supports up to 175 lbs
5 1/2′ long x 4 1/4′ wide x 3 1/2′ tall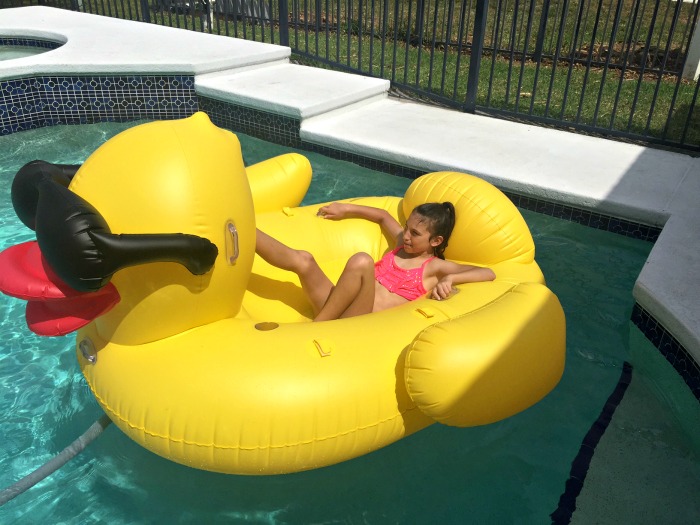 My daughter is a rather tall little girl but she is no match for Derby Duck! Just this weekend while my husband was doing his weekly pool cleaning our neighbors asked where we got Derby Duck as they thought it was pretty cool. Due to the size of the inflatable there is no where to store it so he usually hangs out at the pool all day. I think this has kept the birds away that often like to lounge on our patio chairs. Derby Duck can hold up to 175 lbs and as you can see can fit more than one person. it is a fun way to lounge poolside and perfect for your next pool party!
Wireless Speaker & Underwater Light Show™
I was definitely interested in trying out this cool looking Wireless Speaker & Underwater Light Show. I will be 100% honest when I tell you I was not expecting much from this product. There are just so many products on the market that seem pretty awesome only to fall flat and not quite deliver. I can also honestly tell you that I was 100% wrong when it comes to this product. I absolutely LOVE our new speaker. The speaker can be used day or night but you will only see the fun light show during the evening when it is dark.
Underwater Light Show
Sorry for the focus going in and out due to the auto focus feature on my camera it kept trying to focus on different lights. However I think the video really captures how well the lights work with the music. The speaker is not turned up all the way but the sounds is pretty good. One of the things that we encounter sometimes is both us and our neighbors will have music playing. When you are sitting on the patio it is not a problem because you can hear your own music. However when you move to the pool you can often hear both radios playing. With this wireless speaker I don't hear the neighbors music at all. So even we love it even without the light show as it is a great speaker when playing in the pool.
Rechargeable battery plays music and light show for up to 6 hours
Sealed to be completely waterproof
Hang from anywhere with the built-in hanger
Range of up to 60 feet
Bluetooth 3.0
I was able to control the speaker with my iPhone and play anything I wanted from my only music to the current radio station. We even flipped the speaker over to test out the waterproofing and all was well. There is also a small hoop enclosed so you can teather the speaker to something or hang it somewhere if you would like it somewhere other than the pool.
Both the Derby Duck and Wireless Speaker & Underwater Light Show are a perfect addition to your next pool party!