Ladies, listen up. It's sweet when a man buys lingerie for you, but as we all know, sometimes they just need a little extra guidance. This Valentine's Day, we want to help them get you something you'll love.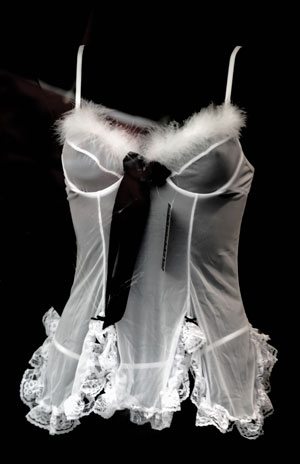 We've put together a list of some tips that may be helpful to your man when he's shopping for you. Perhaps you could "accidentally" leave it open on his laptop or send him a link that – oops! – was supposed to go to your girlfriends instead. Let's get started:
Buy something she'll wear – Don't just buy based on what you want to see her in. If you walk through any lingerie department or specialty store, you'll see the racks filled with all kinds of teddys, babydolls, and sexy bras. Choose something that looks sexy while still being comfortable. After all, you want her to love it so she'll wear it again and again.
Take a peek in her closet – Take a look in her closet and make note of her bra sizes and the colors she likes. This will give you a good starting point when shopping. Remember, ladies can get easily offended if you buy them a bra that's too small or panties that are way too big.
Buy her favorite brand – Your special someone will be delighted if you not only choose something she loves, but a brand she loves too. When looking at her lingerie for size, you should also sneak a peek at the brands she likes to wear. It's helpful for you too because whatever you choose is more likely to fit!
Avoid underwire – If your partner has a small chest, avoid any lingerie or bras with underwire because it'll just be uncomfortable.
Buy a babydoll – A babydoll is a great piece of lingerie for all women to have, and it's flattering no matter what their size or shape. How do you know what size to get? Choose a size that's the same as the fitted t-shirts your gal wears. The bottom seam of the babydoll should fall right below the belly button.
Choose the right bra– The endless styles of bras on the market can make shopping really confusing if you're not prepared. We've broken down some of the most common styles and what they pair well with:T-shirt bra: This is great for everyday wear and is usually made out of cotton or satin so it doesn't show underneath a thin top.


 

Demi-cup:A demi-cup bra is great for low-cut tops, as it covers about ¾ of the breast and is designed to enhance your lady's cleavage.
Balconette:The balconette offers little coverage and is similar to the demi-cup in that it is designed to enhance cleavage.
Racerback:Racerback bras have straps that connect in the back, so they work well underneath tank tops and sports-style shirts.
Push-up: Push-ups are just as they sound – designed to create cleavage. You can usually buy these in several different "levels" depending on how much lift your gal wants.
Convertible: Convertible bras are made from a variety of materials and the straps can be situated in several different ways whether you're looking for strapless, criss-cross, halter, or something else entirely. Because of this, they're great under eveningwear for a no-show look.

Take a look at what your gal wears most – Does she like wearing low-cut tops, V-necks, or tank tops? Pay attention to what she wears most often and that can help you narrow down what style of bra would be right for her.
Lingerie shopping for your special someone should be fun and exciting…not scary. Consider the above tips next time you head out shopping so you don't find yourself overwhelmed – and can pick out something she loves.
About the Author:
Cindy Prosser modeled underwear until the baby… now she's a part time freelance writer and full time mom. When not glamorously overdressing for grocery store visits she stays busy *writing* about lingerie from Bare Necessities… Only Mr. Prosser knows if she wears it or not 😉  Want to make the best decision you've made all day? Get the Bare Necessities coupon code! For all things Bare Necessities, like us on  Facebook!
---
This is a guest post written by Cindy Prosser You may read more of my disclosure policy here.
---