Pigeon Forge is a resort city in East Tennessee near the Smoky Mountains. It was named after the Little Pigeon River, which glides through the city, and is a popular vacation spot that aims to make you feel at home away from home.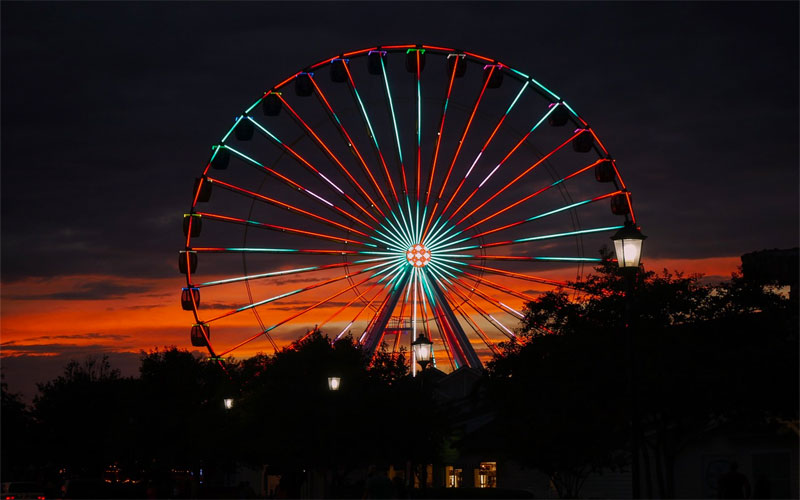 With its southern culture, hospitality, and love for country music, this beautiful mountain city is home to roughly 6,000 residents. Still, millions of people each year visit Pigeon Forge for its breathtaking views, fresh country air, rich historical background, and family-friendly exhibits.
The best thing about Pigeon Forge is that it's open all year round, so planning your vacation is easy.
Without further ado, let's go over a few popular tourist attractions in Pigeon Forge so you can plan your next vacation to the full for your whole family to enjoy!
Great Smoky Mountains Wheel
Located on The Island in Pigeon Forge, The Great Smoky Mountains Wheel is quite a sight! Rising 200 feet above the city, this wheel gives an eagle's eye view of the immense beauty of the mountain city.
This showstopper is the tallest attraction in the Southeast, with a beautiful LED light show ensuing at night.
LazerPort Fun center
The LazerPort Fun Center encompasses various activities like the largest karting track in Pigeon Forge, an 18-hole indoor mini golf course, and even laser tag arenas,
This fun center is near the best place to stay in Pigeon Forge and provides fun activities for the whole family! Tickets for all activities ballpark around $15, so a visit here won't take a significant toll on your budget.
Titanic museum
There are only two Titanic Museums in the United States of America, and one is in Pigeon Forge. It costs around $40 per ticket to view a half- scale model of the original ship. The exhibits include a real iceberg and several artifacts that were recovered from the sunken ship.
Multilingual audio tours are available in English, Spanish, German & Mandarin. Owing to the audio tour, physical guides are not a part of this museum's hallmarks.
Also, one must remember that food and drinks are not allowed inside, and photography of the exhibit is also prohibited. However, fret not, as souvenir photographs are available for purchase.
The Old Mill
Built in 1830 for electricity generation, the Old Mill of Pigeon Forge is still functional. It is no longer used for hydroelectric power generation but to grind flour and make delicious meals! The Old Mill is listed on the National Register of Historic Places and is one of the most photographed mills in the country.
It costs $8 to tour The Old Mill per adult, and tickets for it are readily available at the Old Mill General Store, along with many tasty treats! Don't forget to visit the Old Mill Restaurant, which serves delicious southern delicacies.  
Hollywood wax museum
The Hollywood Wax Museum is the largest in the country. It is a two-story wax museum in Pigeon Forge, built to promote the US film Industry and its artists. The models are ever-changing and provide an opportunity to snap pictures with your favorite celebrity because the resemblance to the original stars is uncanny!
Try to trick your friends into thinking you met a pop sensation or their favorite actor! We bet they won't be able to tell the difference.
Wonderworks
Wonderworks is a diverse indoor amusement park in Pigeon Forge that combines education with entertainment.
You must check out the inversion tunnel that flips your world upside down, explore the extreme weather zone, space exploration zone, physical challenge zone, light and sound zone, imagination lab, and the wonderful art gallery.
The fun doesn't end here; in its basement is a glow-in-the-dark indoor rope course, a laser tag arena, and a 4D motion theatre!
Dixie Stampede
Also known as Dolly Parton's Stampede Dinner Attraction, it offers an exciting live performance paired with delicious home-style cuisine. This dinner show features incredible horse-riding stunts, a live musical, and a four-course feast you will savor to the end!
The show includes 32 magnificent horses ridden by top-notch riders. The music of this performance has been composed and recorded by Tennessee's daughter, Dolly Parton herself depicting the North Pole-South pole rivalry that will take you on an emotional and patriotic journey while enjoying the meal of your life!
Pirate Voyage Dinner and Show
Blackbeard invites you to join them for a battle on the deck while you float inside a full-sized pirate ship! Witness sword fights, cannon balls, skeletons, and lagoon fire. Discover Davey Jones's sunken treasure and enjoy a performance by beautiful mermaids while enjoying a four-course meal.
Alcatraz East Crime Museum
Alcatraz East Crime Museum is a two-story building themed as the infamous island prison in San Francisco. The museum depicts how crimes were committed and cases solved.
There are 20 exhibit areas covering the history of American crime, consequences of crime, investigation, crime fighting, and even pop culture. Tickets for adults cost $29, and children under 16 years need to be accompanied by an adult.
Hatfield and McCoy dinner show
The Hatfield and McCoy Dinner Feud is an engaging spin on the centuries-old fight between the two families. Guests enjoy an all-you-can-eat dinner while enjoying a comedy-laced show with talented performers and state-of-the-art technology used to enhance an already breathtaking performance. Be sure to arrive early because they serve dinner before the show begins. 
The Bottom Line
Pigeon forge is a fantastic holiday resort. You can access lush greenery, the mountains, a beautiful river, well-equipped accommodation options, amusement parks, museums, and much more! What makes it unique is its depiction of southern culture and the enjoyment factor that caters to people of all ages.
Pigeon Forge has a rich historical background that highlights the importance of cultural diversity and lots of entertainment. Rest assured, your trip to Pigeon Forge will give you memories you'll cherish forever.