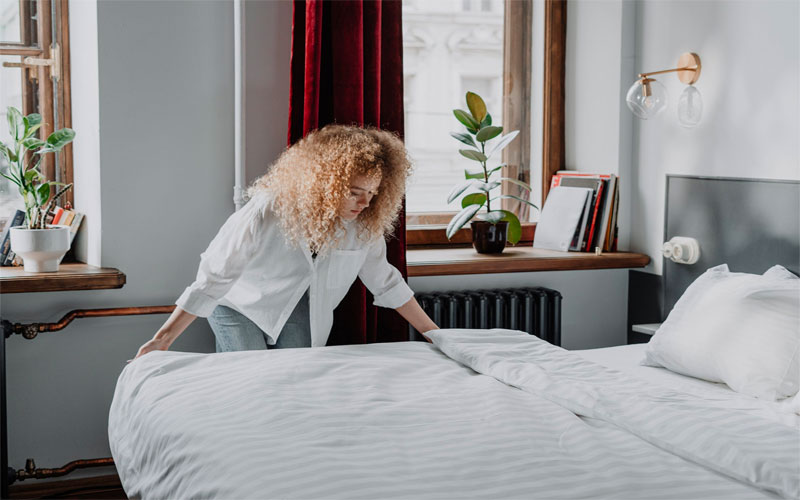 As the temperatures continue to drop, spending entire weekends or evenings at home becomes all the more appealing. But before snuggling on the sofa and putting on your favorite Tv show, you should not miss out on the opportunity to create a much healthier and livable home for the winter. 
Indeed, as we all prepare to spend more time indoors, our home environment can have a significant impact on our physical and mental well-being. Luckily, with just a few strategies, you can turn your home around and create the coziest retreat for the whole family. Get started with the simple tips below. 
Keep Up With Maintenance Tasks
Although home maintenance might often seem something to keep up with during spring or summer, it is important to remember that the way to maintain your home throughout the year can impact your health and well-being. And, there are some key maintenance tasks you should never skip – not even during the coldest months of the year!
So, before kicking back and enjoying the holiday period, make sure to check your home for drafts and leaks, check your HVAC system, inspect and clean your roof, and clean up your garden.
Let Nature In
Before the days get even shorter, make sure to take the necessary steps to create a home more in harmony with nature. Some easy steps to take include swapping heavy drapes for lighter curtains, cleaning the windows, using natural lights, letting fresh air in on a regular basis, and decorating the home with natural materials.
Additionally, don't forget that everything you bring into your home will affect your indoor air quality. So, make sure to choose carpets, furniture, and decor that are naturally made and won't release VOCs or harmful particles into your family home.
Invest in Professional Pest Control Services
Pests are a natural part of nature but, without proper management, they can take over your home and compromise your health. That is why, before you get ready to spend more time indoors, you should partner with a professional pest control agency. A professional can help you address or prevent pest infestations.
Monitor Indoor Air Quality and Humidity Levels
According to official statistics, we all spend around 90% of our time indoors – and, this is even more true now that many of us work from a home office and keep up with our fitness routine at home.
However, during the winter months, it is even more difficult to get outside and breathe in fresh air! That is why it is so important to monitor your indoor air quality, take steps to reduce indoor pollution, and check humidity levels.
Declutter and Keep Your Home Clean
Clutter can have a detrimental effect on our health as a whole. Indeed, when we are in a cluttered space, we often feel fatigued, tired, and unable to focus. What's more, clutter can make it harder for you to keep your home clean and free of dust, mites, mold, and harmful particles. So, if you are looking to create a much healthier home for your whole family, start by keeping your living space clean and minimalist!