How do we help the people who help others? That's one of the key questions that distributed healthcare and telehealth are trying to answer. A lot of attention has been paid to what these new medical care models offer patients, with convenience, affordability, and smaller facilities offering smaller portions of the whole medical regimen, and often remotely, so that more patients can stay at home for treatment.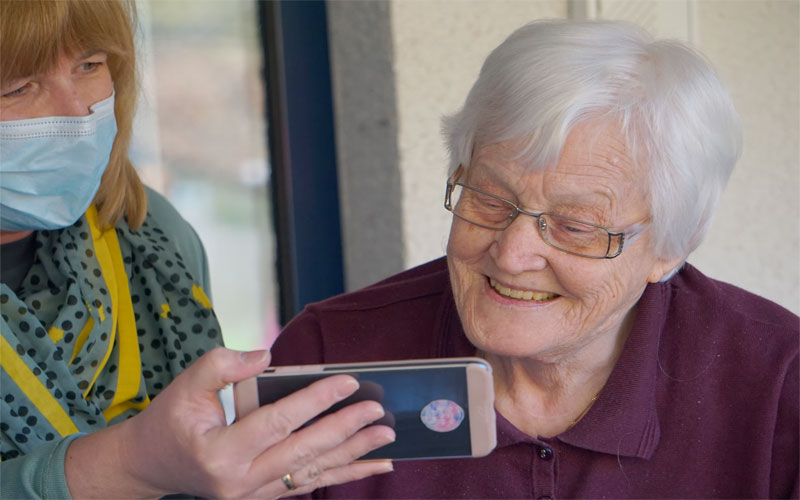 What about their caregivers? A recent study by the National Alliance for Caregiving and AARP estimates that 53 million Americans have provided unpaid care over the last five years. So how do new models for health services support the growing ranks of people providing care?
The Challenges of Caregiving
The cost of professionals in home healthcare and the shortage of workers in these fields are both concerns, but the greater burden lies on the countless volunteers. These are untrained and typically unpaid caregivers supporting a loved one like a family member or dear friend, sometimes for a few weeks, sometimes indefinitely. The support includes taking time to give care, spending money, and trying to navigate the network of insurance and medical services available.
This may be the only workable solution for tight budgets or for people who cannot live independently but are on a possibly years-long waiting list for a facility. But increasingly, too, America is deliberately choosing home healthcare, especially as the aging baby boomer population makes its plans to age in place at home and not be transferred to a care facility. All of this drives healthcare into a distributed model, and home-based.
Loved ones who get home care by dedicated caregivers often get better care and have more independence than at a specialized facility. The caregiver, meanwhile, gets to strengthen bonds and spend more time with someone who might not have much time left.
But rewarding though it can be, caregiving has a cost. Many people come into it without a clear idea of how much time, money, and physical and emotional labor will be asked of them. What about the caregiver's own health, body, and mind?
Complex Problems, Innovative Solutions
Advancing technology and changes in how health services are delivered give more options to both patients and the people supporting them at home. One of the biggest challenges many caregivers report is just trying to make a daily schedule work. Time needs to be blocked out for their occupation, keeping up the house, shopping, and looking after children. Somehow, delivering support to a loved one needs to be squeezed in as well.
Distributed healthcare and telehealth take some of the squeeze out of the schedule. Local urgent care facilities, open late and on weekends, with walk-ins welcome, and appearing everywhere as smaller facilities, can handle many services, rehabilitation, and support for chronic conditions. Check-ups and prescription renewals may be completed by a video call to the hospital. Many things can now be scheduled outside of typical working hours.
What about caregiver health? It's not unusual for caregivers to find themselves cutting corners on their own well-being. Burnout, depression, poor sleep, and skyrocketing stress don't just eat away at the quality of life. Unmanaged, they can lead to serious health disorders. In fact, in the report referenced above, 21% of those caregivers rate their own health as only fair to poor.
Telehealth can offer invaluable support to people struggling with the mental health aspect of caregiving. A growing number of therapists offer sessions remotely, bringing mental well-being services to rural areas and to people who don't get 'off the clock' until late at night. This external support structure is particularly important for caregivers who don't have a built-in network of close friends and family. Caregiving isn't an easy road, and many people need to learn new coping strategies from a sympathetic professional.
A lot of the technology of today's more distributed healthcare can act as a safety net and provide helping hands. Monitors that beep when a senior's blood sugar crashes, smart pill dispensers that alert the caregiver if a dose is missed, and simple wearable devices that allow caregivers to check on a senior's location in case they wander away – all these small devices are invaluable to save the effort that used to be involved in helping the elderly and infirm.
Being able to record a telehealth meeting allows a caregiver to double-check what the doctor recommended. With no trained nurses on the clock 24/7, caregivers somehow have to be. Mistakes can happen, and technology can keep those minor slip-ups from snowballing into a health crisis.
One crucial way that the distribution of healthcare has helped caregivers is in opening the lines of communication. Patients and caregivers are empowered to bring to the medical team any concerns or updates on the loved one's health status. If there are questions about how to operate equipment, safely transfer a senior out of a wheelchair, etc, solutions are often just a quick message away. Smooth and open communication supports the caregiver, the patient, and the medical team. And the universal spread of the electronic health record in America ties all this together.
Caregivers Need Support, Too
Caregiving can be a very rewarding path. Many former caregivers would not trade those months or years with their loved ones for anything. However, those same people will often mention how difficult it was at times. Giving quality care, especially for an untrained person who's also balancing a job and a household, is quite a challenge.
Distributed healthcare, telemedicine, and numerous tech gadgets and apps offer flexibility to caregivers, who increasingly don't have to sacrifice their own health or cut corners on delivering care. Sometimes now they have other options, thanks to local services and remote technology.