Good sleep forms part of the foundation of good overall health. When we sleep, our bodies rest, recover and heal from the day past, regenerating energy and attending to any injuries, illnesses or other ailments we might have. There are a whole lot of processes that go on inside our bodies while we're sleeping soundly, and that's why good, restful sleep is so important. However, many of us know the struggles of not being able to get a good night's sleep for various reasons. Stress and anxiety could be keeping us awake, there could be noises bothering us or we might not be entirely comfortable. These may seem like small problems but they play a greater role in our health, so here are some tips to combat sleeplessness.
Tips to Help You Sleep Better
Invest in Your Sleeping Gear
The bed you sleep on plays more of a role than you might imagine. Having a good quality bed, mattress, and pillow to sleep on will all contribute to your comfort and by domino effect, your rest. Poor quality or old items can lead to back and neck pain, restless sleep, and other issues. When shopping for a bed and accessories, you should do proper research to find out what will work best for you personally. If you or your partner struggling with snoring, you should seek out the best mattress for snoring. If you tend to have back pain, look for a mattress that will help combat this. If your neck is often stiff, consider changing the kind of pillow you sleep with. A good mattress is definitely the #1 tip to help you sleep better. If you are interested in an adjustable bed check out this adjustable bed guide.
Watch Your Temperature
Studies show that our bodies have an optimal temperature for a night of deep and restful sleep and that temperature is actually pretty low. This is one of the reasons why exercising right before bedtime isn't the best idea – you need to give your body time to cool down. There are also quite a few methods of managing this temperature to make sure your body is cool and ready for a good rest. Many people rely on their thermostat or air conditioning to manage the temperature in their bedrooms. Another option is to invest in a temperature-controlled bed cooler. However, if you don't want to spend a load of money, it's pretty simple to take a steamy shower about half an hour before bedtime, which will do the trick.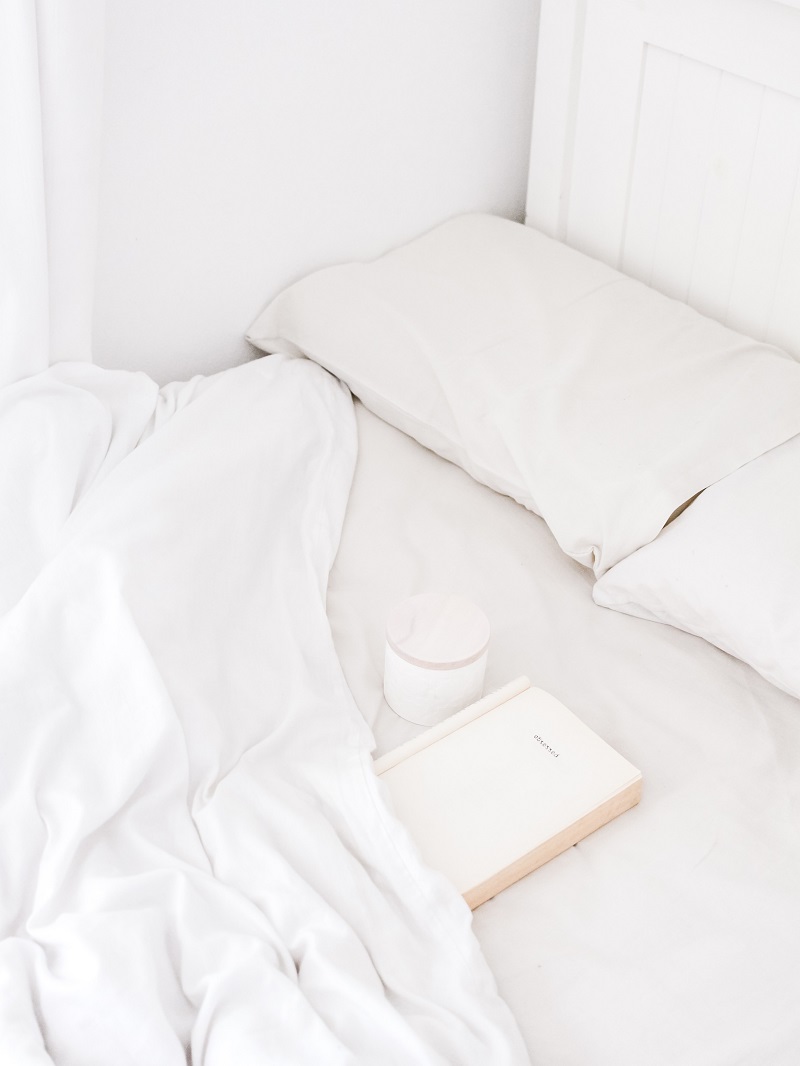 Be Mindful
Stress and anxiety are huge contributors to sleeplessness. Most of us know the feeling of lying awake and staring at the ceiling at 3:00 AM with a racing mind. Practicing mindfulness or implementing some form of meditation before bedtime to calm your mind is a great way to prepare your body and mind to wind down and get ready to sleep. If you're not sure where to start, you can try out some guided meditation on smartphone apps like Headspace and Calm, or diffuse some calming essential oils like lavender, to soothe your brain and body. These practices might feel foreign and strange at first, but with some practice and consistency, they could prove to be really helpful.
Prep Yourself
Your sleeping habits start kicking into gear from the moment you wake up. Yup, everything you do all day is creating the set-up for how your rest will be in the evening time. Fortunately, this means that you have a lot of control to leverage here. One thing you can incorporate into your day to improve your sleep is to exercise. Getting your sweat on is going to tire you out, naturally, but studies show that regular exercise is extremely beneficial for a sleepover in the long term. Your diet and digestion can also play a role in how you sleep and these two should be your focus from the early morning. It's also recommended that you stop consuming caffeine at around 2:00 PM to ensure that it doesn't negatively impact your rest. Finally, having a good evening routine is key. Finishing your work and letting your mind come down to rest at a certain time in the early evening is an important step in good sleep hygiene. After that, a healthy meal and some personal time to wind down is a good way to round off the day, take your mind off the day's stresses and prepare yourself to rest.
Final Thoughts
All of these are great tips to help you sleep better. And as you can tell, good rest is vital in a healthy lifestyle and if you're struggling, there are many interventions you can try to improve it. However, if you can't seem to manage on your own, it might be a good idea to speak to a health professional about your sleeping problems.