We believe that every woman's dream is to have a comfy place to spend some time during the day on her own, with a book, nice quiet music, a cup of coffee, and lemonade, surrounded by lots of flowers and greenery. Your quiet little paradise on Earth. Is there anything better than opening your eyes and seeing your dream she-shed Boston in your backyard? Oh, you don't have one? What are you waiting for? If you have an old shed that no one uses anymore, from now on call it your own, roll up your sleeves and give it a touch of your personality. Or if you do not have a shed at all, you can visit the local house depot and buy an easy-to-build kit and make one yourself.  Make it a comfortable place where you can forget about all of your daily obligations and simply relax.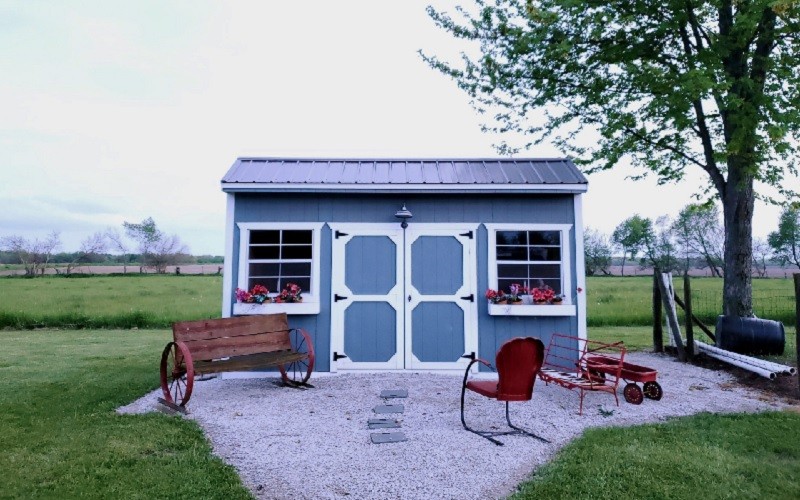 Now that you've decided that the old shed will become your new she-shed, let's look at some tips that will help you make this a reality – on a budget, of course!
Start making your dream come true, so clean up the mess
If you do not already own a shed, visit your local house depot and buy an easy-to-assemble kit. If you do already have an old shed, roll up your sleeves and clean up all the mess in it. Do not be too emotional towards all the old stuff you have in there, because if you really needed them, that old door lock wouldn't be that rusty. If there are good pieces that could still be of use, give them away to those who might need them more than you do.
Now that you've got rid of all the stuff you don't need, cleaned the walls and the floor, and trimmed the surrounding greenery, you'll end up with a nice little clean empty shed. That is exactly what you need to start making your dream come true.
Make sure that you clog every hole
Now it is time to check out the walls, and make repairs. The shed may need insulation, whatever the material it is made of. You don't want it to be too hot in the summer or too cold in cooler weather.
Here are some tips on how to insulate an existing metal building, and it is much easier with other materials like wood or brick, because they "breathe", unlike metal. You have to insulate the roof and walls to prevent condensation. You can easily find easy-to-install reflective layers made of materials that can make a very good vapor and heat barrier, so that the temperature inside the building equals the temperature outside, and prevents the moisture from building up.
Putting it on the inside of the roof additionally prevents cool or hot air loss inside the building. It will also prevent bright sun rays from heating up the building, as well as prevents losing the heat if it's cold outside. Not only that, but this type of insulation will also reduce the amount of noise that hard rain or hail can produce.
Let's play with colors
After the hardest part of building a she-shed is done, it is time to show off your creativity. You will probably want to paint the walls, doors, and windows. Use colors and shades that will make you feel relaxed and calm. Make it a breathtaking view at the first sight, and let the calmness begin the moment you lay your eyes on it.
After it is painted, let's fill it with the stuff you will need. A good choice is an affordable four-piece wicker patio furniture set with cushions, or if you prefer it to be a little simpler you can put a wicker patio armchair, table, and a lounge. Even the simple low-budget camping set will do if you top them off with nice pillows and throws. Do not forget a cute little ottoman to rest your legs on.
If you enjoy gardening then you can add a nicely-painted old kitchen cabinet in your shed, where you can keep the tools, pots, and soil. Anding flowers to your she-shed to improve not just the aesthetics but the indoor air quality and make it more fragrant is always a great option. Voila, you just have to bring your book, coffee and start enjoying your she-shed.