After our arrival and Olympic filled day on Friday, or the first day of, Saturday brought us nothing but more fun adventures. I can not say enough how awesome with a capital A our time at Adventures Unlimited was. We got up at 6 am to head on over and our condo/team Beachin' Bloggers were the first up to tackle the zip lines. I had never been zip lining before and like most people that don't know exactly what to expect I was just a little nervous.
Our morning consisted of hiking through the woods, climbing ladders and spiraling stairs into the sky, standing on tiny platforms with 8 people, and zipping through the air.
The first zip line was a training line and I wasn't nervous at all when it was my turn. In fact, the only thing I was worried about was not braking at the correct point. After the second zip line, I was hooked. I absolutely had a blast laughing and talking with the girls and zip-lining through the air. I figured out how and when to break pretty quickly and instead of worrying about it enjoyed the adventure.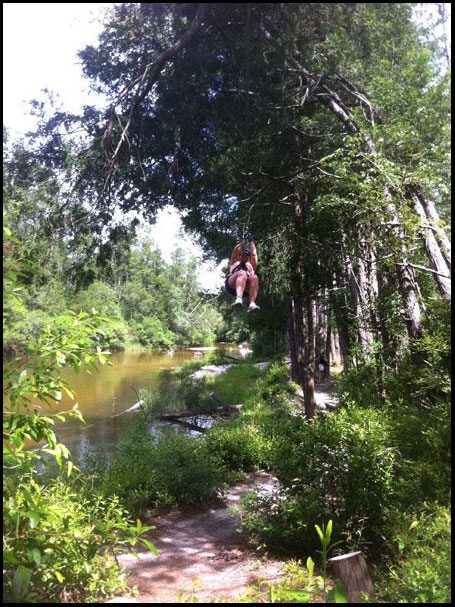 Honestly as much fun as the day was I don't think it would have been as enjoyable as it was without our entertaining guys Kevin and Jacque. They definitely made the adventure fun for all of us. With some 2nd-grade jokes and a wealth of knowledge of the grounds, our 7 zip lines were over way too fast.
After our time in the air, we took some time to eat lunch before our next adventure, tubing. Once everyone was in from zip lining and done eating we were driven out 4 miles and dropped off in the river, armed with tubes, and a cooler of water. The tubing ended up being more work than one would think. What we thought was going to be a lazy ride down the river ended up being an exercise of steering your tube away from stumps, trees, and the shallow ground. It actually made the time go by pretty fast. The tube ride was 3 hours long in which we ended back up at the Adventure Unlimited entrance.
The staff at Adventures Unlimited made our adventure a good one. Everyone was helpful and thoughtful. I really wish it was a little closer to home so I could take my family for a day's adventure.