Having Achilles Tendonitis can be a debilitating situation, but there are some things you can do to help relieve your pain.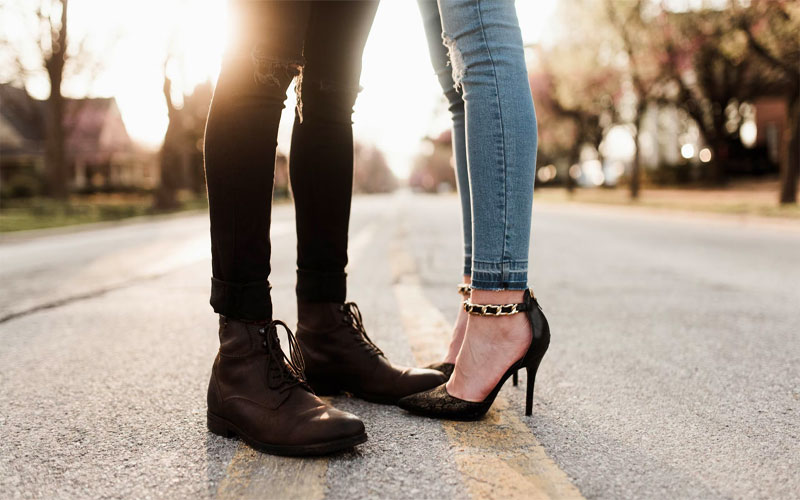 One way is to use an in-shoe heel lift. The heel lift will help your muscles to regain strength, which is important for reducing the pain that can occur in your heel. You can also use compression and shockwave therapy to help relieve your pain.
In-Shoe Heel Lifts
Using heel lifts for Achilles tendonitis can help relieve pain and tension in the Achilles tendon and surrounding muscles.  Heel lifts are available in a variety of materials, sizes, and thicknesses. They can also be used to help with lower back and hip pain. In-shoe heel lifts for Achilles tendonitis should be designed to add elevation but should not add compressibility. In addition to increasing elevation, they should also reduce the load that goes through the Achilles tendon.
Heel lifts can help to improve gait. This is particularly helpful when you have a leg length discrepancy. If you are not able to wear shoes that have the same length, this can lead to pain and aches in the lower back, hips, knees, and ankles. Heel lifts can also be used to help with gait training with stroke patients. In addition, they can help to reduce the shortening effect that a prosthesis can have on your knees.
Some researchers believe that orthotic heel lifts may lower tension in the Achilles tendon. However, there is still debate about whether this is true. Heel lifts can be used for many medical conditions, including lower back and hip pain, plantar fasciitis, knee pain, rotatory scoliosis, and Achilles tendonitis. Some products also have pads to help with ankle sprains and pelvic obliquity.
Heel lifts are designed to raise one foot, and are made of dense foam rubber. They are used to reduce stress on the Achilles tendon during recovery and rehabilitation. They can also be used to reduce tension in the calf musculature. Heel lifts are often prescribed after a rupture or partial tear of the Achilles tendon.
Eccentric Calf Muscle Loading
Despite the lack of evidence, heavy eccentric calf muscle loading is considered to be the gold standard for rehabilitation of the mid-portion of the Achilles tendon.  It has also been associated with pain reduction and function improvement. Eccentric calf muscle loading has been associated with increased peak torque and muscle strength gains, as well.  A few studies have suggested that eccentric exercises may also be beneficial in other regions of the body. However, these studies have been conducted on non-athletes, and the quality of the evidence is questionable.
Shockwave Therapy
Using shockwave therapy to treat Achilles tendonitis has been shown to reduce symptoms and improve function.  It may be more effective than surgery in certain cases. Shockwave therapy is a non-invasive procedure that delivers focused energy pulses directly to the area of the tendon.  These pulses activate fibroblasts, which are responsible for the repair of connective tissues. They also dissolve calcific deposits and promote healing.
Shockwave therapy is often used in combination with other treatments, such as corticosteroid injections. It is recommended that patients have at least three treatments to get the best results. The number of treatments will depend on the condition and the patient's tolerance for pain. Shockwave therapy for Achilles tendonitis is generally applied following a specific protocol. The clinician will isolate the painful area and then apply the therapy. The treatment may take a few minutes but is not painful. Patients are typically allowed to run immediately after treatment.
The pain is generally reduced after the first shock wave therapy session. This is a sign that the healing process is occurring. The swelling should subside within a couple of days. However, additional treatments may be required. A combination of eccentric exercise, heel lifts, and shockwave therapy has been shown to be effective in treating Achilles tendonitis. 
Orthotics, Mostly Heel Lifts
Runners and other athletes are often interested in using heel lifts to help heal their Achilles Tendonitis.  These devices are usually used in conjunction with a program of calf muscle exercises. They help to reduce strain on the Achilles Tendon and are effective in alleviating heel spurs.
Although heel lifts can reduce pressure on the Achilles Tendon, they are not a cure for Achilles Tendonitis. The best way to relieve strain is to stretch regularly. Heel lifts help by absorbing shock and can relieve pressure on the Achilles Tendon. They are also used to reduce stress on the back of the calf.
A heel cup can also help reduce the tension on the Achilles Tendon. Depending on the type of heel cup, this can help to reduce the stress on the tendon.  It is also important to consider the foot-strike patterns of athletes. People who tend to strike the heel when running are more likely to develop Achilles Tendonitis than people who strike the forefoot.
Heel Lifts as an Inexpensive Solution
Heel lifts are inexpensive shoe inserts designed to reduce pressure under the calcaneus. They also place the ankle into a more plantarflexed position, which reduces the stress on the Achilles tendon.
Conclusion
Heel lifts are a beneficial treatment option for Achilles Tendonitis. Heel lifts can help reduce pain and discomfort associated with the condition. Also, heel lifts can help reduce inflammation, improve mobility and flexibility of the lower legs, and help strengthen the Achilles tendon. 
While heel lifts can be beneficial, it is important to talk with a healthcare professional before starting any treatment plan. Heel lifts should be used as part of a comprehensive treatment plan that may also include rest, physical therapy, lifestyle modifications, and medication. 
With the right treatment plan in place, individuals can find relief from Achilles Tendonitis.