Boxers are one of the most loving and entertaining canines one could ever bond with. Famous for their athleticism and clownish behavior, these intelligent pooches are extremely expressive and develop an unshakeable bond with their owners.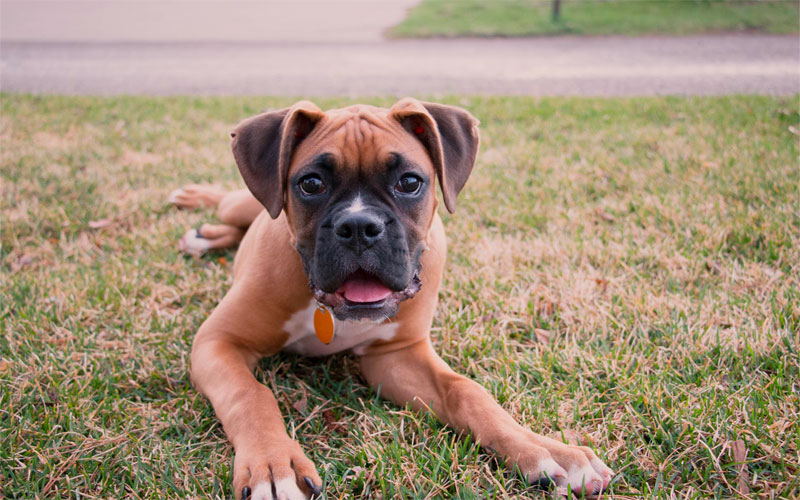 If you're in the market for a dog and need to figure out the Boxer is for you, consider some additional facts about this marvelous breed you may have yet to hear about!
1. They Want to Be Young Forever
One aspect of raising any dog is that puppyhood seems to fly by so quickly, and the crazy antics you found so amusing slowly fade away. Boxers are an exception to this experience because they take longer to reach maturity. It's not uncommon for their immature silliness to go on for three years, sometimes more, especially if they have an overly comical nature. This is an important aspect to consider when researching Boxer puppies for sale. 
2. Boxers Have Been Around for a Very Long Time
Boxers have a history that can be traced back to almost 2000 B.C. when the Assyrians used their ancestors as fierce war dogs. Fast forward to more recent centuries, and you find their ancestors were throughout Europe and England hunting dangerous wild game-like boars. German breeding trends later helped them become what we know today, a crazy-smart, happy-go-lucky protector. 
3. They have Designer Noses
One of the most recognized features of a Boxer is its short, squat face. Their noses were purposely designed to be so flat that they would have an easier time gripping prey in their mouths and still be able to breathe! The side effect of this purposeful breeding is they snore. Sometimes loudly If you love videos of noisy sleeping pooches, then you'll get plenty of candid video moments to share with friends.
4. Boxers Haven't Been in the U.S. Very Long
As mentioned earlier, Boxers were popular throughout Europe and England for centuries but arrived in the States in the early 1900s after World War I broke out. However, many Americans didn't realize how wonderful these animals were as pets till the late 1930s.
5. Boxers Love to Help
Yes, it is a Boxer fact, that they love to clown around, play, and be silly, but they are also highly intelligent and empathetic animals. Believe it or not, these canines are ideal working dogs, especially regarding service duties. 
It's not uncommon for this particular breed to be used for guiding those who are blind or visually impaired. They can also provide protective aid during epileptic seizures, so the sufferer doesn't hurt themselves.
6. You Can Totally Train Your Boxer to Compete
Is it surprising that the agile and energetic Boxer is great at competitions? Because of their intelligence and athleticism, you could train your new dog for agility competitions, obedience trials, and more. Of course, you'll need to be extra patient because they are intelligent. When forced to repeat the same exercises repeatedly, it's not unusual for the animal to get bored and want to make up their own rules. 
7. Boxers Really are Big Softies
Despite their breeding focusing on hunting, guarding, and service, Boxers demand love and attention from their owners. They want to have fun and not take life too seriously. This makes them great family dogs because they aren't obsessed with having a purpose and are happy to spend time running around with kids.
8. They are the Class Clowns of the Dog World
Much like that one kid in math class who could be both funny and annoying for attention, boxers are infamous for their clownish personalities. They love to express joy and excitement, so they can get a serious case of the wiggles when you come home from work or guests visit. This breed also expresses excitement by jumping, sometimes onto nearby persons for pets and hugs, so it's important to teach them commands to prevent this behavior. Of course, they also have a mischievous streak and can sometimes be annoying, especially if they're bored and want to change things up. 
9. There's an Entire Spectrum of Boxer Colorations
If you want a boxer, but wish they weren't all tan and white, don't worry; there are plenty of coat options to choose from. Some of the more common color combinations include:
Brindle
Golden brindle
Red
Fawn brindle
These patterns often come with a white chest and matching lower paws and legs. There is a chance you could get an all-white Boxer, but this coloration can potentially result in deafness and sunburn.
Boxers are Amazing Canines
If you were on the fence about whether a Boxer would make a great family pet, we hope these Boxer facts helped convince you. This dog breed is one of the most popular breeds annually, and it's no mystery why. It checks all of the boxes when it comes to energy, loyalty, intelligence, personality, and dedication. Honestly, you'd be hard-pressed to find a better breed, so take your time and bring home one of these fantastic furry friends today.