Finding the right pair of jeans is never easy no matter who you are. Finding the right fit for kids is just as difficult as for Moms and Dads, but there is a knack to all three.
Buying the perfect pair of jeans doesn't have to be difficult and with a few little pieces of advice, you can get the ideal fitting jean no matter what gender you are.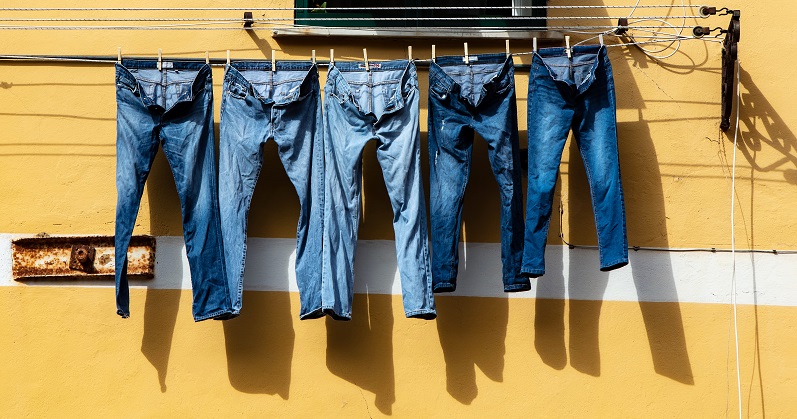 Understanding The Fits
These days there are many different fits you can get in a jean from regular straight cut legs to boyfriend cut, skinny, slim, stretch and more.
Understanding these will undoubtedly give you a better idea of the sort of fit you're looking for. Most jean stockists, whether it be womens or mens have a wide range, so knowing the difference is key:
Regular: A straight legged jean which generally fall straight from the knee to the hem.
Slim: A little slimmer than regular but not overly tight and having a narrower leg opening.
Skinny: Skinny fit jeans are perhaps the most common these days with a slim tapered leg. They're generally low to mid-rise and are slimmer across the thigh right down to the hem.
Bootcut: Bootcut jeans are the same sort of fit as regular except from the hem of the jean is wider than the knee. These are generally out-of-fashion at the moment and often considered a bad cut.
Loose: Loose fit jeans offer a much baggier fit with plenty of space across all areas in the jean whether it be calves, thighs or butt.
Sizing Right
Jean sizes can be difficult to get right and it's perhaps more important than any other item of clothing to try a number of different sizes. Different sizes and styles of jeans will suit varying bodytypes. For example, straight cut jeans are thought to be more suited to hourglass figures, while high-rise skinny cut jeans are perfect for an apple-like figure.
Of course, different outlets size differently so while you may be one size in one shop, that may be completely different in another. Don't compromise and ensure you try on jeans no matter what shop you go in.
Find A Favourite & Stick To Them
Many people feel like buying the same product regularly is a little bit of a waste, but as jeans are such a staple part of a look, finding a favourite and sticking to them can be a great idea.
A good pair of jeans will be comfortable, stylish and make a person feel confident. So why should that change? Find the model of jean you love and stick to it. Naturally that could come in a range of different colours and washes if you wish to mix it up a little.
For example, you may be a fan of the classic 501 from Levi's, which comes in a range of washes and the line won't be dropped after one season. In fact, in this case you could comfortably wear the style your entire life!