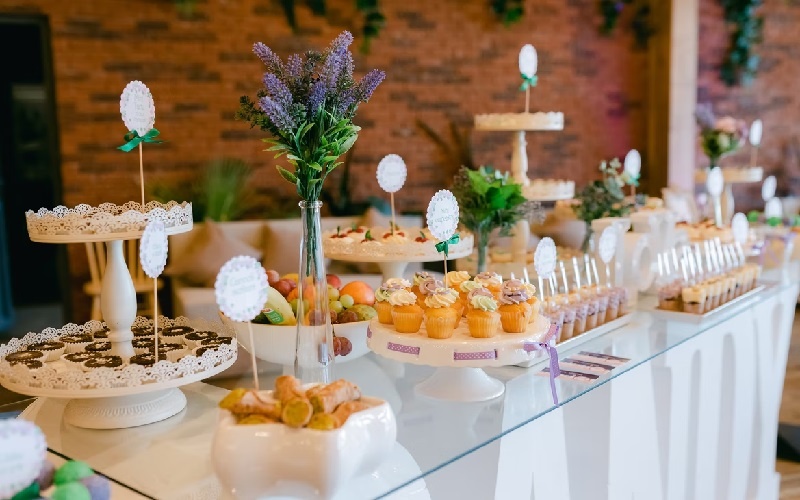 Out of the venue, decor, guests, and dresses, there's no denying that dinner is one of the most important bits of a wedding. Some would say that dinner is what people look forward to the most. This is especially true if they want to be fueled up for a long night of dancing.
As important as your wedding menu is, it can be one of the trickiest details you will have to get right during the wedding planning process.
From food ideas to budget planning to the different serving styles you will have to think about, this article covers all you might have to consider to make the most of your wedding menu. So read on so you can arrange a memorable night for your loved ones while staying within your budget.
Planning A Budget
Wedding costs have gone up by $3,000-5,000 on average since the COVID pandemic hit. With today's unpredictable economy, it is easy to go overboard on expenses when having a traditional wedding ceremony.
The wedding meal is one of the biggest pieces of your wedding budget. That's because catering for over 100 people or more is not cheap. However, with just a few tips and the right planning, you can have a good menu that's not too expensive.
When planning for your wedding food, it is important to divide your budget according to what you are willing to spend the most on. Giving 'weights' to your expenditure is a great way to do that.
Drinks
Being able to predict the most expensive costs of your wedding meal can make it easier to manage or cut them down. Most guests prefer loosening up a little during cocktail hour. It sets the mood for the evening so it might be wise to spend a little extra on drinks.   
To compensate, you can skip the champagne toast since most people are not into sparkling wines and simply take a skip and put the rest of the glass down. This proves to be a big waste on the budget according to the LA-based event planner, Emily Sullivan.
Guest List
Cutting down on your guest list, especially if you have not sent out invitations yet, is a great way to save money! It might be difficult but you would have to sit down with your spouse and narrow down the list by letting go of acquaintances, friends you have not seen in a long while, or family who you think might not be able to make it. 
As wedding sizes return to pre-pandemic sizes, the cost of food (per plate) averages at about $65. Letting go of only 15 people from your guest list can save you up to $1000. So making these small changes can go a long way in dealing with a tight wedding budget. And the fewer people you invite, the more high-quality food you can offer them. 
Food Choices
Catering to a big crowd can be challenging, especially if you have not planned any big events before. Considering all the potential food choices, diets, and preferences can be quite demanding and difficult to deal with.
An easy way to deal with this is to consult with a professional caterer like Gathar. Most caterers have a variety of food plans. This mostly includes but is not limited to, all-vegan and gluten-free food options. And this can help you be considerate of any potential food allergies or preferences your guests might have.
Appetizers
If you think hors d'oeuvre is not important, we are here to tell you otherwise. Guests don't enjoy waiting around for hours on end for the food to be served.
When you choose to serve appetizers at your wedding, not only does it keep the guests content, but also builds up their appetite for the main course. So canceling out the appetizer from your wedding food menu is not an option.
Buffets
Wedding buffets are another way to keep your guests satisfied. These food stations can vary from being as simple as ice-cream bars — if you're on a budget — to being as intricate as cheese platters or food grazing stations serving fine meats and cheeses.
There are also various other options and choices for your wedding buffets, like brunch bars, popcorn tables, or even pizza platters. These can be a simple and cost-effective method to keep the guests pleased.
Offer Several Options
Whether you decide on a buffet style, go for a sit-down dinner, or choose a cocktail style event where everyone grabs bite-sized treats all night, it is important to have a few different standard options for the main course.
Choosing the main meal for the night is a tough nut to crack. Your options can range from the classic meat and potatoes to sushi and seafood. However, it is important to serve food choices that are feasible to most if not all of the guests. This is something your caterer can help with, as they are aware of the trends and what is currently in season.
If you're on a budget, you can consider serving a DIY catering option. Either way, it is still a good choice to add a serving you have made yourself. Not only does it add a personalized touch to the whole menu, but it can be something like a spouse's favorite too!
Dessert
Last but not least, the dessert is as important as the main course. It is looked forward to by nearly everyone. When it comes to dessert, it's best to serve something light-hearted and simple like ice-cream and cake.
You can also go for more intricate options like tarts and quiches if you have the budget, but make sure not to compromise on the main course to make room for the dessert.
Final Words
When it comes to getting your wedding food right while staying within your budget, it is all about getting creative.
Make sure to talk to your caterer and plan out a menu that is not only feasible but also budget-friendly.
Appetizers and buffets are a great way to keep the guests content and well-fed. And most importantly, don't forget to add your personal touch to the menu by adding a dish or two of your own! It will make your wedding menu truly unique and memorable, something which is bound to impress your guests!