With the winter holidays approaching rapidly, you may have found yourself in a pickle when it comes to choosing where exactly to spend them. There are many wonderful destinations all around the globe and it depends on your preferences whether you'll choose to spend your holiday in a beach, drinking a cocktail from a coconut or you'll have a traditional winter holiday, full of activity and snow. For those of you who prefer the latter option, here are some suggestions to help you make a decision.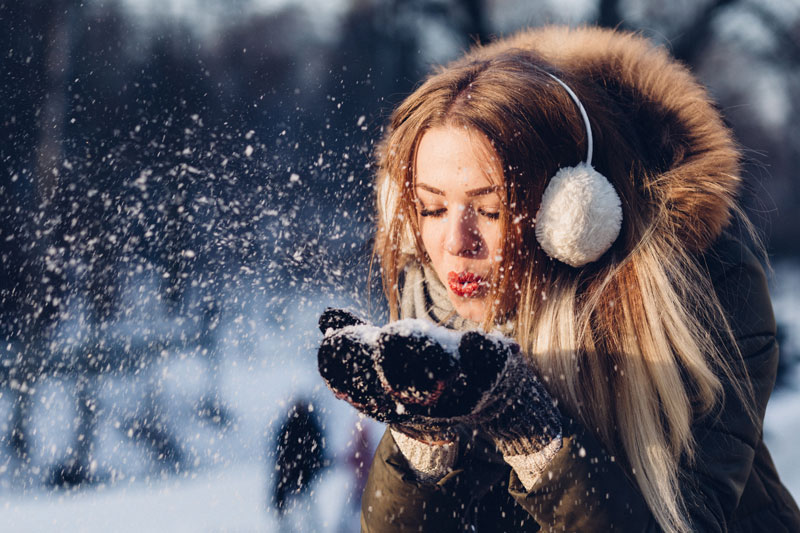 1. Germany
Germany is not an average person's first association with the words "magical snow country", but it has so much to offer. First of all, in Germany, it always snows in winter, so it's almost guaranteed that you'll have a white Christmas. Next, they have the most magical Christmas markets, with plenty of gingerbread and marzipan bread, and breathtaking Christmas decorations. The atmosphere in these markets is nothing short of magical. Furthermore, for those who are more romantic, there are numerous castles in Germany. The appeal of the castles rises even more as the snows fall. Is there anything more stunning than a snowy castle, surrounded by white fields and frozen rivers?
2. Austria
Similar to Germany when it comes to magical castles and Christmas markets, Austria also boasts many natural beauties. The marvelous Bohemian Forest will take your breath away, and no less should be expected of the four picturesque villages situated in the Wildschöenau valley. Niederau, Oberau, Auffach, and Thierbach are fairly pretty all year round, but covered with snow they are simply mesmerizing. The capital of the country is almost universally acknowledged as the most beautiful capital in Europe. Vienna manages to combine the spirit of a big city with the charm usually connected to small towns. If Austria is your choice, you won't be disappointed, as there is entertainment for all sorts of people, and there's no way you'll be bored or lacking in sites to see.
3. Slovenia
If you're more of an outdoor type and don't care much about castles and Christmas markets, Slovenia should be your choice for a winter holiday. Full of natural beauties, this small European country is the perfect option for people who enjoy winter sports, or simply winter and all it has to offer. Lake Bled is extremely beautiful literally every single day in the year, but it acquires special charm once the snows fall. The fairy tale sites are not all Slovenia has to offer – winter sports there are at their very best. 70% of people there engage in sport all year round, which is amazing in itself, but it also means that they need some pretty good sports facilities – and the skiing and snowboarding activities there don't disappoint. There are many family-friendly resorts as well, for those of you who want to give a special treat to their little ones.
4. Russia
Don't trust Hollywood – Russia is, in fact, the land of high culture, not just poor-English speaking mafia. From November until March, theatres in Russia open with new programs. The ballet and opera performances in the world-renowned Bolshoy theatre in Moscow are a must-see. Russia is a huge country, and it covers about one-eighth of the total land on the Earth. It naturally follows that it must be filled with natural wonders, and from the Baikal Lake to the ice-caves in Siberia, it can provide enough breathtaking landscape to last you a lifetime. Russia is also a bit cheaper than the rest of the countries on this list, so it's also a good budget-friendly option.
5. Japan
For something completely different, go to Japan. The culture and the people are almost a complete opposite of the Westerners, so you can get to know a whole new world – and still have snow in winter. There are no crowds in Japan in winter, and you can see some really spectacular sights – how many people you know have seen snow monkeys bathing in a hot spring? Speaking of hot springs, Japan is full of them, and you can really relax in the spa environment, even with the snow falling around you. The Japanese are really big on winter sports as well, so you'll even be able to enjoy some skiing, snowboarding, or simply hiking. Finally, you can enjoy the beautiful Shinto shrines, which look even more magical when covered in snow. There are no downsides to visiting Japan in winter, so pack your bags!
6. Canada
Canada is probably among the first thing that crosses your mind when you think about winter countries. There's a good reason for that – winters in Canada are simply spectacular. Between the impressive woods covered in snow and mountains that were made for becoming ski slopes, is there anything else to wish for? For those of you who enjoy great ski holidays, Canada is the obvious choice. However, skiing is not all this country has to offer. Have you ever stayed in an ice hotel? Well, there's one in Quebec, and if you crave a bit more entertainment, why not visit the Winterlude in Ottawa? This winter festival takes place in February, and the atmosphere is nothing short of fantastic.
7. Alaska
Visiting Alaska in winter may seem a bit intimidating as the state is a bit chilly even during the warmer months, but it pays off. If you want to see the northern lights, Alaska is the place for you. The Alaskan people simply adore winter festivals, and those take place in virtually every inhabited place in the state, so there is plenty of excitement to go around. There is more than festivals, though. Alaska boasts a plethora of winter content, such as ski races, dog sledding tours, winter biking, snowshoeing, snowmobiling, ice skating, ice fishing, and many other things that you can't really find anywhere else. So, if you'd like to do something new and exciting this year, Alaska is the place to go.
Winter holidays can be really amazing. No matter which of these fantastic destinations you choose, you're in for a treat, and you'll have a holiday you'll never forget.