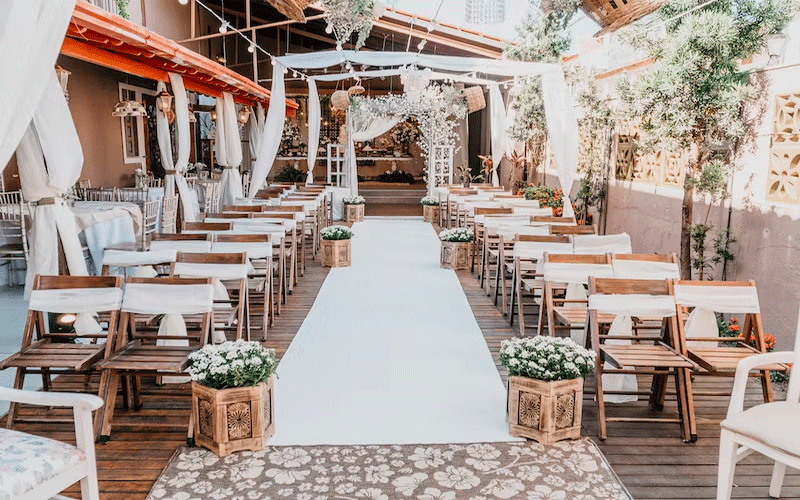 Your wedding day is one of the most special occasions in your life. Adding unique wedding touches to this momentous day can transform it into an unforgettable celebration. Infusing personal elements and creative ideas into your wedding enables you to set the stage for a memorable event and create an atmosphere that reflects your personality as a couple.
To help you plan, keep reading as we explore various fun and unique touches that can elevate your wedding celebration to help you organize a day to remember.
Personalized Invitations: Setting The Tone
Embarking on the journey to a unique wedding is anchored in the first impression: your wedding invitations. Go beyond the basics by infusing personal touches that narrate your story as a couple. Enchant your guests from the outset with meticulously designed invitations, unique paper choices, or a timeline chronicling your relationship. This conveys essential details and sets the tone for an extraordinary celebration. Let your invitations be a teaser, offering a glimpse into the magic that awaits on your special day.
Customized Décor: Reflecting Your Personality
Transform your wedding venue into a visual masterpiece by saturating it with personalized décor. Picture centerpieces that eloquently tell your story, table settings that mirror your unique style, and thematic decorations that convert your venue into a personalized haven. The overarching goal is to craft an environment that resonates with you and captivates and enchants your guests, making your celebration unforgettable.
Interactive Guest Experiences: Making Memories
Guests carry away the most cherished memories from interactive experiences at weddings. From lively photo booths adorned with quirky props to engaging games that involve everyone, these interactive elements infuse joy and foster connections. Every click, every laugh, and every shared moment become tangible reminders of the joy your guests experienced. Capturing these moments immortalizes the fun and ensures your wedding lives on in the cherished memories of everyone present.
Bespoke Wedding Favors: Memorable Tokens
Expressing gratitude to guests takes on a new level with unique and personalized wedding favors. Go beyond the ordinary by considering custom-made treats, engraved items, or something that resonates with your shared interests. These thoughtful tokens serve as more than just gestures of appreciation; they evolve into cherished keepsakes for your loved ones. Each carefully chosen favor becomes a tangible memento, a small but meaningful piece of the celebration that your guests can carry with them, ensuring that the warmth and joy of your special day linger in their hearts long after the event.
Signature Cocktails: Cheers To Uniqueness
Raise the bar—literally and figuratively—at your wedding with signature cocktails embodying your union's essence. Craft drinks that not only mirror your personalities but also seamlessly tie into the overarching theme of your wedding. Beyond merely adding a personalized touch, these signature cocktails become a focal point, providing a sensory experience that resonates with your guests. With each sip, they'll toast to your happiness and indulge in a unique and memorable aspect of your celebration, creating an atmosphere that is as distinctive as your love story.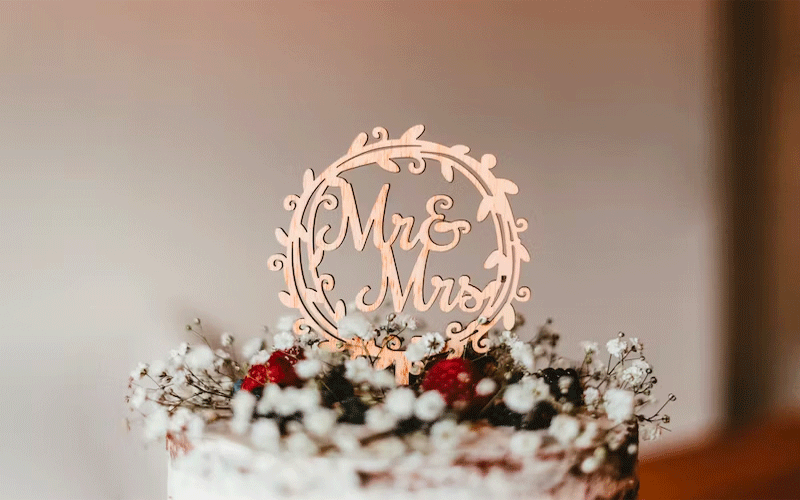 Custom Signs: Personalized Elegance
Custom signs play a pivotal role in adding a touch of elegance and personalization. Imagine your names illuminated in the warm glow of custom neon signs, guiding guests with style and flair. Make your event personal with a custom neon sign that serves a practical purpose and becomes a captivating piece of décor, adding a unique charm to your celebration. Consider strategically placing custom neon signs, creating a visually stunning, Instagram-worthy atmosphere. Custom signs, especially those in neon, have gained popularity for their ability to infuse a modern and stylish edge into weddings. Whether the couple's names, a meaningful quote, or a symbol representing their love, custom neon signs are a trend combining functionality with aesthetic appeal.
Specialty Entertainment: Beyond The Ordinary
Elevate your wedding celebration by transcending the ordinary with specialty entertainment that leaves a lasting impression. Imagine live performers igniting the atmosphere with energy, unexpected acts adding an element of surprise, or culturally rich performances captivating your audience. When selecting entertainment, delve into your shared interests and passions, creating an experience that is authentically yours. Stepping beyond the expected lets you engage your guests and infuse extra excitement into your celebration, making it a unique and unforgettable experience for everyone present.
Thoughtful Inclusions For Guests: Small Gestures, Big Impact
Infuse thoughtfulness into your wedding celebration through small yet impactful inclusions that prioritize the comfort and enjoyment of your guests. Welcome bags, personalized with thoughtful items, extend a warm greeting. Comfort stations equipped with essentials showcase a commitment to guest well-being. Small blankets for an outdoor ceremony convey consideration for your guests' comfort. Attend to these seemingly minor details, and watch as they contribute to a welcoming and enjoyable atmosphere. These small gestures collectively make a big impact, reflecting your appreciation for the presence of your loved ones and ensuring that every guest feels valued throughout your celebration.
The unique wedding touches weave unforgettable memories in the tapestry of wedding planning. Your wedding day is a celebration of love, and with these fun and unique touches, it will be a celebration to remember for a lifetime. Cheers to love, laughter, and a wedding that's as extraordinary as you are!