When it comes to headphones I must admit I'm not much of an expert. Usually as long as they produce sound I'm good. When they start producing sound in only one ear that means time to buy a new pair. However recently I had the opportunity to try a new pair of headphones and I'm hooked! Hooked on the S11-Flex HD Wireless Headphones. I honestly didn't know wireless headphones existed though when you think about it logically it is not much of a stretch from Bluetooth headsets and other wireless devices.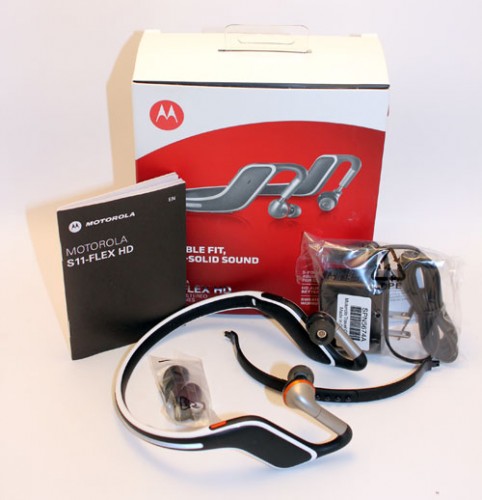 I know when I do mange to get out to run or spend a little time on my treadmill I always listen to music or a good book. When I run I am usually fiddling with my iPhone armband and constantly readjusting my headphones so the wires are not in the way. When I'm on the treadmill I usually just put my headphone on the treadmill itself but I can't tell you how many times when I've been running my arm accidentally catches the headphone wire and pulls the plug. I also enjoy listening to music when I'm cleaning, however often I'm wearing a pair of workout pants or shorts with no pockets so I have no wear to hold the phone and I end up by passing the music.
With these wireless headphones all of these problems above are solved. When I'm running I will still need my arm band to hold my iPhone but I won't have to worry about the cord. When I'm on the treadmill or cleaning I can just lay my iPhone to the side and still listen. When I received the S11-Flex HD Wireless Headphones I knew I wanted to try out all the features to see how they work. The headphones use Bluetooth technology to pair with your device and they become wireless.
I paired the wireless headphones first with my iPad and jammed to some music. I asked my husband who was sitting close if he could hear the music and he could not. This means all the music was going where he should, my ears. I then paired up the device with my iPhone because in addition to listening to music you are also suppose to be able to answer and make calls with it. I had my son call me and I answered the call through the wireless headphones.  Everything connected fine and I could hear my son well. I then switched places with him so I could hear the reception of the call on the other end. The reception was clear but a little low which means if you are going to use the wireless headphones to make and receive calls you may want to speak a little louder then you usually would.
I then decided that I needed to test the wireless headphones using them like I would use them so I set out for a little run to see if there was any interruption or how well they worked. I had no problems at all and found that once I started moving around I didn't even "feel" that I had headphones on. Though the headphones wrap around the back of your neck it is very unnoticeable. The headphones stayed in my ears at all times while I was running.
The next test was distance. I wanted to see how close I needed to stay to my device in order to get perfect reception and no interruption. When using my iPad I noticed I couldn't be too far away. Once I went into the other room the music began going in and out. So I then tested with my iPhone to see if it was an indication of the wireless headphones or my device. When paired with my iPhone I was able to walk throughout the entire house with no dropping or interruption which means the first test found a wireless issue with my iPad and not the headphones. This is going to come in real handy when I'm cleaning. I can turn up the music and leave my iPhone on the counter while I scrub, mop, and clean.
Survey Results
Check out some interesting survey results regarding working out and headphone usage:
·         A majority (65%) of Americans say it's tougher to keep a resolution to exercise more than to eat better (35%).
·         For 68% of respondents, lack of motivation was the biggest obstacle to getting fit.
·         53% of Americans said they have gotten tangled in their headphone wires – more than once!
·         Those who exercise and own headphones say their workout has actually been ruined by uncomfortable headphones (24%) or ear buds that fall out (47%).
·         A majority of men consider the most important feature in headphones to be sound quality (59%), while women care most about comfort (46%).
·         19% of Americans who exercise say a workout has been ruined by forgetting a water bottle and 39% by uncomfortable shoes. And remember when your size-too-big-socks scrunched under your heel? 22% said uncomfortable workout clothes have ended motivation at the gym.
The wireless headphones can be controlled right from the headphones themselves with and on/off and pairing switch, a volume control, and a multi-function button that allows you to skip songs and answer and make calls. I will admit I did not try to actually make a call. For my purposes I will be using these more for workouts and while I may need to answer a call I will more then a likely not be making them.
Another great feature is charging time. There is nothing worse then getting changed for your workout, athletic shoes on, water in hand, and grab your music and headphones to find that your headphones have no charge. Each 5 minute charge on the wireless headphones gives you an hour of listening time.
Whats in the Box?
• S11-FLEX HD Wireless Stereo Headphones
• A variety of ear cushions for custom fit and optimum sound
• Adjustable innerband for an extra-secure fit
• Micro USB wall charger
• User guide
---
Disclaimer: I received a set of Sii-Flex HD Wireless Headphones to review. All opinions are my own. You may read more of my disclosure here.
---