This post brought to you by Atlantic Luggage. All opinions are 100% mine.
I am one of those lucky people that loved her job and have worked for the same family for 20 years, it was not just a job, we were a family. My job required that I traveled often, many times I would be gone for 3 weeks at a pop.  Not everyone can handle a job like this but I loved it, I got to see the first snow and then come home and lay on the beach. I got to see the changing of the leaves and then come home and lay on the beach, it was perfect, the best of both worlds.
When you travel a minimum of half a year one thing that is very important is your luggage. Your poor luggage really takes abuse when you travel, therefore you want something that is durable and can take the punishment at the same time protecting your goods inside. Not only does the luggage need to be functional but when you travel often you want it to be stylish too, I mean it is like a hand bag, you want it to fit your style..
Atlantic Luggage has high quality luggage for a very reasonable prices. I am partial to the hardside luggage and Atlantic Luggage has a beautiful line called The Atlantic® Lumina™ collection
I love the contemporary satin look of this piece, and I think the color is very rich and classy and I like to pick a color I can easily see when the luggage comes around the belt at the airport.  It has the dual-wheel spinner system which allows you to maneuver through the airports and around corners with ease, you don't want to fight your luggage while running to catch that connecting flight.
When you are gone for weeks at at time you need something to occupy yourself so of course I have to go shopping. Eevery area of the country has it's own unique style and I enjoyed coming back home with a pair  or two of shoes or an outfit or two that you can't buy in Florida, so the expandable packing compartment that this piece has is a  necessity to allow me to take home all the wonderful items I bought on my shopping spree. One last feature that is a must, a warranty, this collection comes with a 10-year limited warranty. I think this piece of luggage is exactly what I need and for a great price too. Atlantic Luggage has several lines of fine luggage to choose from that will fit your style and needs.
Even more exciting Atlantic Luggage is offering a fantastic contest, win a family trip for 4 Sweepstakes! : One lucky person could win a family  vacation (for 4) to the destination of your choosing, either Los Angeles, CA or Washington, DC!!! Trip includes airfare, hotel, $300 activity allowance, and 4-pieces of Atlantic luggage. The contest runs May 15th through June 15th. Hurry and enter for your chance to win this fabulous trip.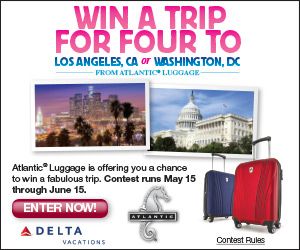 What city would you choose to travel to if you win the contest?