I've been using Windows for as long as I can remember. Looking back at some of the earlier editions, they seem clunky and almost humorous though they were advanced technology at the time. Do you remember how many steps it took to get to Solitaire and Minesweeper? The improvements to the Windows suite have at the very least been interesting to watch and be a part of. Some features have made life easier while few are best forgotten. On July 29th, Windows 10 officially started rolling out in waves for global availability. The premise of Windows 10 is the foundation and first step of a personal computing era – built by customers, for customers. The very first difference? Users can upgrade to Windows 10 for FREE.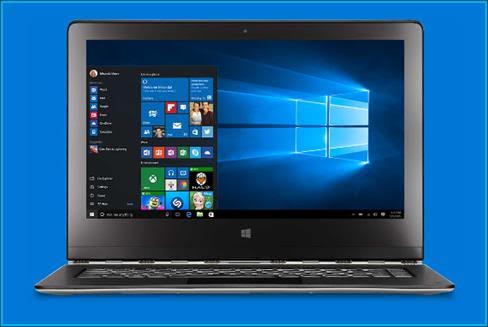 Windows 8.1 users can expect the same familiar, fun, and productive Windows outline, but with some very cool updates. Some of my favorites are:
The Start Menu: I'm so excited that the start menu is back. I was a little disoriented trying to navigate Windows at first without it and I'm happy for it's return. Even better – the Start Menu is now fully customizable. Users are able to resize and reorganize the right column with live tiles. The bottom features a search field that pulls results from your programs and files, but also relevant Internet results.
Cortana: I'm sure by now you've heard of the voice-controlled personal digital assistant, Cortana. She is now available on the PC and all your Windows devices. Ask her to find files, send emails, turn on music, open photos, find apps, and more. This is a feature a busy blogger like myself could use and appreciate. I can ask Cortana to open a new spreadsheet or document using my voice.
Microsoft Edge: This is the new browser for Windows 10. It features a pared down pane meant for easy, no distractions reading. Write on the web with built-in note taking, sharing, and integration with Cortana.
Xbox Live: Built into Windows 10, stream games and access the greatest gaming community wherever you are. Use a desktop, laptop, or tablet to play your favorite Xbox games, see your achievements, and more. Gamers are also able to record, edit, and share with the Game DVR features.
Universal App: This is especially beneficial for users that have multiple Windows 10 devices. It keeps the look and feel the same, streamlining how you interact with mail, calendar, photos, and features.
Action Center: This feature conveniently places all your alerts in one area – the right side of the screen where the charms bar was previously located. View Skype, Facebook, even calendar alerts at a glance.
Control Panel: Find settings and manage your device from the same place! It's much easier than searching for this menu or that.
Have you upgraded to explore the new Windows 10? What feature do you think you'll like the most?