Whether you just got engaged or have a rock that you've been wearing for decades, have you ever thought about the meaning behind your ring? Of course, we all know that engagement rings symbolize love and devotion, but the style you and your hubby choose can also say a bit about your personality! Here are a few common styles and their meanings.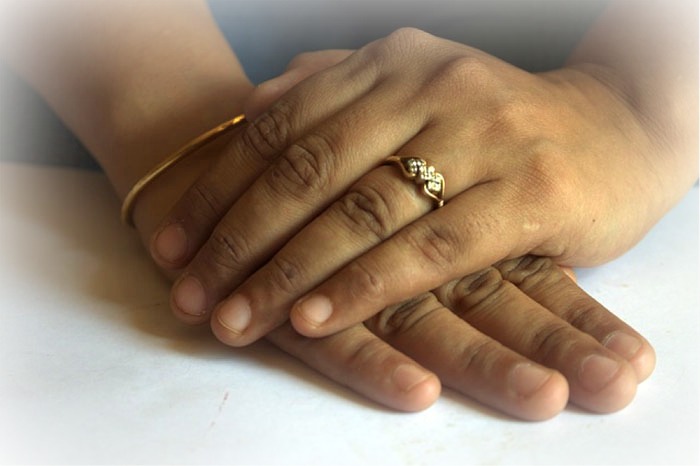 Round or princess-cut solitaire
These traditional diamond cuts are perennially popular and for a reason! A round cut on a diamond allows all of its facets truly sparkle, without distraction. Princess cuts are slightly more retro, but they still are strongly traditional, and a solitaire setting is the most common choice for brides. If you have this style of ring, you're probably grounded, romantic, and traditional.
Heart shaped diamond
According to this infographic about the history of engagement rings from Vashi, hearts and other whimsical shapes date back to the Victorian era, so wearing this type of ring shows that you have good taste! It also says that you're not afraid to be noticed and may even have a wild, yet romantic, style.
Colorful gemstones
Do you prefer to wear a ring with bright and colorful gems than a simple diamond piece? This shows that you have a bright, bubbly personality and like to inject color into your daily life. It could also show that you like to follow the latest fashion trends, and many popular styles at Vashi and other retailers now boast gemstone accents. By wearing colorful gems you can bring nature's sparkle and brightness to your everyday looks. Additionally, for someone seeking something unique, research on the list of orange gemstones can provide many great options for creating an attention-grabbing look.
Marquise cut diamonds
A ring with a marquise-cut diamond will definitely stand out in a crowd, with this shape making the diamond appear larger. If you like a bit of drama and glamor, this could be the ring for you!
Botanical accents
Does your ring have flowers, twisting vine leaves, or other botanical-themed details? If so, it could show that you're not only trendy but that you're a nature girl at heart. You may enjoy hiking, camping, and gardening.
Do any of these ring a bell? Or is your style more out of the box? No matter what style of engagement ring you choose, there's one thing they're bound to stand for: true love!