It has come time to install a new roof on your home. This is one of the most expensive home repairs that most homeowners will ever face. However, know that you don't have to replace the current roof with the exact same materials. Understand all of your options, and choose from among them based on factors like sustainability, initial cost, durability, energy efficiency, and overall value. Don't make the mistake of going for the absolute cheapest option, only to pay extra on the back end. Here is a ranking of the best roofing materials based on price and durability in no particular order.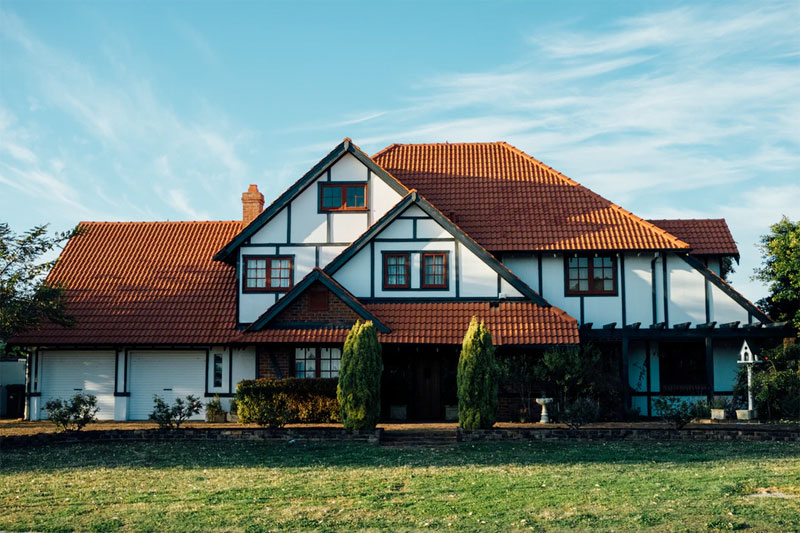 Asphalt Roll Roof
Asphalt roll roofs are made of the same material as asphalt shingles. This material is typically used on flat pitches like flat roofs or gently sloping shed roofs. It is installed by laying strips lengthwise to the roof with some overlap. It is easy to install; so simple, in fact, that many homeowners can do it themselves, assuming the roof is amenable to it. This means that the job can be done quickly and cheaply.
One issue with this material is that it has a short life. It will last ten years at most. It is prone to punctures, and you have to keep it clear of debris. This should only be used if you have absolutely no choice, or are simply looking for a short-term solution.
Composite Asphalt Shingles
Composite asphalt shingles are the most popular roofing material on the market. They are found on more than four out of five homes. The composite shingles may have an organic or fiberglass base. It is then saturated with asphalt and has asphalt on the bottom.
The top is covered with small chips of more attractive materials like slate, ceramic or quartz. These roofs are relatively cheap. They're easy to install, whether you need to repair a small area or replace the entire roof.
They also have a decent life expectancy. Depending on the materials you choose, they can last anywhere from fifteen to forty years. That also means you can choose composite asphalt shingles based on life expectancy, something reflected in their warranty. You can reduce this problem by choosing shingles with a high hail rating. Installation is possibly by a skilled do-it-yourselfer but is best done by a professional crew.
If you live in Southern California, you can call in experts like Semper Solaris. They can inspect your roof to determine whether you need roofing repair or roofing replacements. They're leaders in upgrading the energy efficiency of your home, and they can improve the insulation in your attic or advise you on which roofing material will help you save on your energy bills. And some of the roofs they install are so good they come with a fifty-year warranty. If you want to learn more about their products and roofing services, you can visit https://www.sempersolaris.com/roofing/.
Built-Up Roofing
Built-up roofing or BUR is a layered roof created by alternating roofing felt and a waterproof material like hot tar or fiberglass. This is another roofing choice really only suitable for very flat roofs. One point in favor of this roofing material is that it is cheap to buy and install. A side benefit is that it is fire-resistant. The downside is that it smells, and is very messy. Unlike asphalt roll roofing, it can last twenty to thirty years. It does require regular inspections and immediate repair to see that full lifespan.
Wood Shingles
Wood shingles are a traditional choice. The thin wedge pieces of natural wood are attractive, whether they're made from cedar or yellow pine. They are difficult to install, and that means this option is not suitable for do-it-yourselfers.
Wood shingles are increasingly difficult to install due to regulations against them since wood shingles are often a fire hazard. If you live somewhere where wildfires are common, choose something else. If the wood shingles are suitable for your climate, then they will last at least twenty years, while some types of wood could last up to fifty years. Because wood is a natural insulator, all wood shingles will provide excellent insulation for your home.
You do have to maintain the wood shingle roof, which means you will need to replace split or cracked shingles. Also, be vigilant for moss, as that needs to be treated immediately.
Wood Shake Shingles
Wood shake is a thicker piece of wood than a wood shingle. That is why wood shake roofs are more durable than wood shingle roofs. They resist impact and the weather better. However, they require professional installation, and like wood shingles, their use may be banned in certain areas. If this material is allowed, it can last thirty to forty years. The wood shake roof requires the same regular inspection and removal of moss. You also have to replace split and curled shakes before they degrade further.
Standing Seam Metal Roof
Standing seam metal roofs are created by laying large steel, aluminum, copper or zinc panels on a roof deck. The seams overlap in raised ridges to aid drainage. Standing metal roofs are popular in areas prone to wildfires because they are fire-proof. They're durable and maintenance-free. That is why their life expectancy is thirty to fifty years, though they could, in theory, last 75 years. The roof needs to have the fasteners and sealants checked to prevent leaks that damage the roof deck.
If you want to install a roof that will never be replaced again in your lifetime, a metal roof is the best value. A side benefit of the metal roof is that it is a natural insulator, since it reflects sunlight away from your home and traps warmth inside the building.
Clay/Cement Tile Roofs
Clay tile roofs are made of terracotta clay. Ceramic tile roofs are made from fired clay. Cement tile roofs are a modern alternative to both. All of these tiles are installed in overlapping layers on the roof. They're incredibly strong and durable, and they're also fireproof.
One downside is that they're very heavy, so you need a very strong roof deck on your home. However, these roofs can theoretically last centuries once they've been installed. They routinely last a hundred years. However, they're prone to cracking if you step on them, and cracked and broken tiles need to be replaced immediately. Discoloration can be treated with buffing and prevented with alkyd primer.
Slate Roofs
Slate is a type of stone, and it is as durable as stone. It is expensive, and that's why it is typically only seen in luxury homes. However, it can easily last 200 years, and it can't be destroyed in a fire. Yet it is prone to breaking under the weight of a person, a weakness it shares with clay tiles.
You will need to replace broken slate tiles as soon as you find them. They are actually more prone to deterioration of the roof deck due to water damage. That's why the flashings must be properly installed and maintained.
Consider your new roof an investment in your home. Choose the best material for your new roof based on overall value and performance, not the initial installation price, so that you'll be satisfied with your purchase years from now.