Thanks to my oldest soon our family is now addicted to escape rooms. An escape room experience has become the newest craze and we approve!
What is an escape room?
An escape room is a physical adventure game in which players are locked in a room and have to use elements of the room to solve a series of puzzles and escape within a set time limit. The games are physical versions of "escape the room" video games. Games are set in a variety of fictional locations, such as prison cells, dungeons and space stations, and are popular as team building exercises. source
Now before you give me the tired old argument of "I don't want to be locked in anywhere" let me assure you, you can get out at any time. There is never a feeling of being "locked" in. Imagine stepping into your bedroom and closing the door. The only difference is instead of being surrounded by your bedroom furniture you are surrounded by different settings with puzzles, photos, and other hints. In fact, one room that we went in we were told the door was not locked.
The second comment I hear often is that they are two scary. In all the escape rooms we have attended NONE of them were scary. Now I've read the description of one that did include some creepiness, however that is not our thing, we prefer the puzzles and have no need to be scared. So no need to fear being closed in or scared I promise you.
West Palm Beach Escape Rooms
We have been to many escape rooms but hands down the Best Escape Room in the Palm Beaches is West Palm Beach Escape Rooms. Our first introduction to West Palm Beach Escape Rooms was their Classroom which is included in an amazing Groupon offer.
Of course I can't tell you a lot about it because I wouldn't want to give any hints away but I did want to show you an example of a room. Hints are EVERYWHERE on the walls, hiding inside things, hiding in plain site, and more! The more people you have in your escape room the better chance you have of finishing. In this escape room there were four of us and we didn't quite make it out before the time was up. In most escapes rooms you are given up to three clues to use for free. At any point in the game you can ask for a clue. If you need a fourth clue it will cost you five minutes. Trust me you want to try to finish using no more than three clues.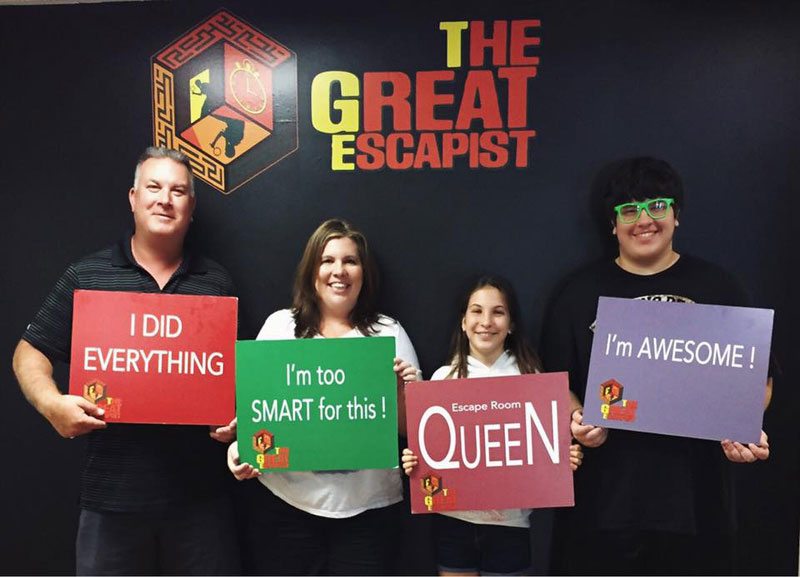 We had the opportunity to return to West Palm Beach Escape Rooms recently and this time we brought six of us. We graduated to the next room which was The Bomber. Sounds ominous doesn't it?
Brilliant scientist Dr. Adam Bombe is known for two things. His attempt at creating a high energy cold fusion explosive device the size of a vacum cleaner and designing one of the first escape rooms in the world. Unfortunately, his life's work was cut short when he was declared criminally insane.

To honor his place in escape room history, we have proudly recreated his very first room. But be warned, while Dr. Bombe has threatened to destroy anyone who has copied his work, we feel there is no danger playing this historical game. After all, Dr. Bombe is in a maximal security prison in Zurich; what could possibly go wrong?
I would like to say that we thought this room was easier. However we did have six people this time and we were all seasoned escapists, so it is probably safe to say that these factors played a role in us being able to complete the room with 17 minutes to spare!
Have you tried an escape room experience?