This post brought to you by Piccadilly Restaurants. All opinions are 100% mine.
Every season has a purpose don't you think?  Summer is the season that lifts peoples spirits. Ever notice how people just seem happier in the summer?  It is a proven fact that sunshine stimulates the serotonin production. Serotonin is a neurotransmitter in the brain that regulates mood. So when we can get out in the sun we start feeling better about life and ourselves.  Summer is one of the busiest seasons for weight loss. Why? Because when we feel good about ourselves we want to look the best we can.
Very recently I started a losers club for my friends and I. The main benefit of the club is that it helps you hold yourself accountable for your weight loss and keeps you on track. Each LOSER pays a fee to join. Ours is just $25.00. We have an initial weigh in and measurements, then since we live in different areas and can't meet on Monday mornings, each member weighs themself every Monday morning and emails me the results. (We do it Monday to help keep us on track over the weekend.) I  record their weight and track their progress.  I send out an email and congratulate the LOSER for the week. Every other month we meet to take measurements again because inches are just as important as weight.  After 10 weeks the person with the highest percentage of weight loss or inches lost wins the total of the entry fees. In my weekly emails I also include words of encouragement and tips on where and what to eat to help keep you on track. This week I am going to include the great deal that Piccadilly Restaurants is having right now!!!!!
You choose any three wholesome and delicious sides they offer such as salads, french style squash, green beans, carrot souffle, or fruit salad. All for $5.95 and it includes your choice of fresh baked breads. My suggestions is that everyone pick something different and share.
My mouth just waters looking at this picture
Or this one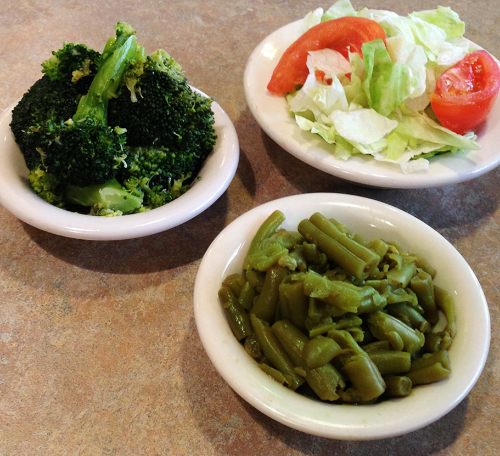 You can combine your three choices any way you want, 2 salads one veggie, 2 veggies one salad etc. You can add Piccadilly's Home style Veggie Plate with your meal or you can eat light and have it as a meal.
A Little Piccadilly History
Piccadilly's first opened in Baton Rouge, Louisiana in 1932, today they have approximately 60 restaurants and 80 food service locations. 
$25 Piccadilly Gift Card Giveaway
Check out Piccadilly at Piccadilly Restaurants to find more promotions and to see all the other delicious choices they offer.
Which Piccadilly meals and sides are your favorite?