Most of you know I'm an iPhone user. I absolutely LOVE my iPhone.  Recently I purchased an iPhone 4. I was not disappointed, the speed on the 4 is amazing compared to the 3GS. The reason I love my iPhone is for all the cool applications you can download.  I currently have 107 apps on my iPhone (a lot of those are the kids).
This is my top iPhone apps, and the ones that I use the most!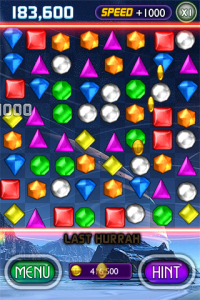 Bejeweled Blitz : By far this is my favorite game application.  I first became addicted to it on Facebook, obsessed with being at the top of my friends list. When I learned I could get it on my iPhone I didn't hesitate.  I also have the desktop version which gives you more goals to reach for and a few bonuses that both the facebook and iphone application do not. This is probably the most used application on my phone. I often play it in the car (not while I'm driving of course). I never seem to get to the top of the list anymore but that doesn't stop me from trying. My children love to join in the fun as well.
200 Situps: I've done a review of this application once before : Two Hundred Sit-ups .  In addition to this application I also have 200 Squats and 100 Push-ups however the Sit-Ups is still my favorite.  It makes it easy to get your sit-ups done when you have an application telling you how many to do and when. The point of the progam is to get you to be able to do 200 sit-ups at one time. Before you begin you do an initial test of how many sit ups you can do at one time. From that point he program tailors to your ability.  An example of a day would be 24 sit ups, 25 sit ups, 21 sit ups, 21 situps, and 30 situps all with a 120 sec rest in between.  This is a great program to strengthen your abs!
C25K: This is another of my favorite fitness applications. I'm sure most of you have heard of the Couch to 5K program. This application follows the program and prompts you as to when to walk and when to run.  It is great because  you can listen to your music, not worry about time and just listen for the ding to change your pace.  As you progress the program changes. Without even realizing it you are soon running 30 minutes at a time. They also added a GPS feature that tracks your miles ran, and pace for both running and walking.  You can listen to playlist or shuffle your music.  What I love the best is the ability to follow the program with ease.  The first week is 5 mins warm up 60 mins run, 90 mins walk, on and off and then a 5 min cool down. Each week your running time increases helping prepare your body and get it use to running. Definitely recommend this if you want to get into running.
Words With Friends: This is a very popular application, in fact I think everyone I know that has an iPhone has this game. It is your basic scrabble came however you play against friends or you can ask the application to find someone to play with you. Often I have 4 or 5 games going at one time because it could be days before someone makes their move.  Truth be told I SUCK at spelling but I still enjoy playing the game.
Nike + GPS: Do you see a theme here regarding my iPhone application fav's? I really love Fitness applications.  My husband purchased a Nike + Sports Band. Since I had an iPhone all I needed to do was purchase the application.  I love this application and will run it at the same time I run the C25K application.  My FAVORITE feature of this application is the "Cheers". If you connect your Facebook account the application will update your status that you are running. As your friends either "like" your post or leave you a comment you hear a roar from the crowd as you walk/run. I know it is the little things that get me.  In addition this application uploads to an online account to keep track of your runs. You can set up goals and challenges for yourself and it too has a GPS to track your pace and miles. I plan on doing a more comprehensive review of the Nike + Sports Band and iPhone application soon.
Grocery Gadget: One thing I'm terrible about is remembering what I need at the grocery store.  All week I will think I need to remember to get this and get that. Then I sit down to make a grocery list and my mind goes blank.  With the Grocery Gadget application I can enter my item into my grocery list at anytime.  No need to take paper and a pen with me to the grocery store.  You make your list with the application and as you put the items in your basket you check off your list.  When you do this your item drops to the bottom of the list leaving you with only items you have not yet purchased at the top.  You can add items that are not on the list as well as take photos of items (as you can see in the photo). You can put in the amount of an item so you can comparison shop.  The other cool thing about this application is if both you and say your husband have this application installed you can share grocery list.
These are definitely my top 6 most used and loved applications. However I felt it was worth mentioning a few others that I do use sometimes on a daily basis: Tweet Deck, Facebook, Nutrisystem, and on occasion Directv.
Do you have any cool iPhone applications that you use often that you would like to share? I'm always searching for applications to toy around with.