If you have been suffering from a niggling toothache or pain, it can be tempting to save a little time and money by fixing the problem yourself. But by doing so, you risk not only failing to fix the problem but making it worse. This is why the dentist should be your first port of call the moment you realize you require the expert advice and guidance of a dental professional. And this is very much so for kids who have lesser tolerance to pain than adults, thus it is important to consult the pediatric dentistry in queen creek when they start complaining of toothache. Continue reading to find out why the dentist always trumps home fixes.
They can fix the problem quickly
If you are suffering from any type of ache or pain in or around your mouth, you must seek treatment immediately. By failing to do so or ignoring the problem for a prolonged period of time, it is only likely to worsen, and you may end up requiring further treatment down the line that could have been avoided with immediate care and attention. When it comes to tooth pain, time is of the essence. Early childhood cavities are a common problem in toddlers or children younger than 6 years old. Kids' dentists are the best type of dentists for young children with baby teeth.
Your dentist is likely to have encountered the problem before and, as a result, will be able to source a suitable solution to rid you of any ongoing discomfort in a matter of minutes. By acting quickly, you can save yourself a great deal of time, money, and agony. If your usual clinic is closed or there is an emergency, there are several out-of-hours options to choose from.
They can detect mouth cancer
Whether you are attending the dentist for a routine appointment or for a worsening problem like a dental abscess or bleeding gums, your dentist is likely to detect mouth cancer by checking for unusual white patches in or around your mouth. This is one of the main reasons why you should never go more than six months without visiting your dentist unless absolutely necessary. In addition, they may also be able to detect early warning signs of head and neck cancer by checking for lumps on your head and neck. It is rare that these checks uncover anything serious but if detected early, they can allow you to source the best treatment option for you and may even save your life. Whether you are suffering from tooth pain or are concerned about any sudden changes, a dentist Brisbane-based should be able to alleviate any worries and reassure you that there is help available.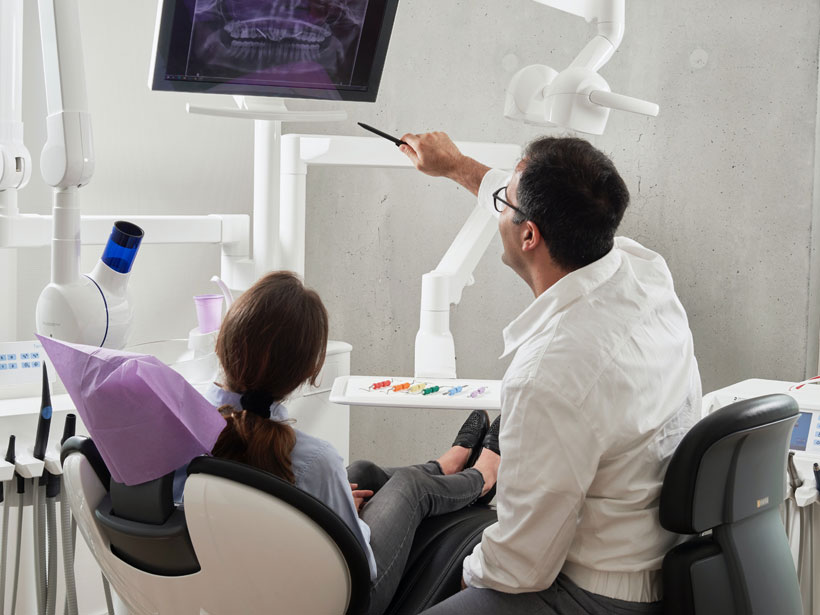 They can stick to proper procedure
If you are tempted to deal with your tooth pain once and for all from the comfort of your own home, you may end up doing more harm than good. If you visit a dentist Brisbane-based or elsewhere, on the other hand, you will benefit from first-class care and attention from the moment you arrive until the moment you leave. This is because dentists are trained to stick to proper procedures and only administer invasive treatments as a last resort or if they are guaranteed to fix the problem in a matter of minutes. By opting for a home fix, you risk falling victim to a number of factors, including being in a great deal of pain, cracking or crushing the tooth, damaging the surrounding teeth and jawbone, triggering an infection, and failing to fix the underlying issue causing the tooth pain in the first place. If you make a mistake, your next dentist appointment may be particularly costly and time-consuming.
They can prevent infection
When you or your child have tooth pain, you must contact your dentist (or a pediatric dentist if your child is too young to see an adult dentist) at the earliest convenience. By doing so, you should be able to stop the pain in its tracks and be on your way to a happy and healthy mouth once again. If you ignore the problem or rely on a number of temporary measures, such as an over-the-counter dental first aid kit, a homemade filling, or even pulling the tooth yourself, you are more than likely to end up with an infection. This is because you are not carrying out the procedure from a sterile environment and are not equipped with the health and safety tools of a qualified dentist or dental professional. When it comes to tooth pain, a temporary solution is almost always never worth it. It may benefit you to endure tooth pain until you can schedule an appointment with your dentist or if you cannot cope with the mounting pain, seek out an emergency dentist in your local area.
Tooth pain can be one of the most unpleasant sensations you are ever likely to experience. This is why you must visit a dentist to get to the root of the problem at the earliest convenience instead of relying on a series of home fixes. If you are still unconvinced, it may benefit you to know that a dentist can quickly fix the problem, detect mouth cancer, stick to the proper procedure, and prevent infection.