One of the nice features of our home is the large kitchen. We have a great space to prepare and cook our meals and a lot of counter space.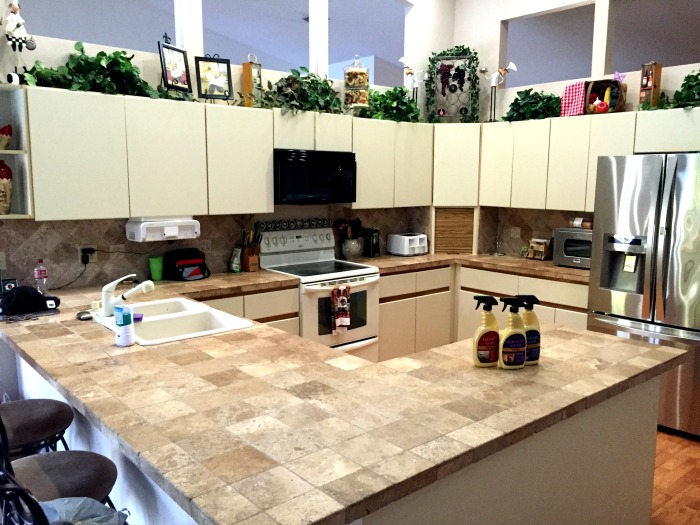 Ignore the ugly beige cabinets if I ever save up the money I would love to change them to a darker color. When anyone visits they first thing they say is I bet those counter tops are hard to keep clean. The truth is with darker colored counter tops it is hard to tell if they are clean or dirty so that means I often over clean. I was recently introduced to Granite Gold when I was sent a three step process to clean, seal, and polish my natural stone counter tops, which happen to be travertine.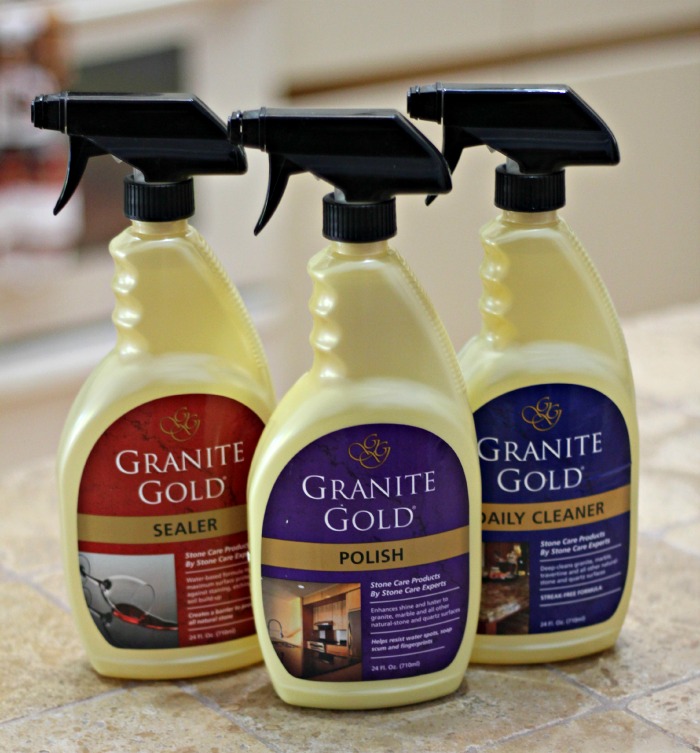 I will admit I'm often skeptical about the claims of many cleaning products. However I absolutely love this trio. I was pleasantly surprised with the outcome.
Granite Gold Daily Cleaner
The first step in keeping your natural stone counter tops clean is to clean often. Even if your surface appears clean, it is a good habit to clean it daily and definitely after each meal preparation. If you have natural stone counter tops such as travertine or granite you should avoid common cleaners and abrasives, it can break down the protective seal. The Granite Gold Daily Cleaner safely deep-cleans granite, marble, travertine, and all other natural-stone and quartz surfaces. It also has a light citrus scent and as it suggests can be used daily.
Granite Gold Sealer
It is recommended that with natural stone it is best to keep the stone sealed. The seal creates a barrier to protect the natural stone from staining, etching and soil build-up.
Granite Gold Polish
Polishing your counter tops regularly will help bring out the stone's natural beauty and reinforce the protective seal against water spots and fingerprints. You can also use the Granite Gold on your shower walls, tub, and sinks to help prevent soap scum build-up. Note: Do not use on your floor Granite Gold does make a product specifically for floors.
I took a weekend and worked on my counters a section at a time. I didn't want to have to move everything off at once and then put everything back. It is recommended to do a 3 foot section at a time. I first cleaned the surface with the Granite Gold Daily Cleaner. Then using a lint free cloth apply the sealer 2-3 times. You must wait 24 hours before using the polish. After the 24 hours I polished the travertine counter tops. I immediately noticed that my counters felt smooth and they shined. The counters are easy to clean and I try to polish them once a week.
Granite Gold Coupon Code
Use the code "smiles" to receive 20% off of your Granite Gold purchase through June 15th.
Granite Gold Three Step Process Twitter Giveaway
Give Granite Gold a try for free by entering the twitter giveaway below

RT for a chance to win this trio of @GraniteGold products. Keeping your natural stone shiny & new #ssgive16 pic.twitter.com/NDD3ral6ix

— Colleen Shibley (@shibleysmiles) May 25, 2015