I mentioned a few weeks ago that Honey and I enjoyed a trip down to our local CVS to use the Kodak Kiosk to take some of our summer fun and preserve it for us to enjoy in the future. We took the time to transfer and scan some photos of our Carnival Cruise that we took in July and created a beautiful photo book.
Kodak Photo Book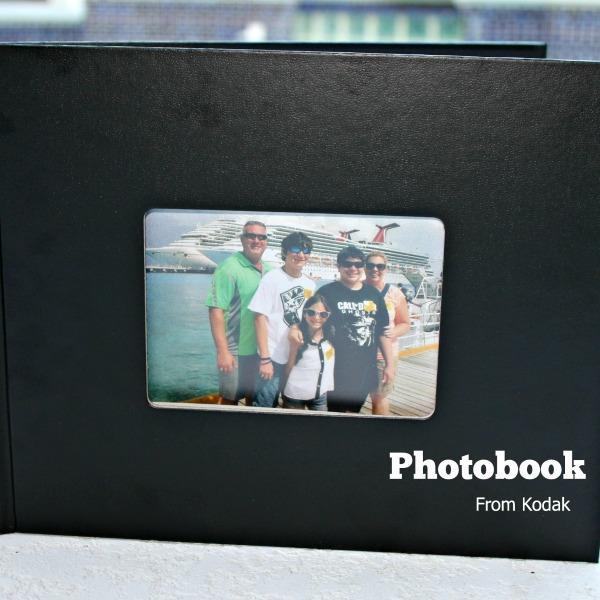 We had many themes to pick from for our background in our photo book and we decided that a beach theme would make the most since to go with a cruise. After transferring our photos and scanning in some that we brought in with us we let the system create the book for us. I love that it will give you a template to start with inserting all your photos on different templates. From their you can move any photos around, put more or less on one page, or move them from page to page. We made a few changes and then our book printed out while we waited. Here are a couple scans of a few pages in our book.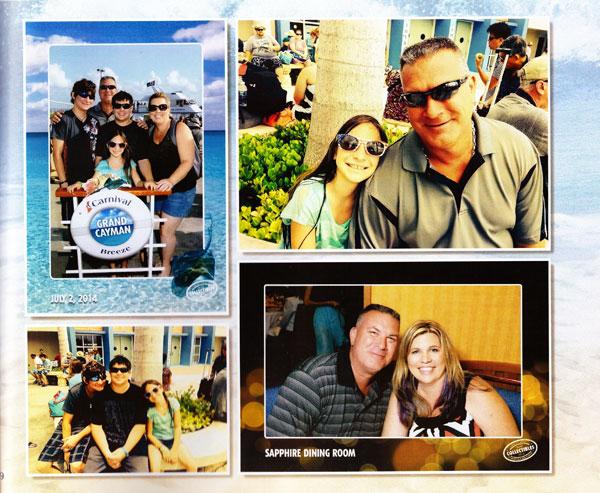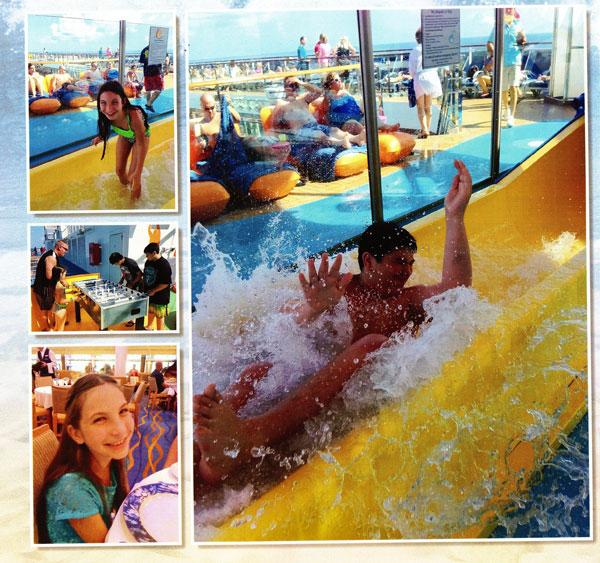 Honey brought the book in to share with her class her memories and photos of her family vacation. I was also able to take the book into work to share with my co-workers who are often asking to see photos. In addition to our photo book we also ordered a puzzle. The hardest part was deciding which photo we wanted to use. If I had prepared for it a head of time I would have used a collage of photos. This would be one option I would love to see them give you, the ability to create a collage of photos for your puzzle. In the end we chose one of the ones we purchased from the cruise. The puzzle comes in a cute personalized tin.
Photo Puzzle Tin
They said it would take about two weeks for our puzzle to come in since it had to be created through a third party and shipped in. However I received a call in about a week in a half, a little earlier than I had expected. When the puzzle came in Honey couldn't wait to put it together. She wanted to do the "putting together herself" but she wanted me to help her find the pieces. We had such a fun time looking for our faces, clothing, and shoulders. Honey would say "oh here is your arm" or "here is dad's sunglasses". It really made the time putting the puzzle together fun. It took her about thirty minutes to put the puzzle together. I would LOVE to do something like this again with 1000 pieces to make it even more challenging.
Our Photo Puzzle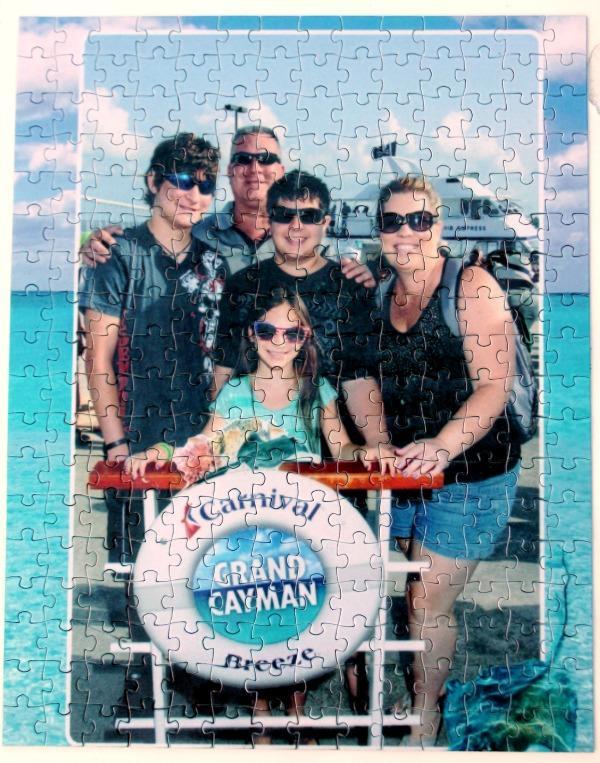 I was thinking of gluing the puzzle together, framing it, and hanging it, but we had such a good time putting it together that I think we will just put it back in the tin for another day. I was really impressed with the options we had at the Kodak Kiosk when trying to decide what we wanted to get. There were cups, key chains, posters, and more. I considered purchasing a mouse pad however I had bought a colorful one in Cozumel.
I definitely will be doing a photo book for all of our fun family vacations, it is just a great way to share your photos and they are fun to go back and look at when you want to reminisce about past family fun!
I received a gift card to help facilitate this post. All opinions are my own