"This post is sponsored by Conagra, but opinions expressed are my own."
My mother was visiting recently and surfing through her Facebook when she came across a meme, that I could 100% relate too.
Can you relate? It is always the million-dollar question.
"What is for dinner?"
Today I am going to share with you two amazing tips to ward off this question before anyone asks.
Tip #1: Don't try to figure out on the weekend what you will be making every day that week. That is just overwhelming, take it one day at a time. With the convenience of Walmart's Online Grocery Pickup up you can decide in the morning, place your order, and swing by Walmart on your way home arriving with all the necessary ingredients for dinner.
We have been using Walmart's Online Grocery Pickup for well over a year now and we love it. No need to get out of the car, hurry up and down the aisle looking for your ingredients and then waiting in line to check out. With Walmart's Online Grocery Pickup simply place your order online, set your pick-up time, and when you arrive a friendly Walmart associate will bring your groceries right out to your car.
Tip #2: No need to make a four-course meal. Your family is probably just as ready as you are to eat and relax before bedtime. Fill your recipe box with quick and easy meals your whole family will love.
Spicy Weekday Chili Recipe
This is quick and easy to make and an easy clean up afterward. This is also a great dinner with the cooler temperatures in the air, sure to warm you up from the inside out.
Ingredients Needed:
I bet you have most of these already at home in your pantry! The jalapenos are optional as you can make this simply a "Weekday Chili Recipe" if spicy is not your thing.
Now that you have all your ingredients your first step is to brown the meat in a frying pan. I use lean ground beef but you can use any meat of your choice, Italian sausage is another great option.
Now the easy part. Just put all of the ingredients in a Dutch oven or if you prefer a slow cooker.
Now that all your ingredients are in, simply mix everything together. Bring the mixture to a boil and then simmer for 20 minutes.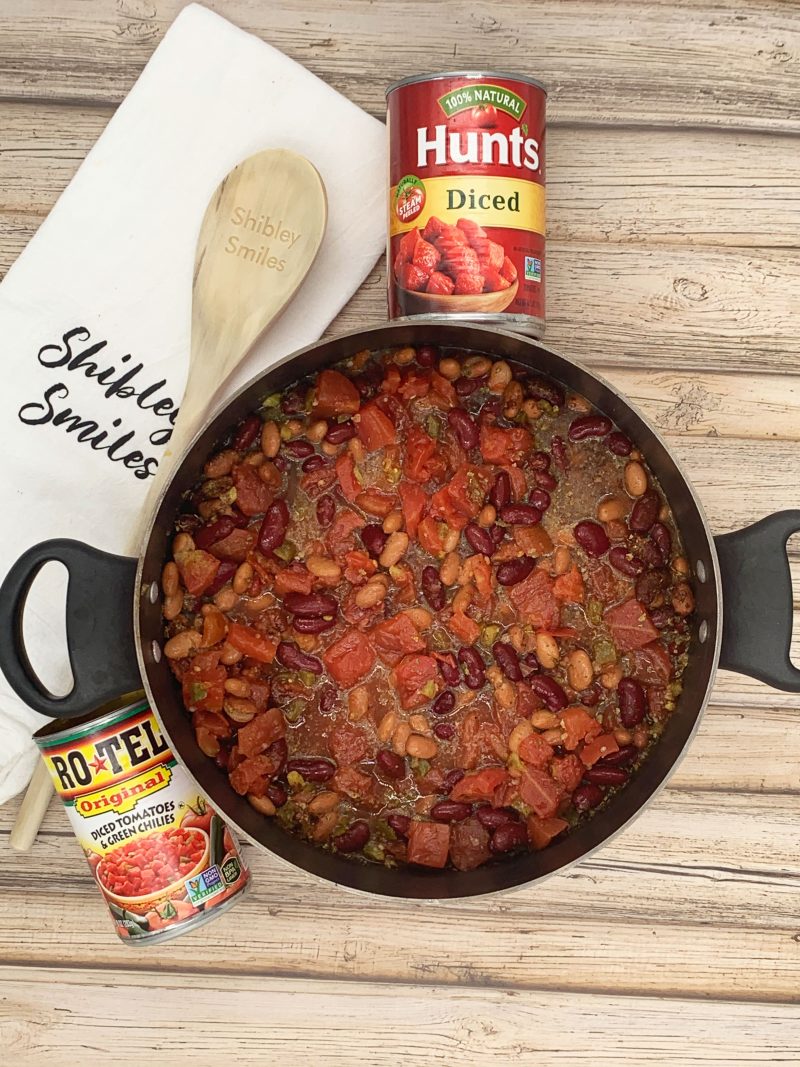 The only thing easier than this recipe is ordering delivery! However, we know that delivery is just not the same as a home-cooked meal!
So get your Walmart Online Grocery Pickup list created, print this recipe below, and start thinking about what you are going to do with all that time after dinner. Maybe a hot bubble bath and glass of wine, or pajamas and a romantic comedy, the night is yours!
Spicy Weekday Chili Recipe
Author:
Ingredients
Ingredients:
1 pound hamburger (or Italian Sausage)
1 can of Ro*Tel Original Diced Tomatoes & Green Chilies
1 can of Hunt's Diced Tomatoes
15 oz can of dark red kidney beans (rinsed and drained)
15 oz can of pinto beans (rinsed and drained)
1 can chicken broth
2 Tbsp minced garlic
2 Tbsp chili powder (I usually add a little more for good measure)
1 tsp dried oregano
1 tsp ground cumin
1 tsp mustard powder
Jalapenos (if desired)
Instructions
Brown ground hamburger and cook until no longer pink.
Transfer into a Dutch oven or crock pot (I like to use the crock pot and let it cook for a while).
Add Ro*Tel, Hunt's tomatoes, kidney beans, pinto beans, broth, garlic, chili powder, oregano, cumin, and mustard powder.
Bring to a boil over high heat, then reduce the heat to low.
Cover and simmer for 20 minutes.
Notes
If you are using a crockpot you can just put it in and let it cook/simmer until you are ready to eat.
And for even more easy, chili recipes – visit the Chili Time site!
---