Do you despise tangles? As a mother of a girl with hair down to her waist we are faced with tangles on a daily basis. I try to keep my daughters hair brushed and clean to avoid as many tangles as possible. SoCozy has created a product line especially for kids and can be found at SoCozy.com and Target.com.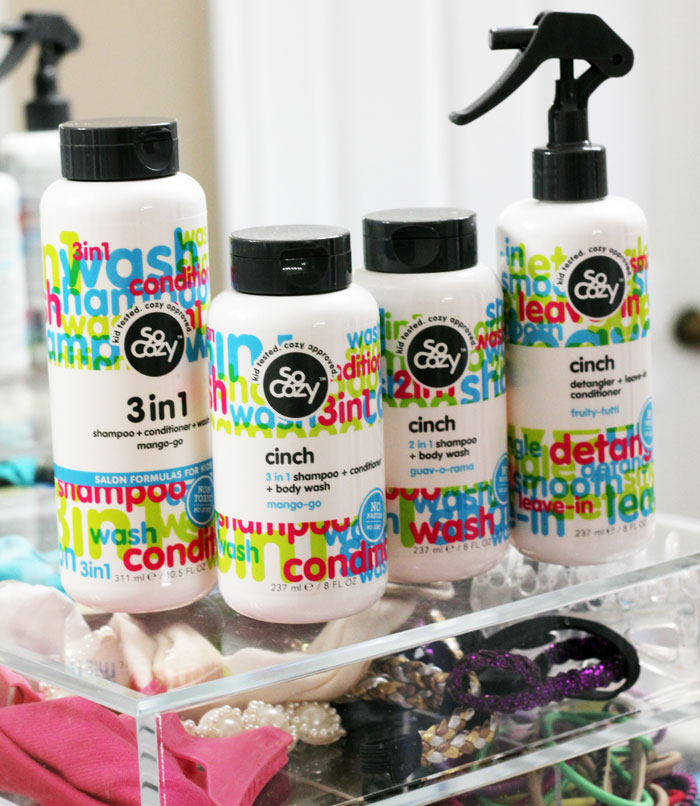 I received products to review and compensation from SoCozy for this post. My opinion is my own and not edited by SoCozy, please read my Disclosure Policy.
SoCozy products are non-toxic and made without parabens, sulfates, phthalates, synthetic color, propylene glycol, gluten, wheat or nuts. This is a great relief as a parent. Honey was excited to try the SoCozy brand and enjoyed the scent of the products. The products have a very slight fruity smell. When I say slight, I do mean slight, it is not over powering like many children's hair products.
SoCozy Cinch for Children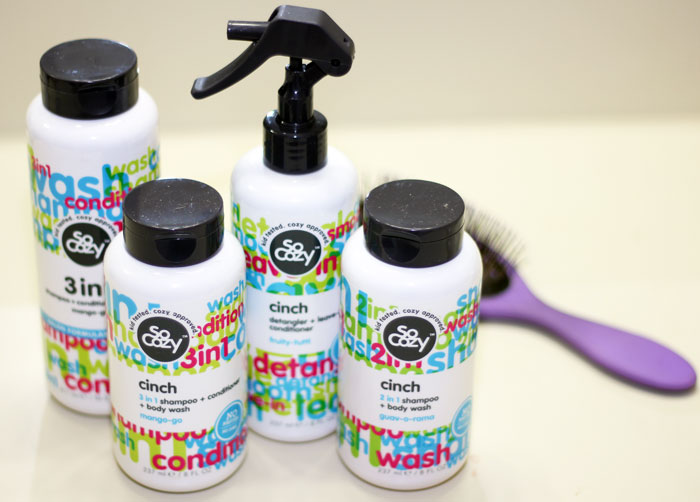 SoCozy has many options to fit your child's needs (ages 2-12) such as a 2 in one shampoo and body wash which cuts down on having two bottles in your shower. Or 3 in 1 shampoo + conditioner + body wash. With Honey's long hair we prefer to use a separate shampoo and conditioner and did just that when trying out our SoCozy products. The first thing my daughter said was she liked the scent. She is very particular and will not use something if she doesn't like how it smells. We used the SoCozy Cinch Super Hydrating Conditioner to keep her tangles at bay. We followed them both up with the Cinch detangler + leave in conditioner. Due to her long hair a leave in conditioner is a must.
SoCozy Behave for Children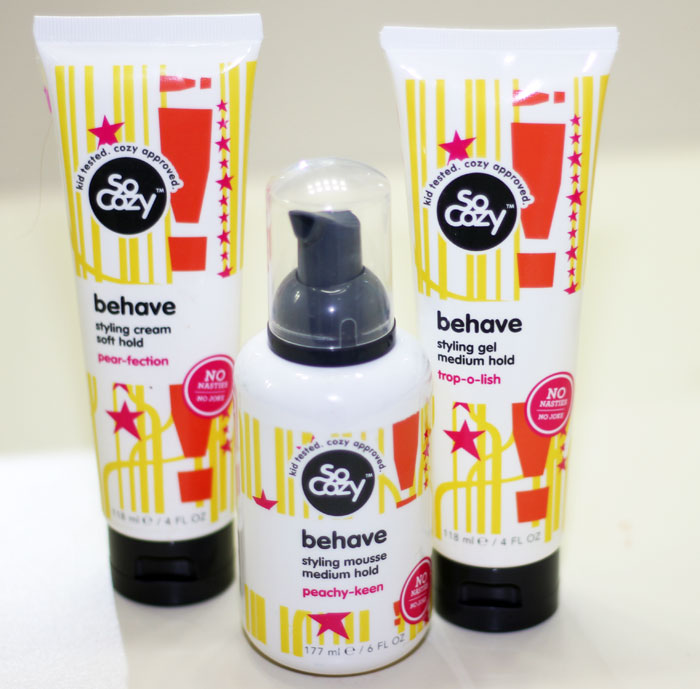 Honey usually doesn't do much with her hair so it is rare that we use any styling products. It is nice to have the option with the SoCozy behave product line. We did use a little of the styling gel last week. When my daughter decides to wear her hair in a ponytail she uses just a little bit of gel to get rid of the little wispy hairs.
SoCozy brand values are:
So Smart – Genius is more like it. We believe knowledge is power, which is why education is at our core – the pulse of our brand. Advice, solutions, tips, trends – we serve as an extensive resource for moms, kids, stylists and salon owners.
So Safe – No nasties in here; just good, clean, honest formulations with ingredients that perform at the highest level. Safe and effective – and completely non-toxic – it's great hair minus the harsh chemicals.
So Easy – Because being a parent isn't always easy, we make haircare that is: simple, fun, multi-functional products that streamline tub time, as well as solutions targeting specific hair concerns to make styling a snap.
So Cool – Take a strand. Through our products, website, social channels and unique collaborations, we encourage and support individuality. All kids, any hair type – we make it our mission to build confidence and inspire originality. Being you is our idea of cool.
SoCozy Boo! for Children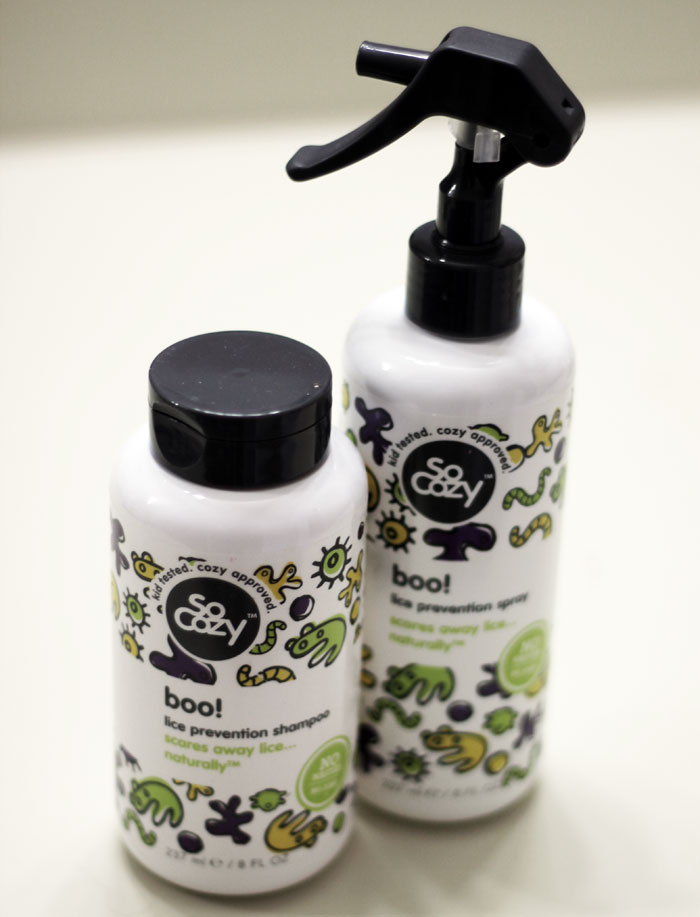 Have your children ever had lice? Let me tell you it is NOT fun at all, especially if your child has long hair like my daughter does. We had two separate outbreaks in our house with the first one hitting all three children, it was a nightmare. I wish I had SoCozy boo! products lice prevention at the time maybe we could have gotten it under control faster. If you get that dreaded note home from school it is best to be proactive than to wait and see if your child catches it.
SoCozy Coupon at Target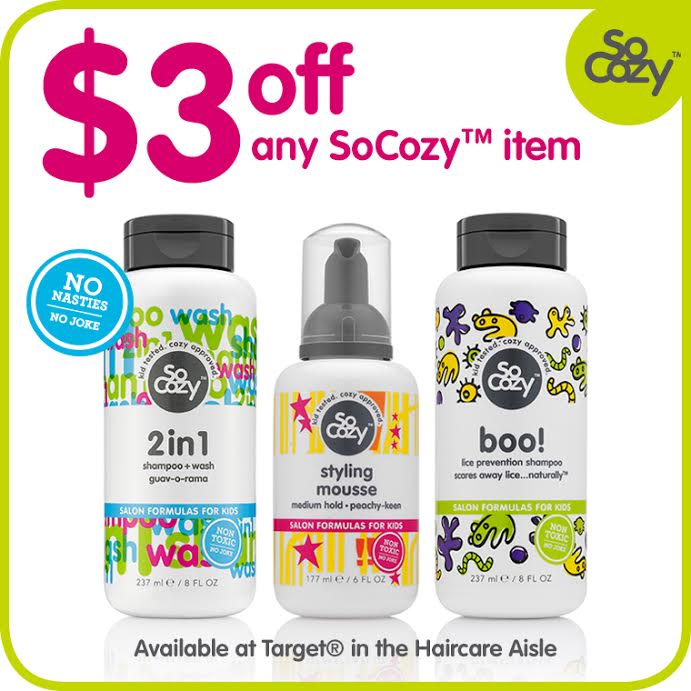 You can check out the SoCozy products available at Target with this $3 SoCozy Coupon.