I am not a huge "music" person. I couldn't tell you who sings many songs or the titles. In fact, if you get in my car you will probably hear an audio book begin when I start the engine. I usually have an audio book I'm listening too at all times on my iPhone. I love keeping them on my iPhone because it goes with me everywhere. There are times though when I would like to listen to my book but nix the headphones. Like when I'm relaxing and taking a bath. For this reason I have my own Bluetooth speaker that resides in my bathroom.
My oldest son enjoys listening to music when he plays his XBox or when he is going to bed. So he has his own Bluetooth speaker. He connects it to his own iPhone and listens to his own music. My daughter who has inherited her father's love of music did not have a Bluetooth speaker. That is until I was asked to review the Lenmar Thunder Portable Bluetooth Speaker. When I was asked if I would like to receive one to review I immediately thought of my daughter and soon after receiving it I knew it was the right decision.
The Thunder Bluetooth Speaker is amazingly small. I took a photo of it next to my iPhone so you could get an accurate idea of just how small it is.
Thunder Bluetooth Speaker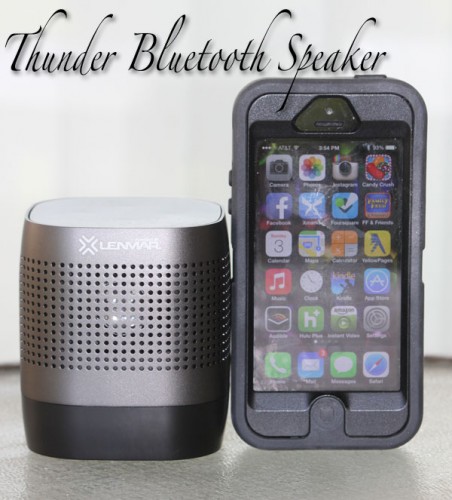 For a small speaker it still packs a big punch. The sound quality is very good, here are some of the features of the Thunder Bluetooth Portable Speaker:
Thunder Bluetooth Portable Speaker Features
Connects to any Bluetooth v2.1 enabled device
Built-in 900mAH lithium-polymer rechargeable battery
Unit doubles as a mobile phone hands free microphone and speaker-phone
Four internal speakers and a bass amplifier
Speaker can be plugged into any music playing device with the included audio cable
Honey was thrilled to finally have her own speaker so she could listen to her music in her bedroom. We had no problem connecting the device. I simply turned on the speaker and went to my Bluetooth settings on my phone. I saw it searching and clicked connect and viola! The device showed up as simply "Bluetooth" I think this would be better if it said Thunder or something of that nature. I currently have six devices that sync to my phone and I prefer to see the name of the device so I know when it is connected.
The feature I was most intrigued with was the "mobile phone" feature. Honey and I tested it out and our results were a little 50/50. If you are the one using the speaker to answer and receive calls it works great. The sound quality is great and you can really hear the person on the other end. However if you are the person on the other end the sound quality is not very good at all. In fact even when my daughter was standing next to the speaker talking it sounded like she was across the room. For this reason I don't think we will be using the speaker as a hands free mobile phone.
If you don't have a Bluetooth device but still want the benefits of this speaker no problem. The speaker comes with an audio cable so you can plug your device into the speaker and still get all the great benefits of a great sounded speaker. I love walking down the hall and hearing the music coming out of my daughters room knowing behind that closed door she is singing and more than likely dancing. Something she will only do when people aren't looking.