I think I got my first perm in middle school, around 6th grade. I don't remember much about it but just know from then on until I met my husband I was always getting a perm. Maybe it was the 80's big hair thing that made me continue. It wasn't until later that I finally decided to let my hair grow naturally and stop the perms to see what kind of hair I really had. It turns out it is just annoying. Neither curly or straight my hair tends to just kind lay there with a little frizz if not styled properly. A few weeks ago I tried my first ever flat iron the Sarah Protempa Titanium Flat Iron.
As we all know curly permed hair is not so much the style anymore. I'm so thankful for that because it was not a fun process. We tend to lean toward silky straight or beautiful flowing curls. Neither of which I have. So I have to use tools to get my hair to do what I want and look less like someone that just rolled out of bed and more like a stylish woman. My preferred method of styling includes a blow dryer and large round brush. Though time consuming this usually ends in the results I'm looking for.
However sometimes I just don't have the time to spend to blow out my hair. Or sometimes the next day my blow out needs a lift. So I've been wanting to purchase a flat iron for sometime. I was so excited to have been offered the chance to review the Sarah Protempa Titanium Flat Iron from Folica.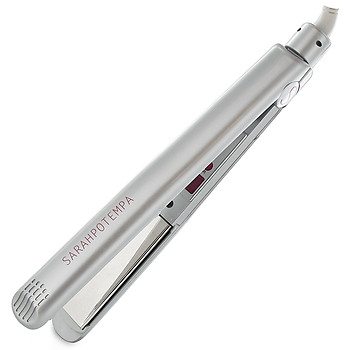 Sarah Potempa has created a line of innovative tools that allows anyone to re-create her fabulous red carpet looks. With pure titanium plates and negative ion technology, this lightweight iron creates sleek styles, soft waves and keeps heat even and consistent. This iron has memory sense technology that remembers the last temperature setting. In addition, it has auto shut-off after 45 minutes of non-use.
I decided to wash my hair the night before so it would be nice and dry the next morning and void of product. A perfect situation when I would need a flat iron. Dry hair and no time to wash and blow out. I plugged in the Sarah Protempa flat iron and it took a matter of seconds to heat up. The flat iron was set at 410 so I went ahead and left it at this setting. I have no idea what the normal setting would be for a flat iron. It is nice to digitally see the setting of the iron.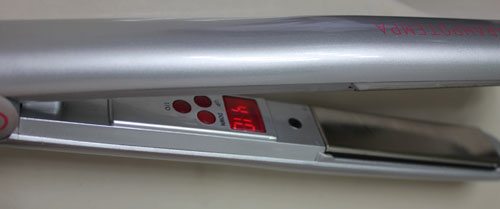 I really have no idea how to correctly flat iron your hair so I decided to follow the same routine I do when blowing it out. Taking a section at a time. I read that it was important to move quickly through the hair never leaving the flat iron too long on one spot due to the intense heat.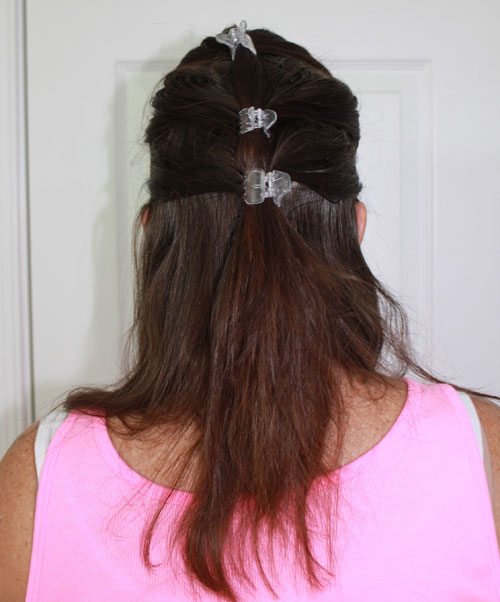 I used the flat iron on each section of my hair one at a time until I felt that I had flatten each section.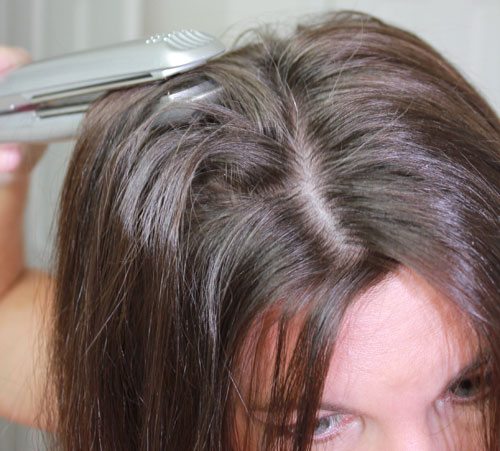 My purpose was to take the uneven wave out of my hair and tone down the frizz. At the time of using the flat iron I did not have a big barreled curling iron which I feel is needed to round of the bottom of my hair. However I was very pleased with the outcome and how easy it was to achieve.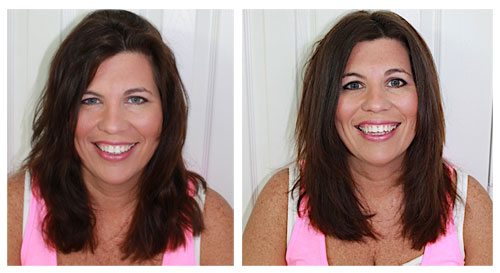 Having never used a flat iron before I don't really have anything to compare it too. I know that I really love having this tool when I need something quick to help tame my locks.
Sarah Protempa Titanium Flat Iron Features Include:
Titanium plates that conducts heat evenly and intensely
Auto shut-off after 45 minutes on non-use
Remembers last temperature settings
Digital read-out
Floating plates
Negative ionic technology
9 ft 360 degree swivel cord
Heats up to 450F in under 17 seconds
1 year warranty. Please register your product with Sarah Potempa to enjoy full benefits of warranty.
Why I like the Sarah Protempa Titanium Flat Iron:
It heats up super quick which is a must because I'm always running behind
It gets hot, without the necessary temperature any iron doesn't work well
It's light weight and easy to use
You can change the temperature to your liking and it remembers the last setting
It will shut off on its own if you forget to shut it off
---
Disclaimer: I received the above product(s) at no cost to me by the company or representing PR agency. All opinions are my own and mine only. You may read more of my disclosure here.
---