With all the new fitness trackers in the industry sleep analysis has become feature that many consumers are interested in. I have a fitness tracker and thought it cool for a short period of time how it could track how well I slept but it's sheen soon wore off. I got tired of wearing it on my wrist at night and I felt like it was the same information each morning. How many times did I shift in bed. I had written off sleep analysis until I had the opportunity to review a device made specifically for this purpose. This is not an all in one type of product but a device made specifically to track your sleep, RestOn. Even better I didn't have to wear anything on my wrist or any body part.
Sleep Analysis with RestOn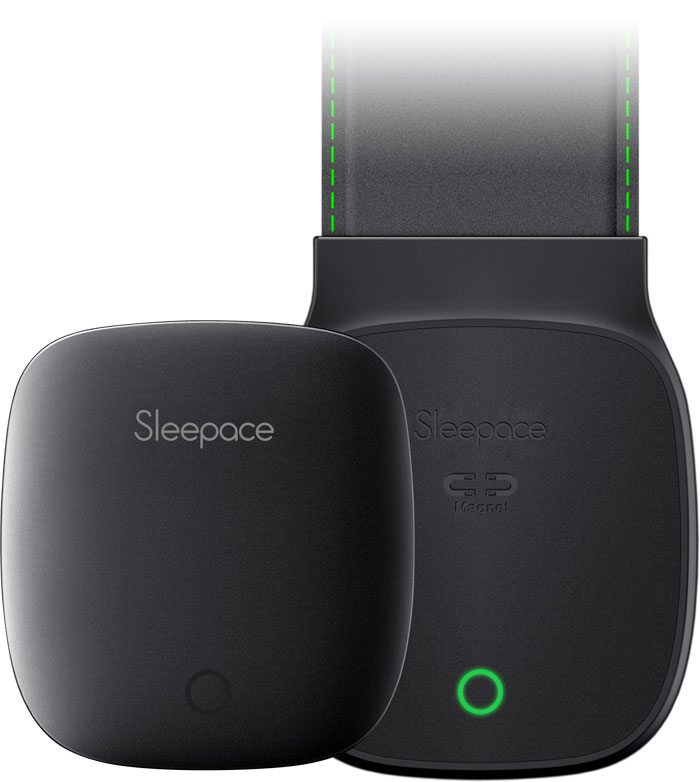 I was definitely interested in testing out this revolutionary product though I will admit I didn't have high expectations. I thought this is going to be another product that tells me how much I move at night. However like the old saying goes, "How will I know whether I like it if I don't try it?" It is so easy to work I started wondering if I was doing something wrong. Simply unroll the strip and place it on your mattress under your sheet. It is made to hang off the bed a little while you sleep.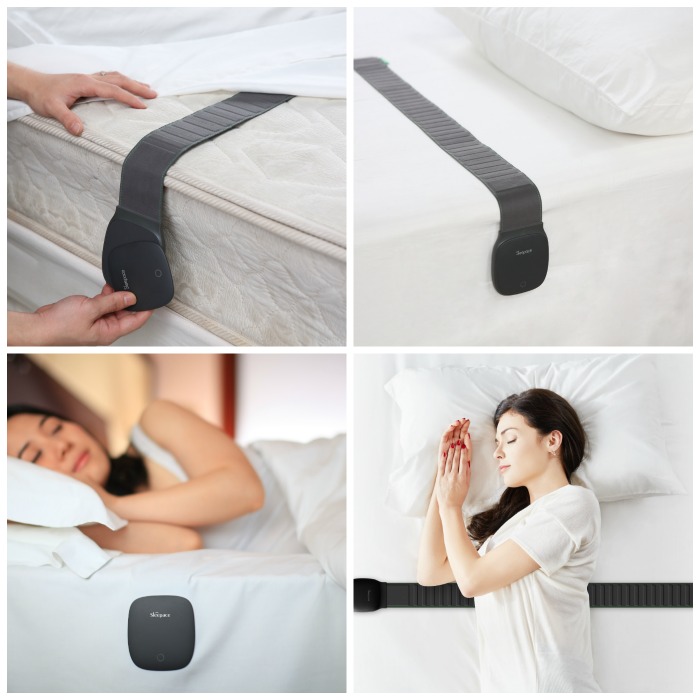 Once the device is setup on your bed the next thing to do is to download the app and create an account. The app will connect to your device to collect the nightly information. When browsing through the app I found all kinds of cool features above the normal sleep analysis portion. You can select sounds to help you sleep and even have your phone turn turn of the sounds when it knows you are sleeping. There is a smart alarm and sleep reminder. Yes your app can remind you when to go to sleep because getting enough sleep is just as important as getting a good night's sleep. I have also set my app to automatically start my sleep analysis at the same time each night. Since I tend to forget things like turning it on this is a great feature.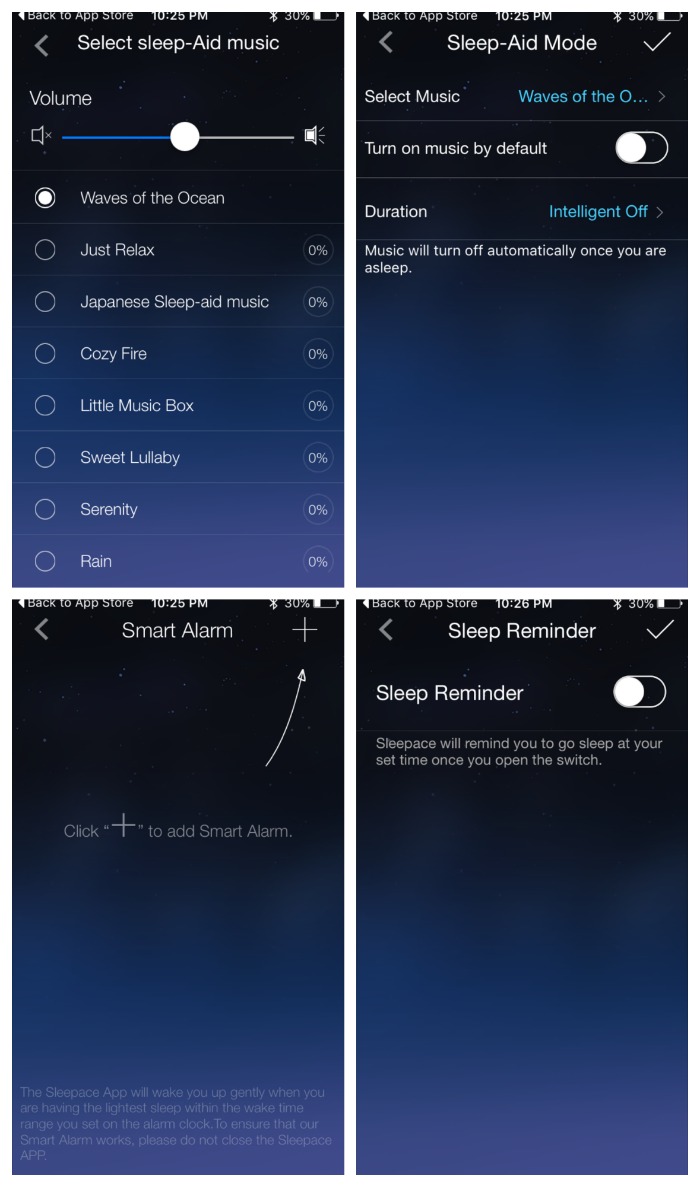 So with the device all set up on your bed and the app on your phone the only thing left to do is sleep. While you are sleeping Reston will do an in depth sleep analysis and record all kinds of pretty co0l statistics. My first night I was surprised to wake up and find that my sleep score was only 62, how it does say that is average!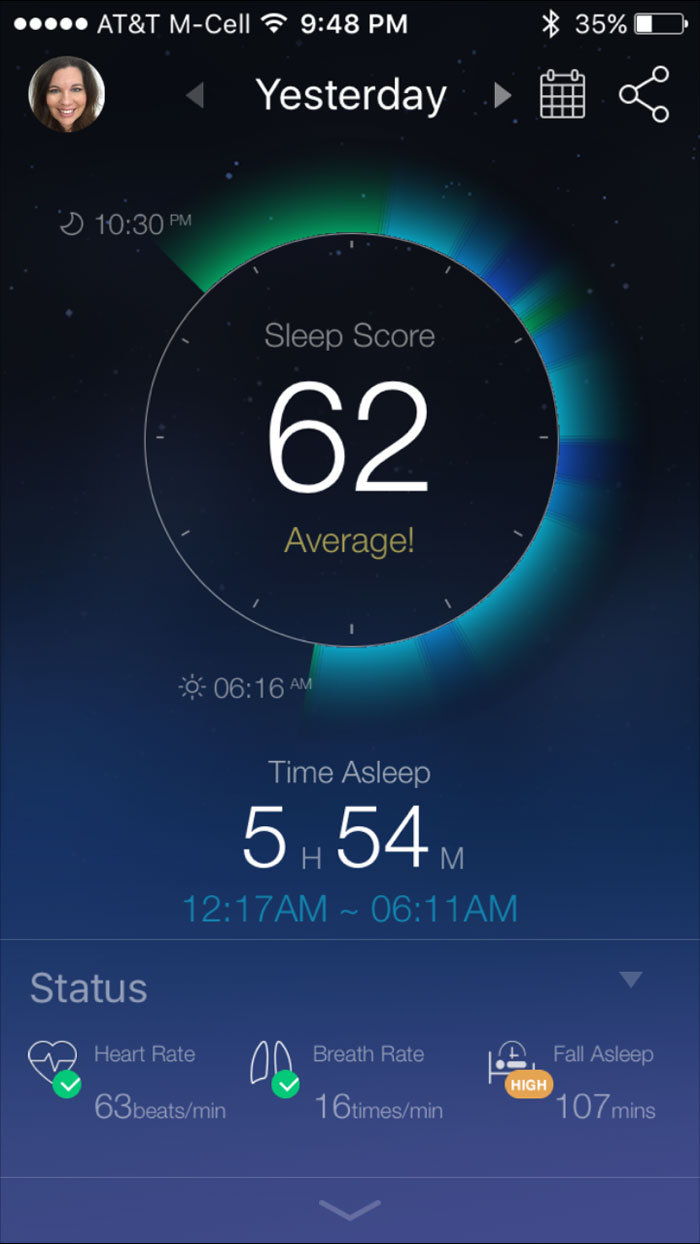 As you can see the RestOn has calculated my average heart rate, breath rate, and how long it took me to fall asleep. However to be fair I may have laid down at 10:30 but I didn't actually try to go to sleep until about 11:15 so it took me about an hour.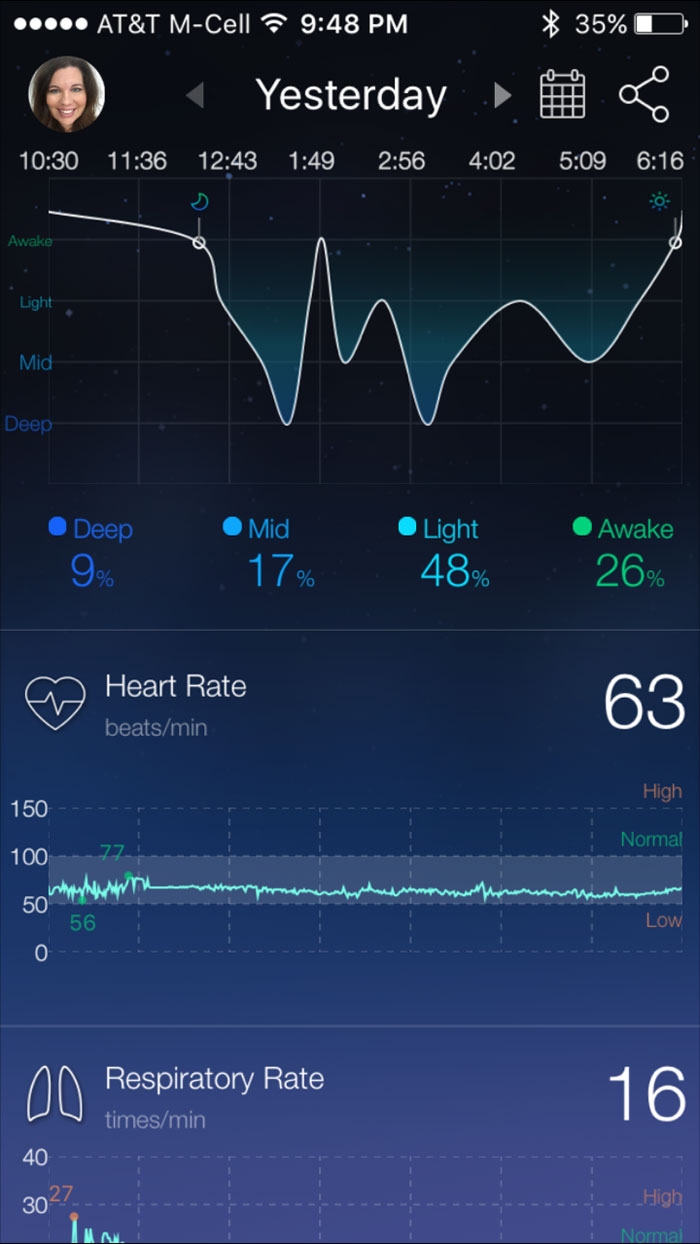 I know that I am a light sleeper but I was surprised to find that I only sleep about 9% of my night in a deep sleep. I really love how much information you can get from this product and it doesn't interrupt your sleep at all since you are not wearing it and it is under the sheets.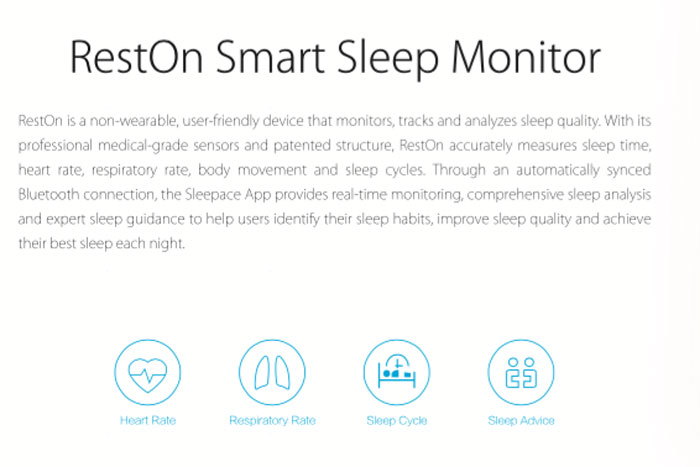 Smart Alarm – I haven't given this a try yet but the purpose of the Smart Alarm is to wake you up during the lightest part of your sleep cycle.
Being awoken from a light sleep vs a deep sleep leaves you feeling more refreshed. RestOn will let smartphone know when you are at the lightest part of your sleep cycle and smartphone will wake you up within 30 minutes prior to the time you set. That way you wake up at the right time for you.
Update: Because I feel it is very important to let you know as a reviewer any thoughts after I have posted my review I am updating this post. After using the RestOn for a few more days I found that my score just kept plummeting. For some reason the device is unable to tell when I go to sleep. I had one night that showed I was awake must of the night with only a few light sleep times. Last night when I was extremely tired I went to bed at 10:30 at fell asleep almost instantly. When I got up RestOn said I finally feel asleep at 3am. I have tried moving the RestOn up or down to see if it could fix the issue, however it still seems to be unable to tell when I fall asleep. I plan on reaching out to see if there is a reason I'm experiencing this issue and will update if/when I have an answer.
RestOn Giveaway
See what your sleep score is and enter to win a RestOn below.